Three-Stone Emerald Diamond Ring
Emerald-cut diamonds provide an impressive WOW factor set into as a ring-especially in this 20.46-carat size. Set traditionally in a classic three-stone style, it's sure to be loved and treasured for a lifetime.
Emerald-Cut Hoop Earrings
The cool iciness of the emerald-cut diamonds provides a dazzling contrast to warm-hued 18k yellow gold in these 6.16-carat colorless diamond hoops. The subtle flare of the design guarantees a diamond is always in full view.
Diamond Tennis Bracelet
Undeniably luxurious, 30 emerald-cut diamonds form this magnificent platinum bracelet. With 15.29 carats of scintillating diamonds, it is a bracelet that is sure to stand out, even with its timeless simplicity.
"Each piece of finished jewelry allows this diamond shape to adapt differently, guaranteeing that there is a place in every woman's fall jewelry wardrobe for an awesome emerald-cut."
Jessica Gylsen – Diamond Department Manager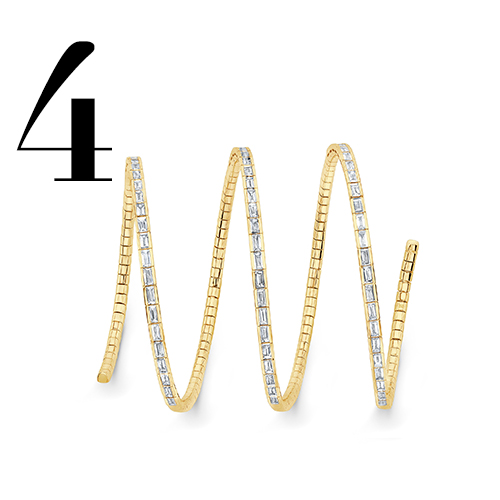 Flexible Diamond Bracelet
Three stacked rows of channel-set diamonds in this wraparound bangle showcases this current bracelet trend all glammed up! Over six carats of emerald-cut diamonds are sure to scintillate from sun up to sundown.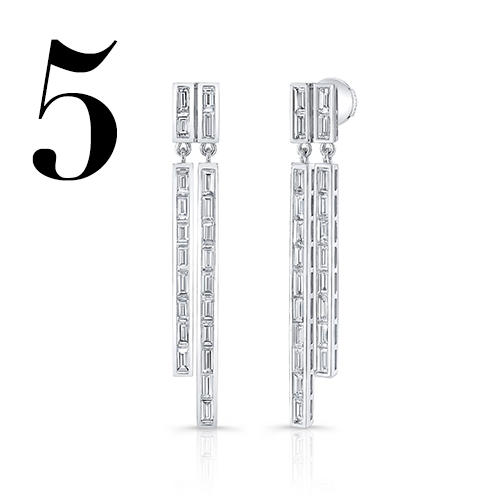 Baguette Dangle Diamond Earrings
Two parallel rows of emerald-cut diamonds create an instant high-fashion moment not to be missed. Showcasing 3.64 carats against the ear, the mirror-like sparkle that occurs as the earrings move in harmony is impossible to resist.
Questions? Ask Our Experts!