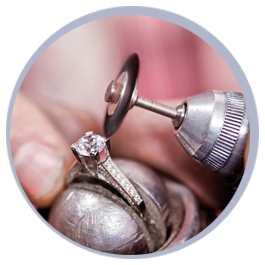 With over 100 years of experience crafting and repairing jewelry, our goldsmiths have been recognized as the top goldsmiths in the Midwest!
Jewelry Repair
Wixon Jewelers has established themselves as a leading provider of jewelry repair in Minnesota and is recognized as a premier repair facility in the Midwest. Whether your repair is simple or complex, our expert craftsmen have the experience and ability to bring your piece back to life. Our jewelry repair department is staffed by five full-time goldsmiths with over 100 years of experience in repairing and restoring fine pieces of jewelry. Their unmatched experience is joined with our in-house repair facility that features the latest technology, equipment and tools to ensure that we can take care of your jewelry pieces in our store, without the need to ship them to an offsite facility.

Our Jewelry Repair Services
Whether you are bringing in your engagement ring to have it cleaned or you need an extensive repair, your jewelry is always regarded with the highest respect and treated with care. We want to ensure that your jewelry is maintained properly so that you're able to show it off and wear it with pride. We offer an extensive number of jewelry repair services for our clients from polishing, engraving, to full-on restoration right here in Minnesota!
---
Jewelry & Ring Sizing
If your jewelry isn't fitting correctly, our goldsmiths can re-size gold and platinum pieces. Whether it's a new ring or a piece of jewelry you've had for years, they can help you out!
Crown Repair & Re-Tipping
After continuous wear, rings can begin to wear down and are exposed to structural weakness. Re-tipping enforces the ring's structure and repairing the crown will ensure diamonds and gems won't fall out.
Refinishing & Polishing
Our goldsmiths can polish your jewelry to make it shine beautifully again! They can also re-plate white gold jewelry with Rhodium to make it look like it is brand new again.
Jewelry & Watch Engraving
Engraving adds a custom touch and ensures that your gift will be special and unique. Our jewelers have the experience, skill and equipment to engrave most pieces, including watches and rings.
Chain & Bracelet Repair
Chains and bracelets can get tangled, twisted or broken during wear or through improper storage. Our goldsmiths can repair or replace broken pieces and clasps on your jewelry.
Jewelry Restoration
Heirloom jewelry pieces see a lot of wear and often require parts to be replaced or areas to be restored. Repairing vintage jewelry is a particular area of expertise for our goldsmiths.
Pearl Re-Stringing
If you want to change the length of a necklace or if your silk is worn out, Wixon Jewelers has an in-house pearl stringer who can string and re-string pearls and other beaded jewelry.
Jewelry Cleaning & Inspection
We'll clean your jewelry, make it sparkle and check to ensure there are no issues such as loose stones. Since we want your jewelry to SHINE, this service is always complimentary for our clients.
---

---
If you have questions about our services, or would like to set up an appointment, contact us through the form below.
---