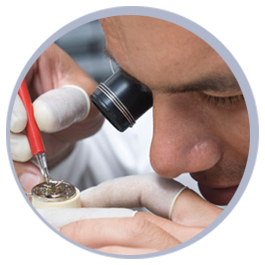 With three expert in-house watchmakers, Wixon Jewelers offers a wide range of watch services and watch repair in Minnesota!
Watch Repair & Service
Wixon Jewelers has a complete watch repair shop staffed with three highly trained and experienced watchmakers who share a total of over 60 years experience. They have completed incredible amounts of training and are certified to repair countless watch brands. Our Watch Service Manager, Liz, is also a trained watchmaker with over 30 years in the watch repair field and has the expertise to answer questions and advise you about watch repairs. We have a watchmaker available for service and questions every hour that our store is open. We specialize in the thorough and professional complete servicing of high-grade Swiss watches.
Extend Your Watch's Life
When you invest in a quality timepiece it is important to maintain it with regular, quality service, thereby extending the overall life of your watch and maintaining its accurate time-keeping ability. To be effective, this service and maintenance must be done using the appropriate tools, lubrication, equipment and parts in order to maintain the optimal condition of the timepiece. As our watchmakers have seen countless times, when a watch is serviced poorly or improperly, it can cause further damage to the watch and can actually shorten the life span of the watch. Our watchmakers have the training, experience and integrity to help ensure that you get the best performance out of your timepiece, and can work on most watch brands, depending on the service and parts needed.

Our In-House Watch Services
Our expert watchmakers have the capability of servicing and repairing most major watch brands and perform all repairs in-house whenever possible. Many of our portfolio of watch services can be completed in-house while you wait, so grab a homemade cookie and look at our amazing collection of luxury timepieces while we take care of yours.
---
Watch Battery Replacement
If your watch battery dies, no need to worry! Wixon Jewelers can replace the battery in almost any watch brand while you wait!
De-Magnetization
Magnetization is often the cause for stopped watches or fast/slow timekeeping. Our shop's demagnetizer solves this issue quickly!
Timekeeping Evaluation
Our testing equipment can evaluate a watch's efficiency and functions to ensure that the watch is accurately keeping time and functioning properly.
Pressure Testing
Our pressure tester evaluates a watch's water resistance up to 100 meters to ensure the integrity of your watch has been maintained.
Regulation & Timing Adjustments
Timekeeping adjustments are commonly needed in mechanical watches to facilitate proper functioning of the timepiece.
Water Testing
Through several devices, our watchmakers can test the water resistance of a watch at over 1200 meters. This rigorous test is recommended for dive watches.
Watch Cleaning, Repair & Polishing
By removing damage and wear to a watch's bracelet or case, our watchmakers and goldsmiths can make your watch shine like new again!
Crystal Replacement
The crystal on a watch can be prone to scratches or getting broken through wear. We can buff out scratches or install a new crystal if it's cracked.
Wixon Jewelers is also happy to assist, when necessary, in sending watches in to the various manufacturers' service centers in the US when repairs are not possible in our shop. The rules and procedures of each watch manufacturer do vary and will determine whether we can do a particular repair in our shop.
---

Complete Watch Service
Just like a car, to maintain your watch and keep it running in tip top shape you need to perform maintenance. A complete service is recommended to be performed every 3-5 years for manual-wind watches and 5-7 years for automatic watches. This complete service, or an "overhaul" as it may commonly be called, is a thorough process completed by our watchmakers in our in-house watch repair shop. A complete service includes the following:
– Multi-stage ultrasonic cleaning of all watch components while disassembled
– Replacement of parts such as gaskets and crowns as necessary
– Testing for a period of 3-5 days to ensure that the watch will run and wind properly while worn
---