The (Fore)arms Race: Why Are Watches So Big?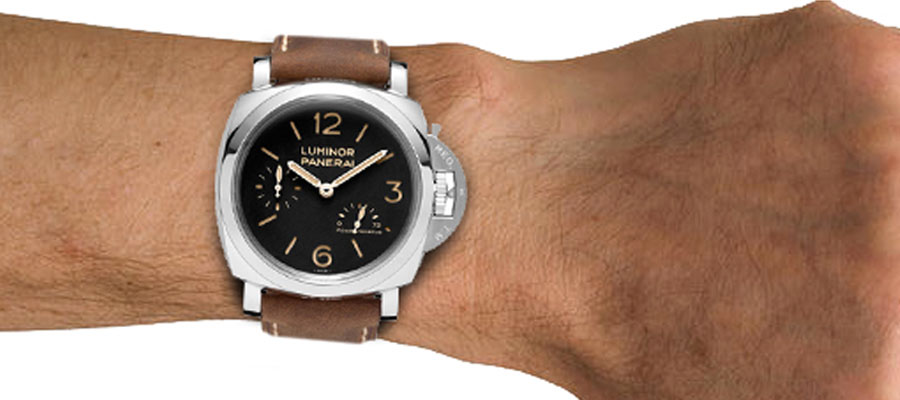 When I first started at Wixon Jewelers I immediately fell in love with Panerai watches because of their large size and unique styles. I had never encountered a line of timepieces with such a great presence on your wrist. We have seen the average size of watches increase over the past decade and today large watches are extremely popular.
WHAT IS BIG
We all have different definitions of "big" and this definition changes when talking in terms of watches versus other products. Some will say that smaller watches are too feminine, while others think that watches with large cases are gaudy and unnecessary. In reality, it's an arbitrary question because some consider 40mm to be big, while others view that as a smaller sized case. Everyone will have his or her own perception of big and which watch size is best. Personally, I have found my sweet spot to be around 42mm. The watches I currently own range from 36 to 44 millimeters, with a 47mm Luminor on my wish list! They say that diversity is the spice of life and I think the same is true for your watch case.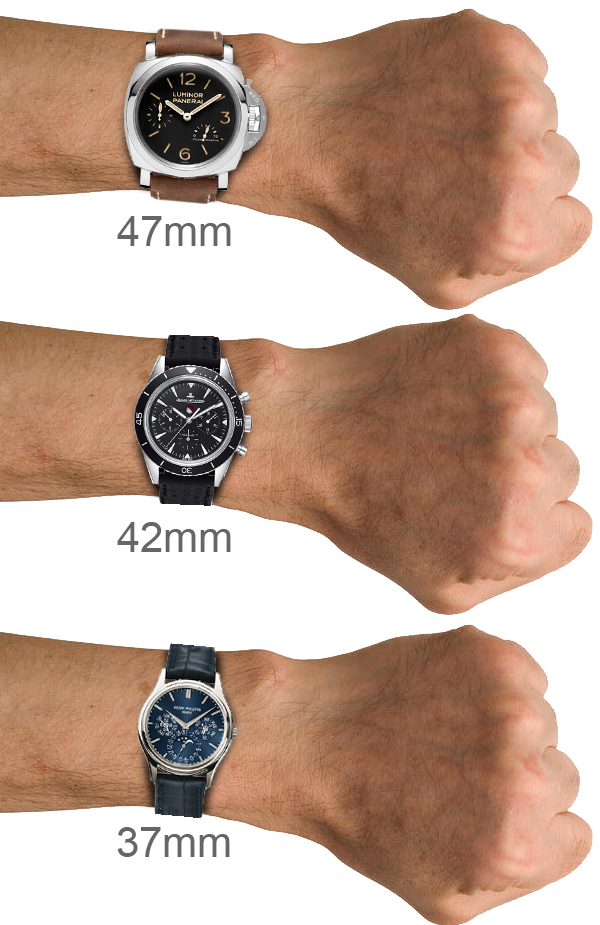 WOMEN & LARGE WATCHES
There is no longer a gender divide when it comes to watches. It used to be that the smaller cases (25-35mm) were women's sizes and men's watches were of the larger variety. Large watches are vogue for both men and women and it can be seen everywhere today. I often see Hope Wixon sporting a 47mm Radiomir and I just walked past our Gem Lab and saw Jessica is wearing a 44mm Luminor today. As Amy said in her post Fashion Forward Watch Choices for Women, the "borrowed from the boys" look is a hot trend for women, especially when it comes to watches. Gone are the days where a woman's watch has to be small.
WRIST PRESENCE
A weird thing happens in our society where we strive to make something as small as possible, but end up favoring size in the end. Think about cell phones; innovation brought us tiny devices like the Motorola RAZR and now we favor even more technical phones that are far larger such as the Samsung Note 3. It's the same way with watches and that's why diversity prevails. You can opt for a beautifully thin watch like the Jaeger LeCoultre Master Ultra Thin, or go big and bold like the PAM323.
Regardless of your size preference, there are some compelling reasons why watches have gotten larger. The larger size allows watch brands to show off more elaborate and technical aesthetics on the timepiece. With more room in the case, watchmakers can and have developed more technical movements that incorporate new, intricate complications and functions into the watch. This makes the watch not only more functional, but also more interesting.
A TIMELESS TREND
Large timepieces are trendy right now. I cautiously use the word "trendy" because I don't think that large dials and cases are just a fad that will fly away overnight; they will be here for years to come. When you're investing in a nice timepiece you want to be sure that it will stand the test of time both mechanically and aesthetically. Large watches can still retain a timeless appeal.
THE LUGS DON'T LIE
It's important to pay attention to the position of the watch lugs because this is one of the most crucial factors in terms of sizing. Even though it all comes down to personal preference, there is an easy way to tell if a watch is too big for your wrist.  You want the watch to be sitting on your wrist completely and not hanging off. If the lugs stick out farther than your wrist, the watch is likely too big. This is even more important on watches with metal bracelets because these lugs are usually set at a more aggressive angle. You want to be sure that the bracelet falls straight down your wrist.
WHAT'S PERFECT FOR ME?
So what is the perfect watch-to-wrist ratio? In short, it all depends on the person and their tastes. It's all relative and in the end it comes down to personal preference—after all, you're the one who has to wear it. You really need to experience different sizes to see how you like the look. I invite you to tour our wonderful watch collections and encourage you to visit us to try on various sizes and styles.