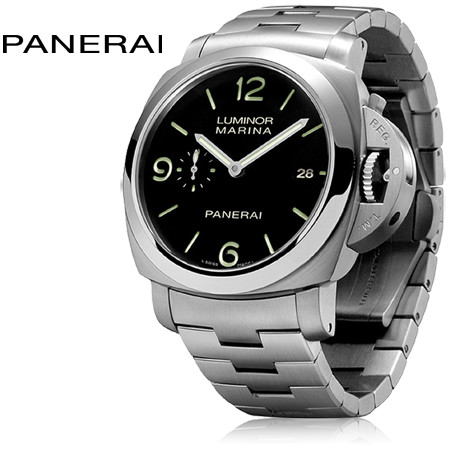 Officine Panerai
Officine Panerai has grown significantly in popularity in recent years and has established themselves in the elite club of luxury watches for men. Their watches are known for their bold styling of large dials and thick straps. Founded in Italy in 1860, Panerai is actually a Swiss watch manufacturer, as all watches are designed and built in Switzerland. In the 1900s, Panerai made a name for themselves as the official supplier of watches and instruments for the Royal Italian Navy. These instruments were used in dire situations and were designed to be used underwater without malfunction; it was this partnership that seems to have guided Panerai into creating some of the best dive watches on the market.
The need for performance and precision watches and instruments pushed Panerai to build pieces that would withstand the pressures of rugged use, especially underwater, which is still carried into the production of their watches today. Meticulously crafted and powered by in-house movements, Panerai timepieces blend Italian design with Swiss technology to create functionally stylish watches. They are instantly recognizable for their size and trademark look-- whether it be the unique crown guard on Luminor models or the beefy feel of a Radiomir.
The trend of large dial watches make owning a Panerai watch a necessity for any wardrobe for men, and even women. Although these watches are typically considered mens watches, they are highly coveted by women because of their raw beauty and size. You'll find them on the wrists of notable figures like Sylvester Stallone, Jason Statham, Tom Cruise, former President Bill Clinton and Hope Wixon. To wear a Panerai is a statement; what statement are you making with your current watch?
---
As the only authorized Panerai dealer in Minnesota, Wixon Jewelers is proud to offer an impressive selection of Panerai watches for both men and women. This website only displays a portion of our collection, please contact us regarding availability and for more information.