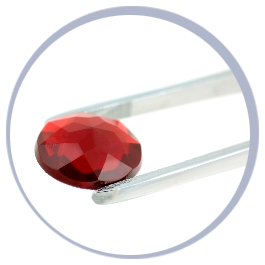 We are proud to have one of the most extensive gem laboratories in not only Minnesota, but the entire Midwest!
Jewelry Appraisals & Gem Lab
Wixon Jewelers offers a full suite of services to our clients through our in-house Gem Lab that is accredited by the American Gem Society (AGS). Powered by industry-leading technology and equipment, our highly experienced Gemologists are able to evaluate, appraise and educate you about your treasured jewelry pieces. It is our staff's goal to educate and inform our clients with an accurate representation and value of their jewelry and watches to ensure that they are protected.
Our Gem Laboratory
The ability to operate a full in-store Gem Lab is a great benefit for our clients because it enables them to have their gems, jewels, watches and jewelry evaluated without having to ship it out of the Minneapolis/St. Paul area. Our Gem Lab staff have all attained the designation of Graduate Gemologists from the Gemological Institute of America (GIA). They have spent years honing their skills and have become some of the most knowledgeable individuals in the field. Their ability to grade and identify a wide variety of diamonds, gemstones and jewelry pieces gives our clients confidence in knowing that their possessions are being evaluated by leading gemological experts.

Gem Lab Services
---
Insurance Appraisals
An appraisal of your jewelry and watches provides you with a detailed description and replacement value of your pieces for multiple reasons. While appraisals are typically performed for insurance purposes, they can be used to valuate or verify an item's true market value.
Metal and Gem Identification
Our GIA Gemologists can test identify, classify, grade and measure your gemstones in our lab for personal or appraisal purposes. We also have the ability to test the metal content and weight of your jewelry.
Diamond Cut Grade Report
We have the ability to take your loose diamonds and analyze the cut quality and proportion grade of your diamonds. This report is like a birth certificate of the diamond that clearly outlines the specifications of the stone.
---
We have long-standing relationships with the top gem agencies and stone cutters in the entire country, allowing us to offer even more services to our clients…
Laser Inscription
Using a microlaser, our partners at GIA can inscribe serial numbers, logos and messages on the girdle of a diamond.
Diamond & Gemstone Cutting
The stone cutters that we work with can cut or re-cut diamonds and gemstones to repair nicks and chips, improving their brilliance.
Diamond & Gemstone Repair
Certain imperfections in diamonds and gemstones can be fixed by repairing the stone with minimal carat weight loss.
Gem Polishing
Polishing gemstones can give new life and beauty to dull and chipped gemstones by removing scratches and chips.
---

Jewelry & Watch Appraisals
You want to be sure that you're covered in the unfortunate event of a loss or theft of your most beloved possessions. When your jewelry and watches are appraised by Wixon Jewelers you have peace of mind in knowing that if these situations were to occur, that you will be correctly compensated. Along with completing a thorough appraisal, our staff is available to offer advice and explanations of client questions and inquiries. Our appraisers fully evaluate each diamond, gemstone and watch in precise detail and transcribe these observations in accurate detail on your written appraisal documentation. This documentation is useful to provide a retail replacement value of your piece but is also important for the detailed descriptions of your timepiece or jewelry in the case of loss or theft.

About Our In-House Gemologists…
Our staff have earned the distinction as Graduate Gemologists by the Gemological Institute of America (GIA) and have attained an additional certification through the AGS as Certified Gemologist Appraisers. You can rest assured when your possessions are in the hands of these highly trained specialists.
Lorri W., GG, CGA
Lorri is a certified Graduate Gemologist with over 25 years in the jewelry industry. She has also attained her Certified Gemologist Appraiser credentials from the AGS.
Hope W., GG, CGA
Hope is a certified Graduate Gemologist and Certified Gemologist Appraiser with over 25 years in the jewelry industry. She has a passion for fashion forward jewelry and has a great eye for new trends.
Jessica S., GG, CGA
Jessica is a certified Graduate Gemologist with over 16 years in the jewelry industry. She has also attained her Certified Gemologist Appraiser credentials from the AGS.
Jessica G., GG
Jessica is a certified Graduate Gemologist who has had a passion for jewelry since she was a child growing up at her Grandma's jewelry store. She has 14 official years working in the industry.
---
If you have questions about appraisals or any of our service offerings, feel free to contact our Gem Lab.
---