Past, Present & Future: The Three Stone Engagement Ring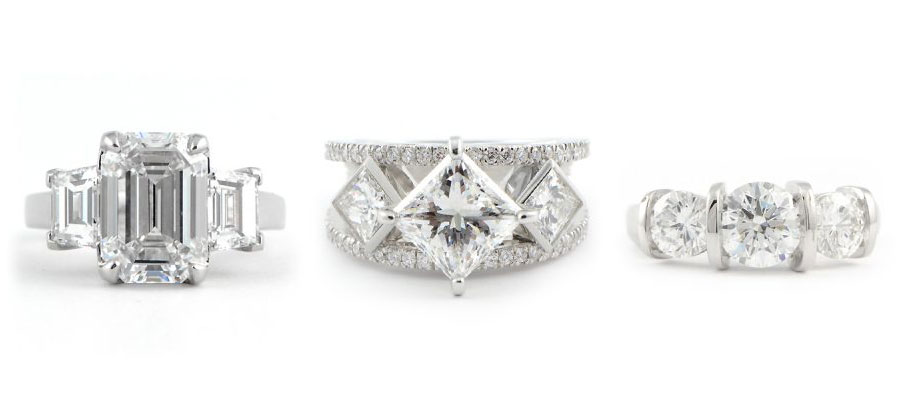 Question:
"I've always loved the look of three stone rings, but I am unsure if I want one with round diamonds or something different. It seems that round diamonds are the most popular but I would like something that's a little out of the ordinary. What options do I have? Any ideas for me?"
-Linda S. | Cottage Grove, MN
Amy's Answer:
Thanks for the question, Linda. Three stone rings are a classic choice for celebrating an engagement, anniversary or any special occasion. More than just three beautiful gems on a band, each gemstone symbolizes your past, present and future as a couple. They essentially state, "I have loved you, I love you now and I will always love you." We offer a variety of three stone engagement ring styles, ranging from classic to contemporary, with many options in between. Here are a few of my favorites!
TIMELESS BEAUTY
The most classic three stone engagement rings feature three round brilliant diamonds. The largest diamond is framed by two perfectly matched side diamonds like these Wixon Custom Designs.
---
ALL SHAPES AND SIZES
Looking for something distinctive, yet elegant? Try diamond shapes other than round like emerald-cut, cushion, oval or Asscher.
---
THE BOLD AND BEAUTIFUL
If you are drawn to bold, glamorous looks we have three stone rings that include stunning diamond accents like this Kite Set Engagement ring that we designed right here in-house, or this three stone halo ring designed by Mark Patterson.
---
SHOW YOUR TRUE COLORS
Three stone engagement rings are stunning with a pop of color, whether you choose fancy color diamonds or your favorite gemstone. Here are a few of my favorites to inspire the ring of your dreams!
Whatever occasion, three stone diamond rings are an excellent way to show your love. I invite you to stop by to find your favorite.
---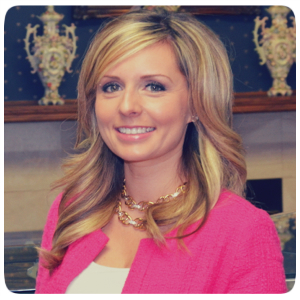 Amy shares her pearls of wisdom in her weekly column, Ask Amy. Her impeccable taste helps to select beautiful, current yet timeless looks for our clients in harmony with their own personal style. She believes that jewelry should have a story to tell about the person who wears it and is delighted to commemorate life's celebrations. If you have a question, just Ask Amy! Skin tone images via ShadesDaddy