Pocket Watches: Not Just for Telling Time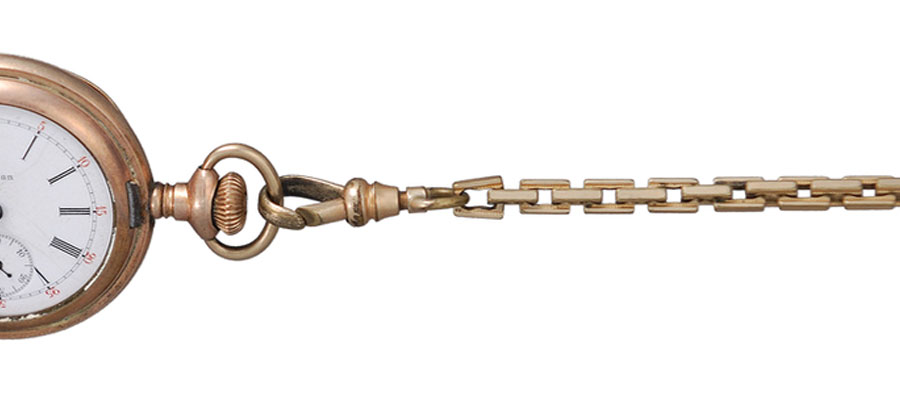 Many men think that pocket watches went out of style with the horse and buggy, but today pocket watches are making a comeback, but not for the same reasons.
RISE & FALL OF THE POCKET WATCH
Up until the start of the 20th century, the pocket watch was predominant and the wristwatch was considered feminine and unmanly. In the 1940s wristwatches became popular and soon pocket watches were thought to be a thing of the past. However, in the 1980s with the return of the 3-piece suit along came the pocket watch. Wearing a pocket watch today can seem a little eccentric because they no longer coincide with function and fashion. With suit vests being a thing of the past and considering most men carry a mobile device that indicates the time, there isn't a lot of room in today's fashion for the pocket watch.
RESURGENCE OF THE POCKET WATCH
Pocket watches are no longer something needed to tell time, but more of an accessory or a status symbol. The pocket watch has recently regained popularity due to the renewed appreciation for fine timepieces and today's trend of vintage inspired clothing and jewelry. Unlike the past when men wore a pocket watch for the purpose of telling time, now most men own a pocket watch as part of their collection or as a family heirloom that will be passed down from generation to generation. Watch brands are also seeing the resurgence of pocket watches and many have released their own modern versions. One of the most recent announcements came earlier this year when Panerai unveiled their 3 Days Pocket Watch, a refreshing take on the classic pocket watch. Another recent innovation is the Transforma by Parmigiani Fleurier, a versatile timepiece with the ability to transform from a wristwatch into a pocket watch.
Tips for Vintage Pocket Watches
Owning a vintage pocket watch can be a source of pride and pleasure. Many vintage watch enthusiasts find themselves attracted to particular brands or styles because they have a special appreciation for them. When shopping for a vintage pocket watch here are a couple things to take into consideration.
1. A LITTLE RESEARCH NEVER HURTS
There are many resources out there on how to identify authentic vintage watches that can be helpful in determining a pocket watch's characteristics. You can also browse our Timepiece Education section to find out what watch styles and components will best suit you.
2. CHECK ITS MECHANICS
The operation of the pocket watch is also very important. If the watch is running, be sure it is keeping time– this will indicate it is mechanically intact. If it is not working but a watch you still wish to add to your collection, contact our watchmakers to see if they can restore it.
3. CONDITION, CONDITION, CONDITION
Like the purchase of any fine timepiece, be sure you are getting the best quality possible. Most vintage pocket watches increase in value over time; however brands like Patek Philippe are known for their high quality and collectibility so they often demand a higher price. In the long-term, having the best quality can help to ensure that the watch's value will continue to appreciate.