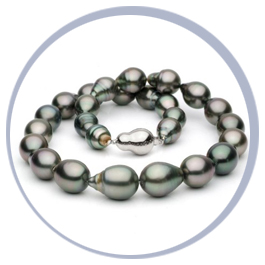 With their natural dark colors, Tahitian pearls offer unique styling with contemporary flair!
Tahitian Pearl Jewelry
The legendary Tahitian pearls of the South Pacific are most frequently found over a wide area, stretching from the Cook Islands, eastward through Tahiti to the Tuamotu Archipelago and the Gambier Islands in French Polynesia. The Tahitian pearl oyster itself is quite large – sometimes over 12 inches across, weighing as much as 10 pounds! The pearls are unique because of their natural dark colors.
Although they're known for their distinct dark range of colors, even black Tahitian pearls are not actually black. They are are instead silver, charcoal, or a multitude of colors, with the dominant color being green. An often sought-after color is "peacock green" – the greenish black color of a peacock feather. Truly black pearls are among the most beautiful pearls in the world, and are extremely rare. They typically have more of a drop shape than round and vary in size from 8 to 18mm.
Our Collection
We carry an amazing selection of Tahitian pearl jewelry in our Minneapolis showroom. Below is a preview of pieces from our wonderful collection including pearl necklaces, bracelets, earrings and other jewelry. Stop in for a visit to view our full collection!
Tahitian Pearl Necklaces
With their rich dark colors and large sizes, Tahitian pearls make wonderful necklaces for formal and casual occasions. Multi-colored pearl necklaces are also a great option because of the variety of phenomenal colors.
Tahitian Pearl Jewelry
Tahitian pearls make fabulous additions to rings, pendants, earrings and bracelets because of their large size and the brilliance of their shiny lustre.
Chocolate Tahitian Pearls
Chocolate Tahitian pearls look so fabulous on, because the warm chocolate color creates such a soft look. It warms your face and creates a subtle glow around your neck.
---