The Looks We Love: Exotic Gemstones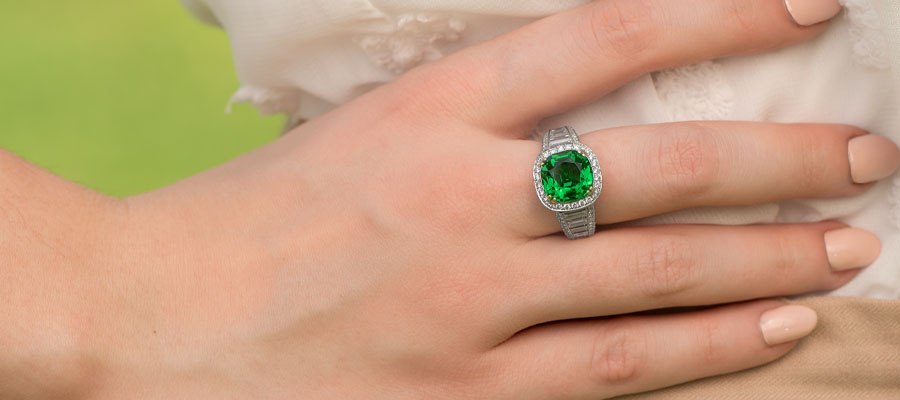 Exotic gemstones
Our love for colored gemstones knows no limits. Classic color holds an inarguable appeal for many, but it's the draw of the exotics that keep color collectors on the search for scarce gemstones. These unusual and appealing gems showcase the beguiling beauty of color to collectors at every level.
Tanzanite
A cross between lush blue, vibrant violet, and rich purple, tanzanite is found in only one place on earth, near majestic Mount Kilimanjaro. This striking gem is trichroic, meaning it showcases three subtly different colors when moved in different directions. Explore tanzanite pieces.
Tsavorite
Vividly brilliant green, tsavorite garnets are beautiful, rare and highly desirable. This garnet gemstone in sizes of two carats or more are particularly coveted and surprisingly valuable. Explore tsavorite pieces.
Spinel
Many of the world's most famous "rubies" are, in fact, spinels. Historically, spinels were revered more than diamonds and rubies because of their luster, durability and hardness. They are prized for their extreme brilliance. Explore spinel pieces.
Alexandrite
If you love magic, you'll love alexandrite, the color-change gem. Outside in daylight, it is a cool bluish mossy green. Inside in lamplight, it is a red gem, with a warm raspberry tone. Considered to be rarer than diamonds, the elusive Alexandrite is one of the most magical and mesmerizing gemstones. Explore alexandrite pieces.
Bi-color Tourmaline
Aptly nick-named watermelon tourmaline, this gem perfectly mimics the interior of summer's most well-loved fruit. The top showcases a bright and juicy fuchsia finish, and from there a sliver of silvery peachy pink followed by a perfect end note of a rich green. Explore tourmaline pieces.
Black Opal
Black opals are found in only one location, making them scarce and limited. An opal is a gemstone that encourages one's imagination to run wild. The patterns seen in opals resemble stained glass windows, butterflies, continents and water color paintings to name a few. Explore opal pieces.
---
[Top Image]: Custom Tanzanite Necklace