Horological Heirlooms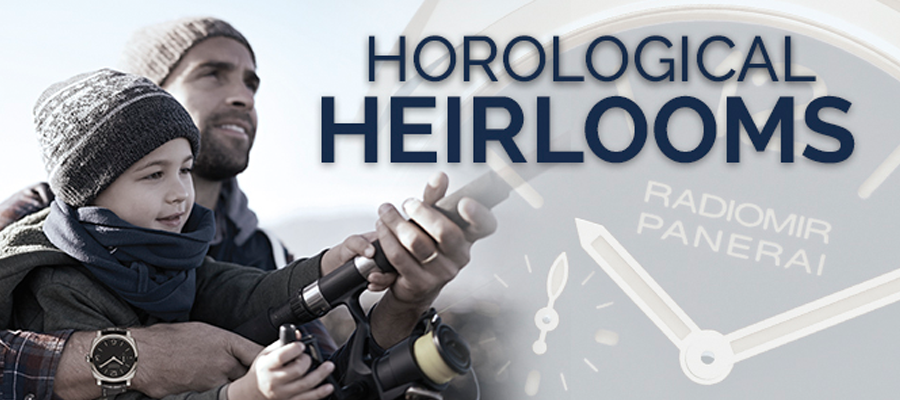 A watch isn't simply a method of telling time.
The tradition of handing down your timepiece is a symbolic rite of passage between generations. He will remember the good times you had every time he looks at his wrist.
Purchasing a watch is never a small decision. Whether it's your first or fifteenth, selecting the perfect timepiece takes careful consideration. It's more than just the material or the brand-name; it's how it looks, how it feels. It's a reflection of who you are and what you've accomplished. It's an extension of you—both in form and function. Purchasing a watch is always an exciting and emotional event, and the same feelings can be experienced by your son or daughter when you decide to pass it on. The tradition of handing down jewelry has existed for many centuries. Family matriarchs will often pass down diamonds and jewelry to their sons, daughters and grandchildren for a birthday or milestone. But unlike rings and necklaces, many luxury watches display a classic elegance that is always in style. Pair this with the ability to be easily maintained for many years, and a mechanical watch becomes the perfect future-proof fashion accessory. You loved the watch enough to make a sizable investment in it, and the same can be said about that young man or woman in your life. Handing down a watch you've treasured is so much more than a gift, because it's a piece of you and a piece of your family's lineage; a rite of passage to celebrate your child's graduation, wedding, promotion, or other achievement. Think about when you first acquired the watch… What made this piece special? What was the occasion? Perhaps it was engraved or worn during a major world event. All these details add to the sentiment of the occasion. A great way to enhance this memory is by including a photo of the watch being worn with a handwritten note. In reciting your experiences while handing it down, the door is opened for you to select your next watch guilt-free. Special occasions are always appropriate opportunities to give an heirloom to its heir, but there is never a bad time to start this custom. With the right tool, family stories and traditions can live on forever, and that very tool just happens to be up your sleeve.
---
LOOKING FOR MORE?
» Explore our collection of Swiss Timepieces
» Learn about our in-house Watch Repair
» Have questions about a particular timepiece, our availability or pricing? Ask Our Experts!