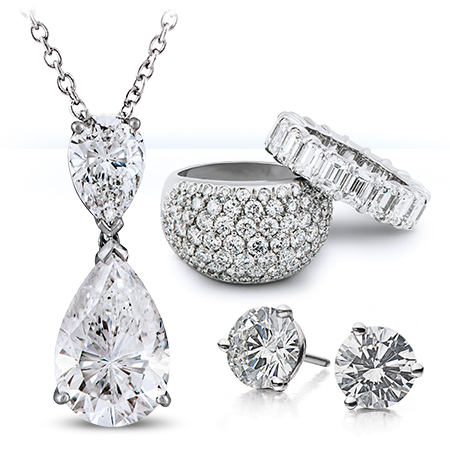 Diamond Jewelry
The gift of diamond jewelry is the most cherished way to celebrate many of life's important moments. From new engagements and important anniversaries to milestone birthdays, a diamond ring truly says it all. Our diamond jewelry collection is filled with endless styles of unique and exclusive designs, as well as modern trends and beloved classics. All of our diamond earrings, diamond tennis bracelets and diamond necklaces are hand selected to stand above the rest.
Our emphasis on the quality of every single design down to the smallest of details will ensure your piece lasts (and is loved) for generations. The care, precision and technique that's involved in hand-selecting diamonds for these pieces is reflected in the smallest of details. An exceptional quality piece will always stand above the rest, regardless of its size. Celebrating something so important deserves only the very best!
From casual to couture, diamond jewelry is the perfect accessory for every occasion. Whether it's fashion-forward diamond pendants, statement diamond rings and necklaces, or a pair of elegant diamond studs, you're sure to find what you're looking for in our vast collection of diamond jewelry.
---
Our website only represents a select portion of our diamond jewelry selection, please visit our store to view our entire collection.
Explore our collection of dazzling diamond jewelry...