Get Involved with Bridging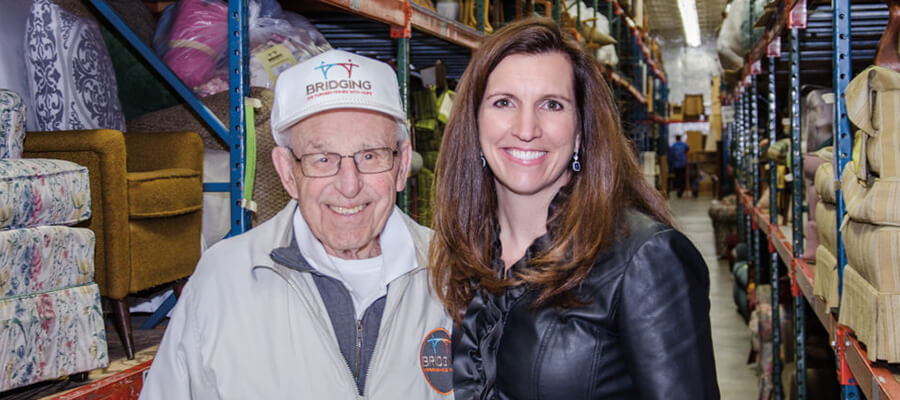 In addition to being a great way to give back to those in need, volunteering is a terrific opportunity for team building, socializing and staying active. Without the help of volunteers, Bridging simply could not help those in need throughout the Twin Cities.
Help sustain Bridging by making a monetary donation. Whether it's $1 or $1 million, it all makes an impact! All donations are tax-deductible and are a vital part of Bridging's success.
---
Volunteering is a terrific way to give back to those in need. Individual and group engagement opportunities are available year-round! INDIVIDUAL VOLUNTEERING:  Select from a variety of departments and offer up your talents and skills: warehouse assistant, building maintenance,  woodworking shop, electrical shop, office support, shopping assistant, product sorting TEAM VOLUNTEERING: You will have a lot of fun and keep busy while making a big impact in a short amount of time with one of these team building activities. Or sign up to help out at one of Bridging's two locations to help load/unload trucks, sort through donated goods, inspect linens and restock shelves for client shopping. Sponsor a Dresser Build: Buy and build dressers for those in need. A terrific team-building activity!  All volunteers must be 14 years of age or older to build at Bridging. Host an all-ages and family-friendly event at your location! Organize a Canvassing Event: Groups of all sizes can help change the world one door at a time! Help Bridging create more awareness in a neighborhood of your choice, all across the Twin Cities. Bridging provides the door hangers and you provide the volunteers. No doorbell ringing involved! Host an Essentials Drive: An essentials drive helps Bridging meet their yearly goals. Off-site at your work, school, faith-based organization and in your community. New or gently-used items accepted. More than 240 blankets, pillows and towels of all sizes are needed per week! Over 80 packs of basic kitchen supplies are needed per week. Each Kitchen Pack includes: a can opener, mixing spoon, spatula and dish towel/cloth. Additional items to add: dish scrubber, hot pad, ladle, measuring spoons/cups, pizza slicer, vegetable peeler, whisk, etc.
---
From corporate donations to community partnerships, Bridging works with a variety of businesses, foundations, individuals, and other nonprofits to make a difference in the lives of people in need.
---
Whether it's racing down Buck Hill on a mattress at Subway's Bedrace for Bridging fundraiser or joining in the annual live auction at the glamorous Gala for Bridging, there are a variety of events throughout the year to have fun and support a great cause.
---
Items that no longer have meaning to you can mean the world to a child, family, or individual in need. Donate your quality, gently used furniture and household goods that you no longer need or use and furnish a home with hope. FURNITURE: — Bed frames: metal, freestanding and folding (NO headboards, footboards or wooden rails) — Bookshelves/large wood furniture: 72″(h) x 36″(w) or smaller — Chairs: kitchen and upholstered (NO electric/powered chairs) — Coat rack/hall tree — Desks: 42″(w) x 24″(d) or smaller — Dressers — Futons (complete sets only, frame and mattress) — Mattresses and box springs (stain and rip free): twin, full, queen, king size accepted; foam ok, (NO cribs, electrical beds, bunk beds, trundle beds, captain's beds, sleeper sofas or rollaways) — Sofas, loveseats, and ottomans (NO sleeper sofas) — Stools: counter and bar height — Tables: Nightstands, coffee tables or end tables — Tables: kitchen and dining (NO glass or stone top tables) — TV Stands: 36″ high or less
---
HOUSEWARES – LINENS, KITCHEN & BATH ESSENTIALS: full sets not required — Bakeware: casseroles, loaf/muffin pans, pie plates, rectangular/pizza pans, and cookie sheets — Bathroom: shower curtains, bath mats, soap dish, wastebaskets, and toothbrush holders — Bed linens/sheets (all sizes): pillowcases, flat sheets and fitted sheets, mattress pads and bedskirts — Blankets/comforters/bedspreads: all sizes — Colanders/strainers — Cookware (all sizes): pots and pans — Dishes: plates, bowls, cups, serving pieces, butter dish and salt/pepper shakers — Glassware (all sizes): drinking and stemware — Hangers: plastic only — Knives, cutting boards and knife blocks — Laundry baskets and bags — Napkin, utensil and paper towel holders — Pillows: sleeping and decorative — Plasticware and food storage containers — Platters/serving trays — Rugs (no larger than 8 ft x 10 ft) — Silverware: forks, spoons, knives or serving pieces — Sleeping bags — Storage: bins/baskets/canisters — Table linens: placemats, table cloths and napkins — Tea kettles/thermoses/travel mugs — Towels: kitchen and bath (washcloths, hand and bath towels) — Utensils (serving): spatulas, can openers, mixing spoons, whisks, peelers, tongs, scissors, and slicers — Wastebaskets/trash cans
---
SMALL APPLIANCES & ELECTRONICS: — Blenders/Cuisinart/food processors/mixers — Clocks — Coffeemakers — Crockpots — DVD players — Fans: box and floor (NO ceiling fixtures) — Hairdryers, curling irons/flat iron — Heaters: small/electric (NO base-board heaters) — Irons and Ironing boards — Lamps: floor and table (NO fixtures) — Microwaves — Radios (portable) — Specialty appliances: electric griddles, woks, fry pans, panini press/grills, quesadillas makers, rice steamers and waffle makers — Toasters and toaster ovens — TVs, remotes and converter boxes (manufactured in 2000 or newer): tube TVs (30" or smaller), free standing flat TVs (42" or smaller) — Vacuums
---
MIRRORS, ARTWORK, & PICTURES: All must be framed
---
GET INVOLVED!
» This local charity has been Bridging the Gap between those who have and those who have not for over 30 years. » Contact Bridging for more information.
---