Lapis & Hematite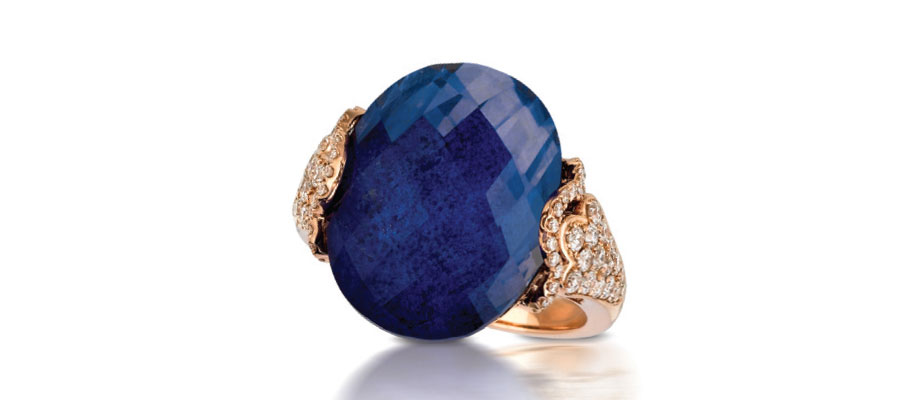 One of the top trends currently is color gemstone pieces. The look is big and bold. On day four of our buying trip we meandered up and down aisle after aisle viewing cases full of jewelry. After a long day it becomes a bit of a blur, until out of the corner of my eye, something bold and striking caught my attention. A collection of Blue Lapis that was extraordinary! Now normally I wouldn't get so excited about Lapis, because it isn't usually the kind of gem a designer makes into important pieces. But this collection caught my attention. The rich royal blue is stunning and when you try the pieces on they make a statement. I was impressed, so we bought a nice collection of the Lapis and also a collection of rich gray Hematite. The pieces in this collection range in price from $2000 to $10,000 giving you a big look for the money. Layers of Blue Lapis and pure white topaz combine to create this enchantingly beautiful Lapis collection in 18k rose gold. The artisans hand-craft every piece taking special care to cut the hematite gemstone in order to bring out its iridescent grey hues. Provocative shades of charcoal set in 18k white gold, these pieces can be worn day and night from street wear to haute couture.
---
Blue Lapis and Hematite jewelry from our gemstone jewelry collection:




---
What is Lapis Lazuli?
Lapis lazuli is a dark blue microcrystalline rock composed primarily of the mineral lazurite. It often sparkles with golden pyrite inclusions, like stars twinkling against the blue firmament.
What is Hematite?
Hematite is an iron ore that is dark grey in color and is primarily found in the United States, Brazil, Venezuela, and Canada.
---
---
---