Family Values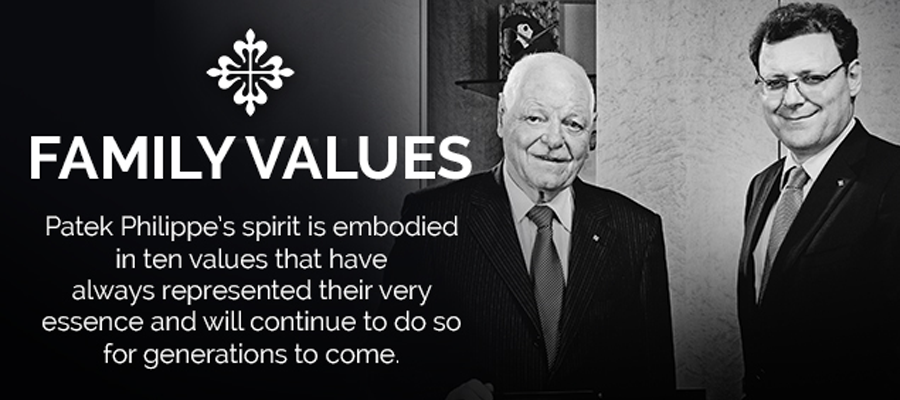 Holding true to their core values, Patek Philippe has created some of the world's most renowned mechanical masterpieces. Unlike large watch conglomerates that solely focus on sales, the heritage of Patek Philippe remains rooted in the tradition of fine watchmaking and the importance of family. Founded in 1839, Patek Philippe is the last remaining family-owned independent Swiss watchmaker. Thierry Stern, President of the brand since 2009, represents the fourth generation of the Stern family working to preserve the unparalleled quality of their timepieces. Representing the purest form of watchmaking innovation, Patek Philippe is a complete, vertically integrated manufacture that develops and produces its components in-house. From the smallest screw to the finishing touches on the case, great care is taken at each and every stage of production. Patek Philippe has always defined its own quality criteria, which is universally recognized as the strictest standards in the entire watchmaking industry. More than just a watch, a Patek Philippe timepiece is an instant heirloom that will be cherished for generations to come. Most impressive of all is their dedication to service. Since these timepieces are designed to be heirlooms, Patek Philippe guarantees to service your watch for not only your lifetime, but the entire lifetime of the timepiece. Communicating this dedication to quality is a set of clear and well-defined values that represent the essence of Patek Philippe. The philosophy of excellence and spirit of Patek Philippe are beautifully embodied in these ten core values.

INDEPENDENCE
Independence enables us to pursue our long-term objectives. Patek Philippe is Geneva's oldest independent family-owned watch manufacturer. Its independence enables it to go its own way and control its own destiny while pursuing a long-term vision. The company benefits from total creative freedom. It develops and manufactures its movements in-house according to its own quality criteria and produces only watches that reflect, in every respect, its quest for the exceptional.
---
SERVICE
Our interest is maintained throughout the life of the watch. To provide a service in keeping with its reputation, Patek Philippe works with a handpicked distribution network. The company believes that it has a duty to provide the highest standard of after-sales service, and has made this requirement a key criterion of the Patek Philippe Seal. For the owner of a Patek Philippe, this ensures that the watch will continue to receive the care and attention needed to remain as reliable as ever, generation after generation.
---
INNOVATION
Innovation is part of our tradition. Representing tradition at its most dynamic, Patek Philippe constantly pushes back the frontiers of the watchmaking art through its achievements at the cutting edge of innovation. It has confirmed its pioneering role by filing over 80 patents, including 20 of major importance to the history of horology.
---
VALUE
Lasting value is both material and emotional. As the product of an extraordinary amount of know-how and work, a Patek Philippe commands a high price and will fully retain or even increase its value over the years. It is an investment for the present and the future. Many of the models achieve cult status and regularly fetch record-setting sums at auction.
---
QUALITY & FINE WORKMANSHIP
Workmanship involves commitment to an ideal. Antoine Norbert de Patek and Adrien Philippe had but one goal: to develop, manufacture and assemble the finest timepieces in the world. Today, more than ever, "quality" and "fine workmanship" remain the watch-words for every aspect of Patek Philippe's production. Whether in terms of the movement or the external elements, the technical or the aesthetic aspects, the performance of each function or the rate accuracy of the timepiece, Thierry Stern—President of Patek Philippe—and his father, Philippe Stern—Honorary President—personally stand by all the commitments embodied in the Patek Philippe Seal, the most exclusive of quality hallmarks.
---
TRADITION
Tradition should always command respect. Patek Philippe was founded in 1839 and its history is part of Geneva's great watchmaking tradition. It is the story of a unique heritage, a combination of experience, ingenuity and passion that the company safeguards and revitalizes in all its disciplines and skills. Faithful to the noble artisanal techniques, its watchmakers and craftsmen perpetuate, day after day, the beautiful, timeless gestures and the sharpness of eye and deftness of touch that have always distinguished the fine art of watchmaking.
---
EMOTION
A Patek Philippe watch reveals something about you. Ask the owner of a Patek Philippe to talk to you about their watch, and you will hear a story of passion, love and tenderness. A Patek Philippe is far more than a means of telling the time; it is a unique, personal object steeped in precious memories. The purchase of a Patek Philippe is often related to a personal event—a professional success, a marriage or the birth of a child—and offering it as a gift is the most eloquent expression of love or affection.
---
RARITY
Rarity is the essence of a piece of art. Patek Philippe has always conceived its watches as exclusive creations. Over 200 models are in regular production, produced in small series of between ten and several hundred watches and fitted with a vast array of in-house movements. From design to mechanism, they earn their special place in the hearts of enthusiasts the world over.
---
AESTHETICS
Every where we strive for aesthetic perfection. Patek Philippe watches are works of art whose beauty reflects their mechanical perfection. As exceptional creations they outlive passing fashions without ever losing their appeal and modernity. Patek Philippe has established its own understated, timeless style: a harmonious combination of personality and discretion, elegance and an aristocratic touch.
---
HERITAGE
We will always live by the ideals that built our reputation. To acquire a Patek Philippe is to become the custodian of an artistic and scientific tradition that has been handed down with care and will continue to inspire remarkable creations. It is your entry into the world of a family company where, from father to son, each generation is dedicated to perpetuating a unique heritage.
---
LOOKING FOR MORE?
» Wixon Jewelers is an authorized dealer of Patek Phillipe Watches
» Is it time to build your own heritage?
» Have questions about a particular timepiece, our availability or pricing? Ask Our Experts!