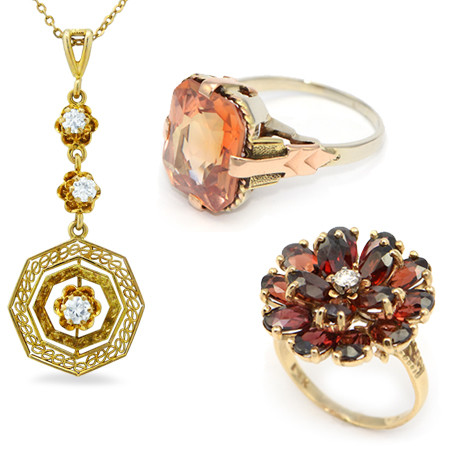 Estate & Vintage Jewelry
Estate and vintage jewelry (sometimes referred to as period or antique jewelry) has a special appeal to nostalgia buffs as well as the fashion conscious because history is woven into each piece of jewelry; each piece meant something special to someone in another time. Besides being just beautiful, the appeal of antique jewelry is its ability to transport you to a different time and place. The thrill of purchasing a vintage piece is finding out about its past – who was it made for? When was it made? What was the story behind it?
Owning and wearing a piece of jewelry from a bygone era is a way of honoring the talent and craftsmanship of the past as well as appreciating the wonderful value. We love estate and antique jewelry because we find great craftsmanship, fabulous gemstones, a touch of history, unique and interesting designs and great value. From the outrageous to the sophisticated, vintage jewelry of different eras in time vary in styles and can easily complement any outfit.
Our personally selected Estate Collection includes Victorian, Art Deco, Art Nouveau and Retro periods, as well as vintage engagement rings. If you are looking for that unique vintage piece, you have come to the right place! All of our antique and estate pieces have an interesting past and are certain to bring an wonderful future to your life.
This website represents a small portion of our collection, please visit our showroom to view our entire collection of vintage and estate jewelry.
Explore our periods of estate jewelry...