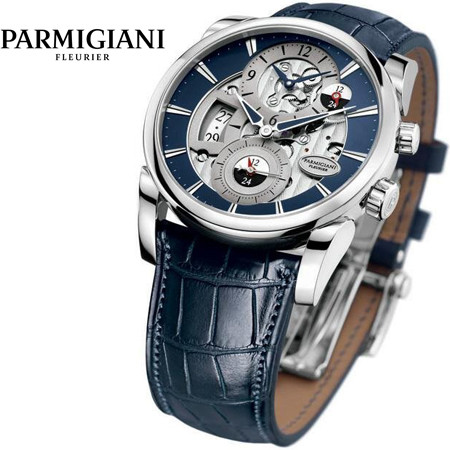 Parmigiani Fleurier
Parmigiani Fleurier has created some amazing collections of watches for men and women, perfect for your casual watch wearer to a horological purist. The roots for the company were planted in 1976 by an intensely skilled watchmaker, Michel Parmigiani, who was a virtuoso of restoring vintage luxury watches. The company was officially founded in 1996 and though they are younger than other watch brands, they have earned the respect of the watchmaking community with their amazing hand-crafted timepieces.
The idea of Swiss watchmaking as a luxury art drives Parmigiani Fleurier to only offer the best watches by using rare skills and the finest materials. Each watch features a movement that is created in-house, and every watch is assembled entirely by hand, ensuring optimal quality. Parmigiani, as an independent production house, has created a large presence in the established world of luxury watches due to their masterful creations.
Although they could be considered the new kid on the block, Parmigiani Fleurier took the watchmaking world by storm in 2004 with their release of the Bugatti 370 which was awarded the Watch of the Year. Whether it be a men's Kalpa Grande, a women's Pershing, or a piece from their highly coveted Bugatti collection, you are comforted in knowing that you are wearing a watch that was masterfully crafted and epitomizes the heritage of Swiss horology.
---
Parmigiani Fleurier Watches for Men | Parmigiani Watches for Women
---
As the only authorized Parmigiani Fleurier dealer in Minnesota, we are proud to offer an amazing collection of Parmigiani watches for both men and women. Our website only displays a portion of our collection, please contact us regarding availability and for more information.