The Best of Patek Philippe from Baselworld 2017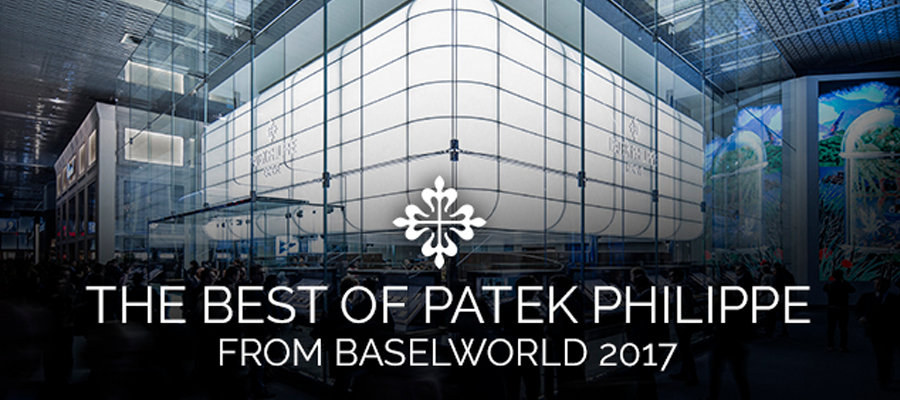 With an uninterrupted legacy of 178 years of creating the finest watches in the world, Patek Philippe knows a thing or two about how to excite connoisseurs of fine watchmaking. Each March, as the world's preeminent watch brands assemble at Baselworld to unveil their brilliant new creations, we can't help but get giddy with excitement over each new announcement. With so many fascinating debuts, it's hard to choose… but here are a few of our favorite releases from Patek at Baselworld 2017.
Calatrava – Ref. 6006G
One of the unique Baselworld releases from Patek Philippe was their Calatrava Ref. 6006 which will replace the Ref. 6000 series that were originally released at Baselworld in 2005. This new debut retains many of the beloved features of the Ref. 6000 while incorporating some updated aesthetic elements. The classic white gold case was enlarged from 37mm to a 39mm case, creating a more prominent stature on the wrist with its larger dial. The dial incorporates a fresh look in ebony black with skeletonized baton-style hands and a new analog date hand with a red arrow pointing directly to the date. Powered by a caliber 240 PS C movement, the Calatrava Ref. 6006G pays homage to the 40th anniversary of Patek Philippe's acclaimed caliber 240 movement. With its design components subtly reworked, the Ref. 6006G breathes new life into the Calatrava collection with its sleek and striking elegance.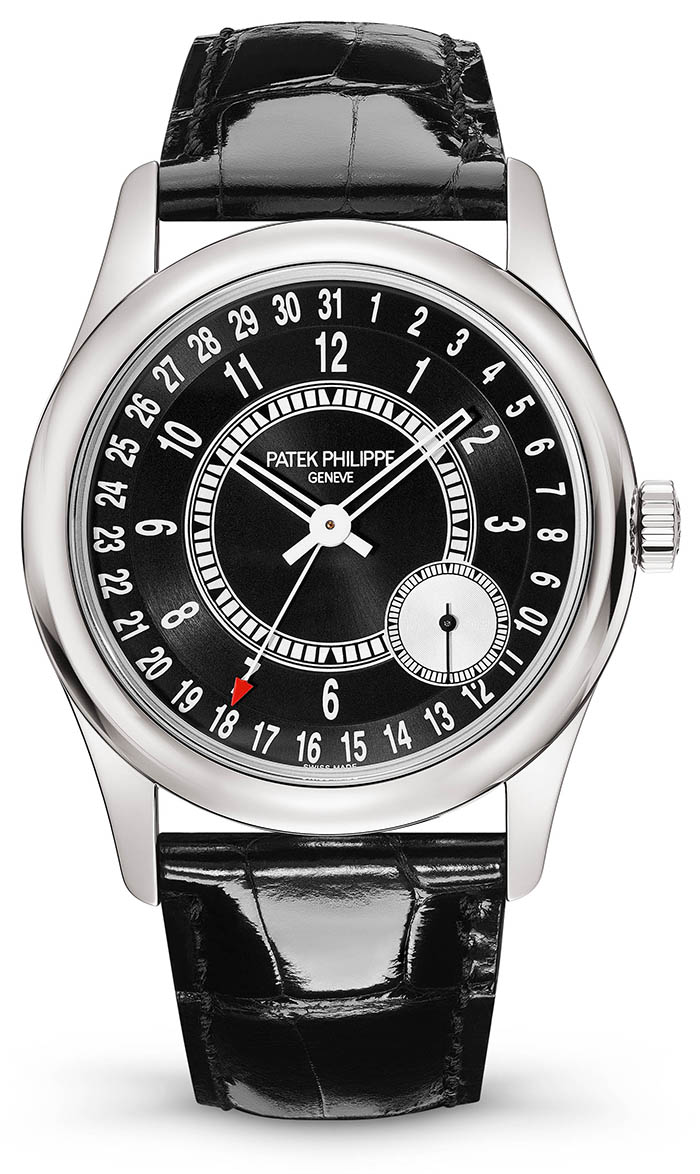 » Watch Details: Patek Philippe – Ref. 6006G
---
Ladies' World Time – Ref. 7130G
Patek Philippe also released a visual update of their Ladies' World Time Ref. 7130, with a bright and beautiful color. The new 7130G features a captivating peacock blue dial and is completed with a matching alligator strap. Accentuated with over a carat of diamonds, the striking color of this timepiece is wonderfully complimented by the sparkle of perfectly set diamonds in the bezel and buckle. Not only is this timepiece absolutely stunning, it is also incredibly functional. The world time function displays the time around the world at a glance by simultaneously displaying a 24-hour indication of the current time in each time zone. Fitted with a caliber 240 HU, the Ref. 7130G is powered by the same automatic movement that is behind most of Patek Philippe's world time watches. Illuminated by diamonds, the delicate guilloche dial paired with soft peacock blue makes this timepiece unapologetically feminine.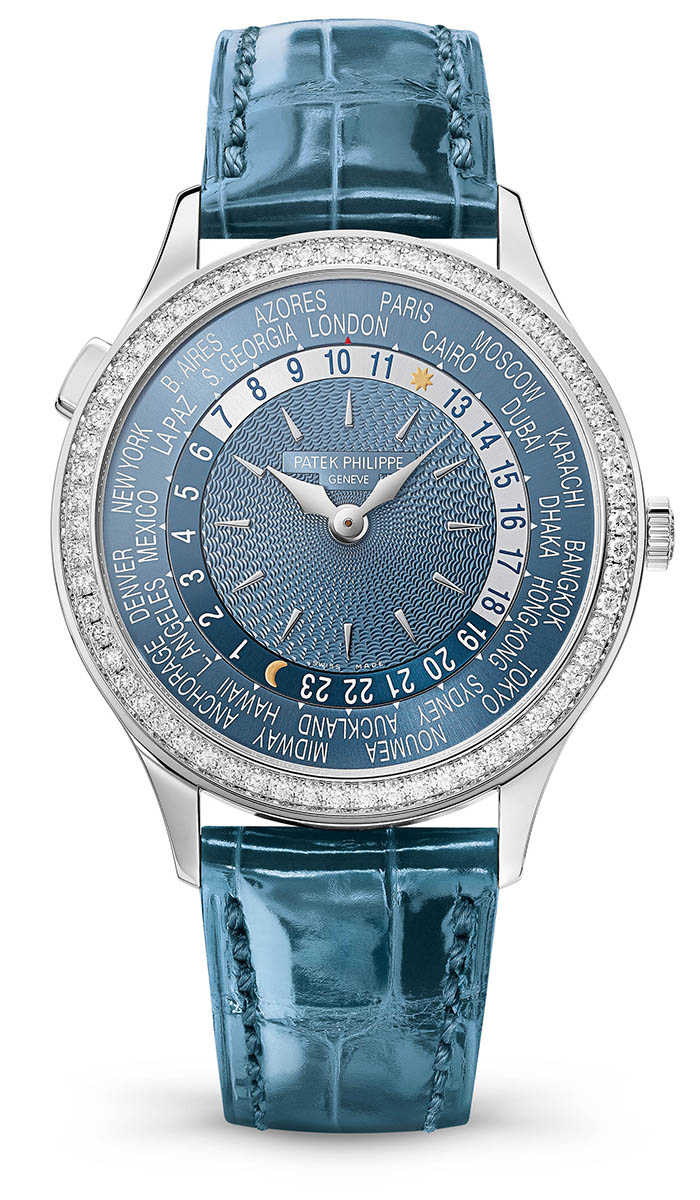 » Watch Details: Patek Philippe – Ref. 7130G
---
Aquanaut – Ref. 5168G
Paying tribute to the 20th anniversary of the Aquanaut, Patek Philippe released a bold new look for the collection: the Aquanaut Ref. 5168G. Fitted with a 40mm steel case and a black dial, the original Aquanaut was the archetype of a sports watch. The Ref. 5168G is the first Aquanaut in 18k white gold and, with a 42.2mm case, it boasts the largest case size ever seen in the line. Its warmer hue clearly sets itself apart from stainless steel and although the case was enlarged, the proportions and iconic styling elements remain intact. This is also the first time that an Aquanaut has been available with a blue dial or strap option. Playing off of the Aquanaut's classic black dial, the new Ref. 5168G features an embossed dial that graduates in color from night blue to black along the edges. This new release is sure to be a hit amongst fans and collectors and is a fitting tribute as we celebrate 20 years of the exceptionally successful and sporty Aquanaut collection.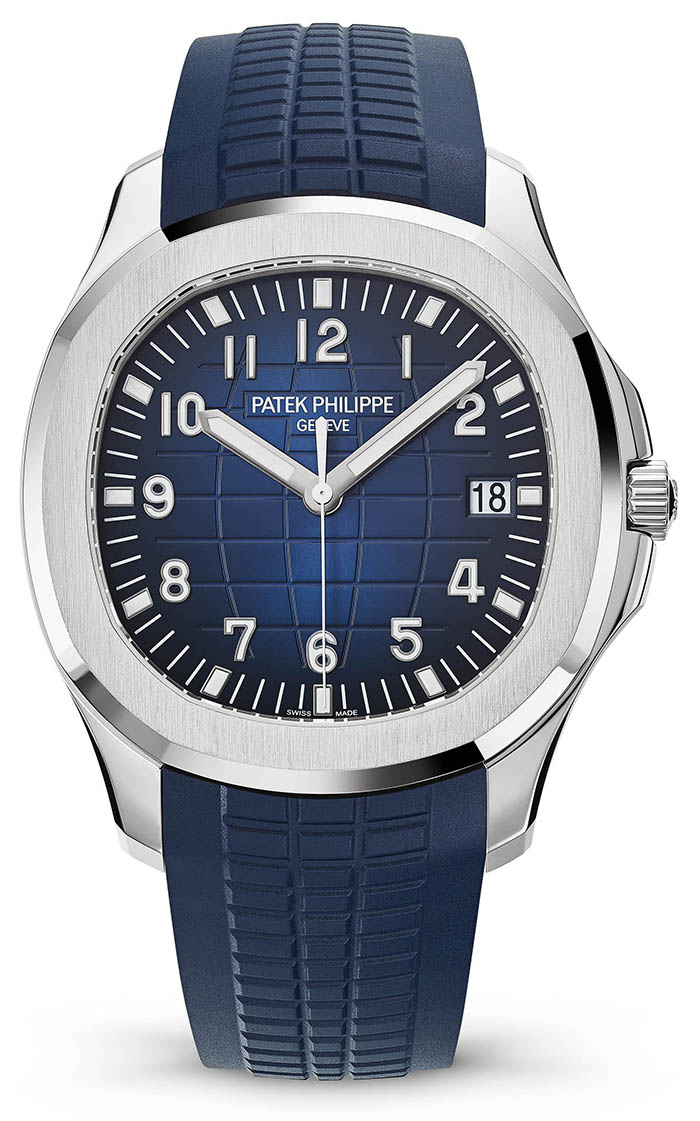 » Watch Details: Patek Philippe – Ref. 5168G
---
Annual Calendar Chronograph – Ref. 5960/01G
One of the big surprises at Baselworld this year was the unveiling of Patek Philippe's popular annual calendar chronograph, Ref. 5960, with a white gold case on a leather strap. The 5960 collection has seen several visual iterations over the years including the 5960P in platinum, the 5960/1A in steel, and now is available for the first time in white gold. Borrowing some styling cues from the Calatrava Pilot Travel Time Ref. 5524G, the new Ref. 5960/01G has a much sportier vibe with a textured blue dial and a brown calf leather strap. White and red hands provide a wonderful contrast against the underscored blue dial, which really rounds out the sporty look of this timepiece. A more subtle difference is the updated chronograph control, which now feature guilloche pushers that were inspired by vintage Patek models. The Ref. 5960/01G combines a sporty look with a slight vintage feel to create a fascinating new introduction from Patak Philippe.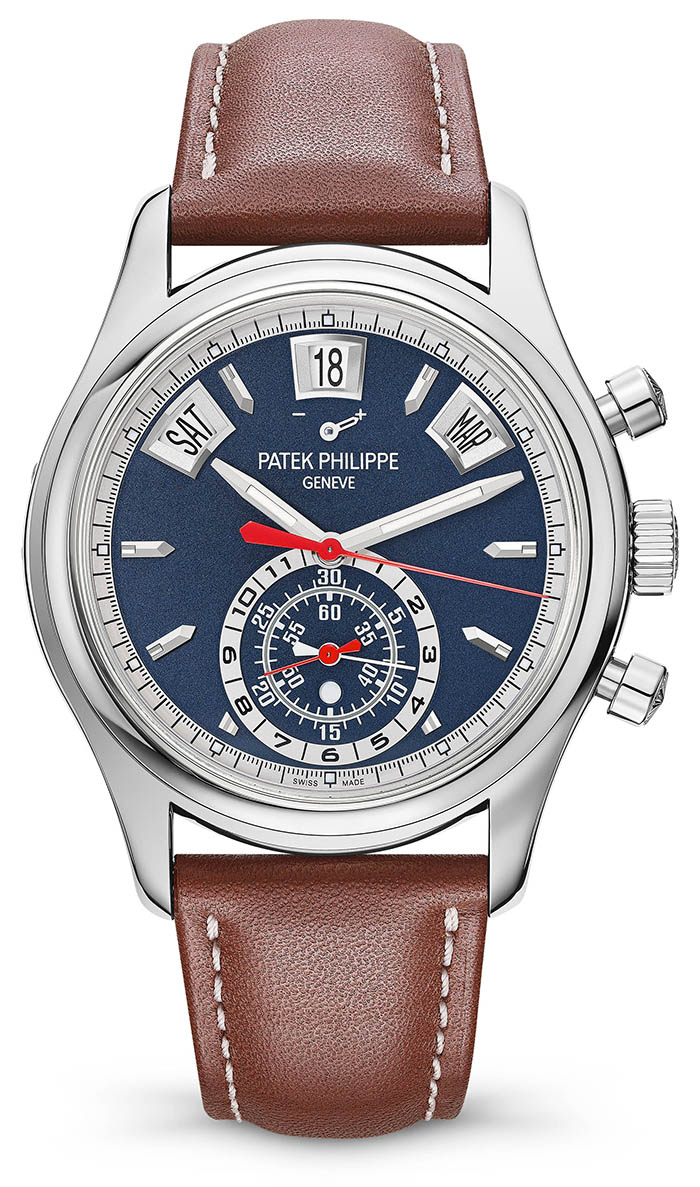 » Watch Details: Patek Philippe – Ref. 5960/01G
---
Men's Chronograph – Ref. 5170P
Another beautiful offering from Baselworld was a new version of Patek Philippe's classic men's Chronograph Ref. 5170, which is now available in platinum for the first time. Fitted with a 39.4mm platinum case, the Ref. 5170P was clearly made to be a dress watch first with the added benefit of a chronograph function. Its blue sunburst dial graduates in color from blue to black, offering a bold new vision for the classic chronograph. The elegance of the timepiece is undeniable with its platinum case and the incorporation of baguette diamond hour markers to replace the Breguet numerals on the dial. The latest in a legacy of great manually wound, two-register chronograph timepieces, the Ref. 5170P is a powerful combination of functionality and elegance.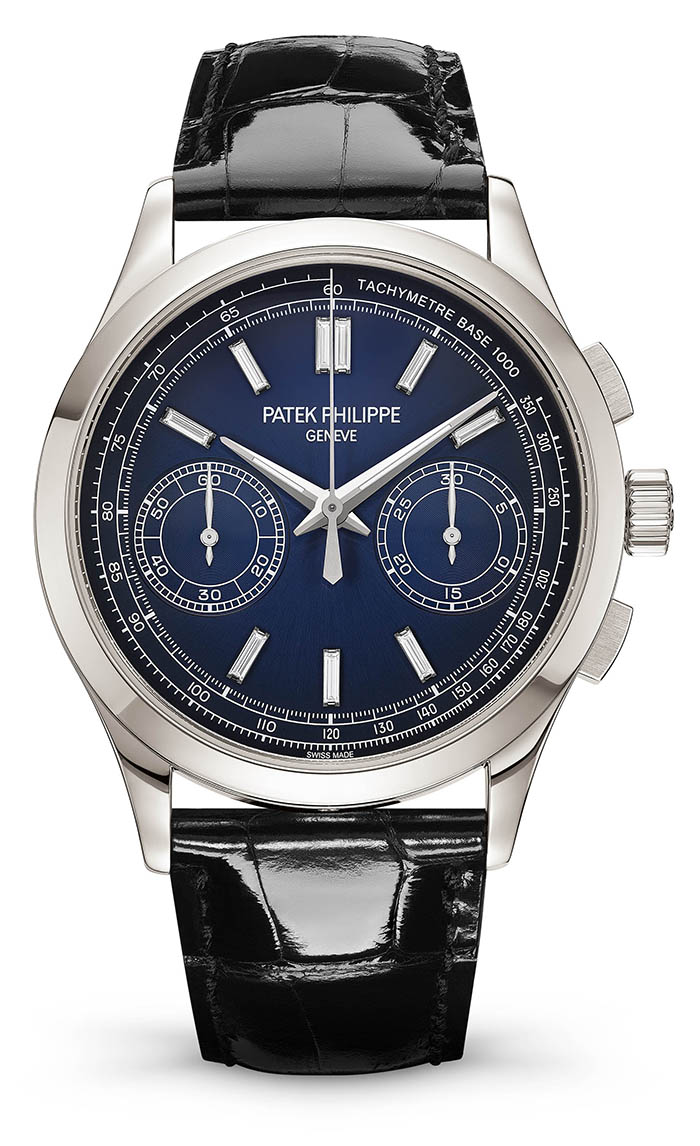 » Watch Details: Patek Philippe – Ref. 5170P
---
The Art of Watches Grand Exhibition: July 13-23
Baselworld brought a flurry of excitement for Patek Philippe's newest creations but there was also a lot of hype surrounding their massive upcoming public exhibition. The Art of Watches Grand Exhibition will take place from July 13-23, 2017 at Cipriani 42nd Street in New York. The 10-day event will showcase Patek Philippe's tradition of high-precision watch manufacturing, an insight into the company's 178-year history as well as its heritage in the domain of Haute Horologerie. Encompassing over 13,000 square feet, The Art of Watches grants visitors access to exceptional collections of pocket and wrist watches dating back to 1530. The best part of all… the exhibition is free and open to the general public! Visit The Art of Watches Grand Exhibition for more information and event details.
---
LOOKING FOR MORE?
» Browse our collection of Patek Philippe timepieces
» Patek Philippe: By the Numbers
» Hottest Releases from SIHH 2017
» Have questions about a particular timepiece, our availability or pricing? Ask Our Experts!
---
Join our eNewsletter
Be the first to know about tips, tricks and trends in timepieces
Oops! We could not locate your form.