A Complicated Carillon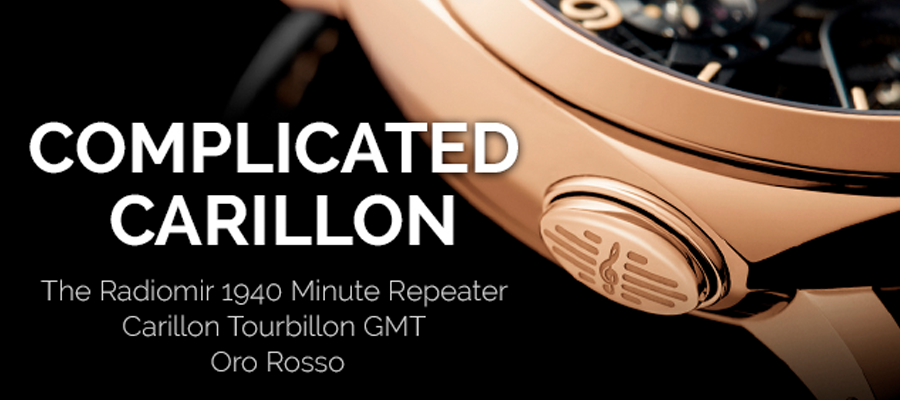 The Radiomir 1940 Minute Repeater Carillon Tourbillon GMT Oro Rosso
Officine Panerai sought inspiration for their newest exclusive creation from their own history and the nautical tradition of marking the passage of time by a ship's bell. In the maritime environment, the striking of a bell played an essential part of life on board: it served to rouse the crew in the morning, to summon the sailors for meals and to indicate the end of each watch. It was also used to warn of danger, to convene an assembly or to indicate the presence of the ship to others when visibility was restricted by fog. These traditions are beautifully embodied by the special tones and chimes of Panerai's new and exceptional Special Edition timepiece, the Radiomir 1940 Minute Repeater Carillon Tourbillon GMT.

A Masterful Movement
The result of four years of research and development in Panerai's state-of-the-art manufacture, the PAM600 is the most complicated timepiece ever created by Officine Panerai. For this timepiece, Panerai developed the P.2005/MR, a hand-wound movement with a remarkable tourbillon regulator that is perpendicularly mounted and rotates every 30 seconds for remarkable precision. The movement can be admired from both the front and the back of the watch thanks to the sophisticated work of skeletonization, which is also helpful to enhance the acoustic performance of the repeater.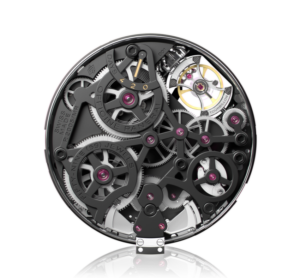 Chiming Time
The PAM600 features a decimal repeater, which works similar to a minute repeater but it will chime the number of ten-minute intervals rather than quarter hours. Utilizing three hammers instead of the usual two hammers found in most repeaters, three different sounds are combined so that the carillon can play a melody like that of a bell. Even more impressive, the repeater function is a dual repeater that can be activated for both local time and a second time zone, enabling it to chime the hours and minutes for two different time zones. The quality of the sound propagated by the minute repeater is further enhanced by the material and construction of the 49mm red gold case. Soldered together by two halves, the case's construction enables empty spaces inside the case to be optimized for quality acoustics and a harmonious tone from the repeater.
Made-to-Order
Created as a special edition, this timepiece is made-to-order and can be customized for our clients. Panerai has anticipated the possibility of personalization, which includes not only the choice of strap, but also the hands or other aesthetic elements. The Radiomir 1940 Minute Repeater Carillon Tourbillon GMT is unlike any other Panerai we've seen, and with the opportunity for customization, your timepiece can truly be one-of-a-kind.
---
LOOKING FOR MORE?
» Wixon Jewelers is an authorized dealer of Panerai Watches
» Learn more about Jaeger LeCoultre's Duomètre Sphérotourbillon
» Have questions about a particular timepiece, our availability or pricing? Ask Our Experts!
---
Join our eNewsletter
Be the first to know about tips, tricks and trends in jewelry
Oops! We could not locate your form.