Wixon Custom Necklaces: Past Creations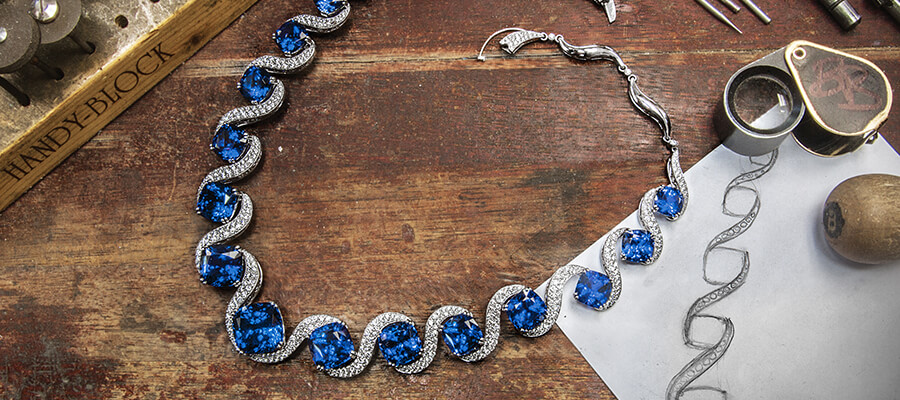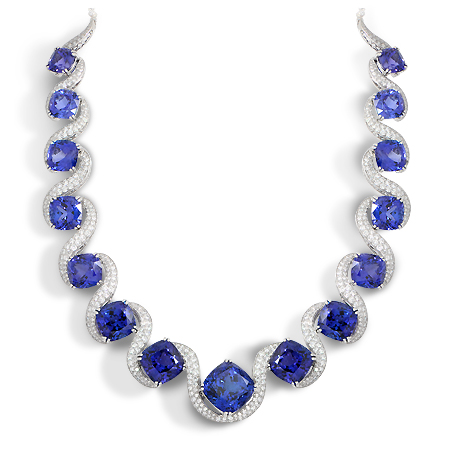 Tanzanite Collar Necklace
One of our most incredible creations to date, this Wixon Custom collar necklace is beyond exceptional in both quality and design. Crafted entirely in platinum, this piece features 15 perfectly matched cushion shaped Tanzanites equaling 137.64 carat total weight. Even more rare is the fact that all 15 Tanzanites are from the same host gem, making them strikingly identical in their rich and royal purplish-blue color. Our goldsmith spent months working exclusively on this piece. The attention to detail is easy to see in the intricacies of the design and the flawless execution in setting 642 diamonds. This necklace is for those who truly appreciate beauty beyond measure!
---
Read about the process to craft this incredible necklace Here.
---
Paraiba Tourmaline Pendant
The cool tropical blue of this 2.16-carat Paraiba Tourmaline from Mozambique is simply spectacular! A diamond encrusted ribbon of platinum cradles the Paraiba in a beautifully feminine design. Sunny yellow accents finish off this custom pendant with a scroll of yellow gold and vivid yellow diamonds set into the gallery.
---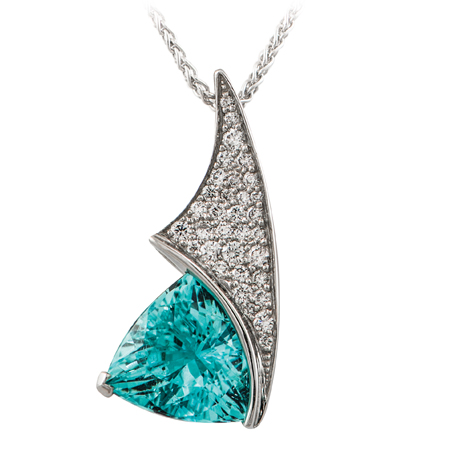 Paraiba Tourmaline Necklace
This pendant is a Wixon Custom piece, displaying a fresh and funky feel with its bold lines, pave diamonds, and beautiful trillion-shaped tourmaline. The vivid hue of this 3.80ct Paraiba Tourmaline is considered by experts the rarest gemstone color… the perfect gem for your rare beauty, and something that will only become more difficult to acquire in the years to come.
---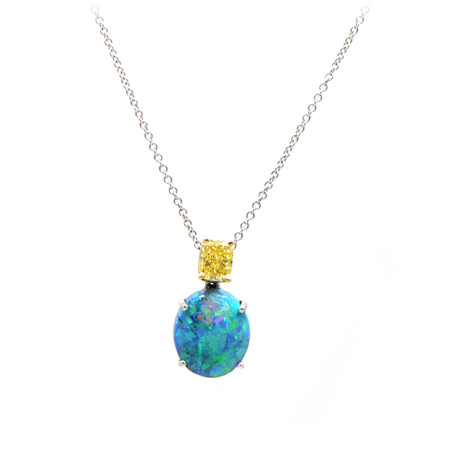 Black Opal Pendant
This Black Opal pendant was custom designed and crafted by our in-house jewelry designers, allowing it to carry the coveted Wixon Custom name. An amazing 4.10 carat Australian Black Opal is set in 18k gold just below a .90-carat cushion cut natural yellow diamond. The stunning blue and vibrant green hues that fill the Opal are accented brilliantly by the sparkling yellow diamond.
---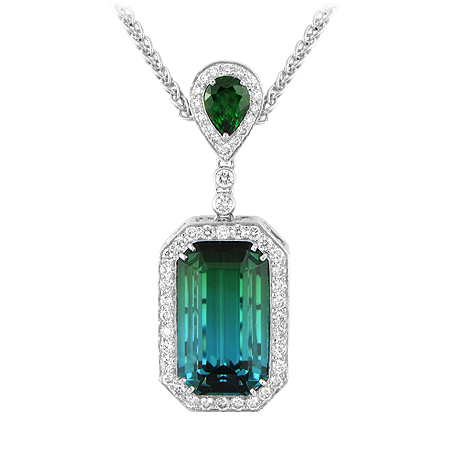 Blue-Green Tourmaline Pendant
This custom Art Deco inspired pendant is beyond exceptional in style! It features a stunning 9.40 carat bi-colored green and blue Tourmaline, which is truly a marvel of nature. The color transition between the two is effortless and gorgeous, with a .69 carat green Tourmaline set above to add to the play of color.
---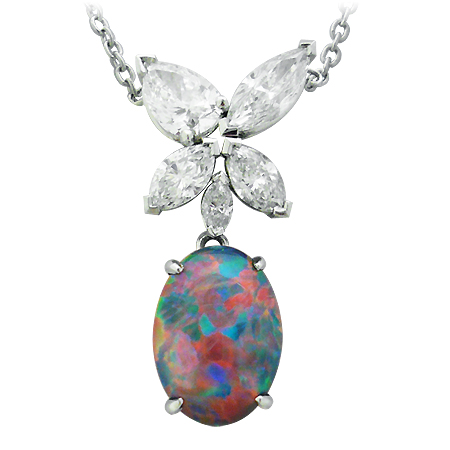 Black Opal & Diamond Necklace
Wixon Jewelers designed and created this beautiful gemstone necklace in-house, making it a Wixon Custom. The necklace features a 2.99-carat Black Opal set in platinum. The stone is suspended from 1.39-carats of marquise and pear shaped diamonds in a unique flower burst design.
---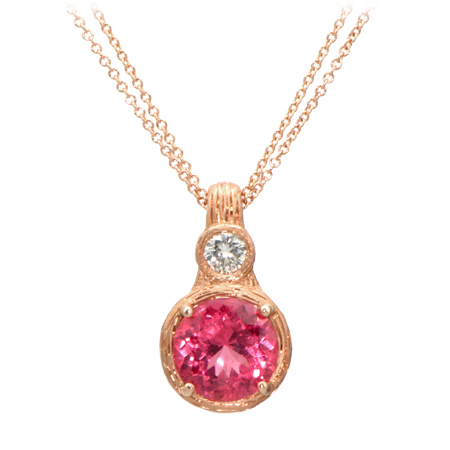 Spinel Gemstone Pendant
Wixon Jewelers created this gemstone pendant with a beautifully cut round 3.62-carat Spinel gemstone which is the focal point of this piece. The Spinel gemstone is set in 14k rose gold, below a .21-carat round brilliant cut diamond. It is styled uniquely with a bark finish look, adding character to this fun pendant.
---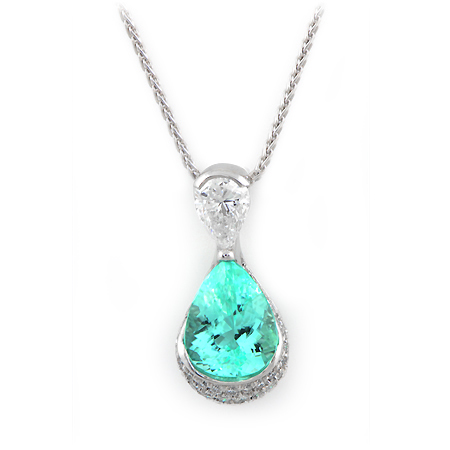 Paraiba Tourmaline Pendant
A 2.83 carat Paraiba pendant such as this is a rare find! The bright neon bluish green hue of this particular gem is sure to captivate even the most committed diamond lover. Custom made in platinum, this pendant also features a .65-carat pear shape diamond highlighted with .74-carats of additional diamond detail.
---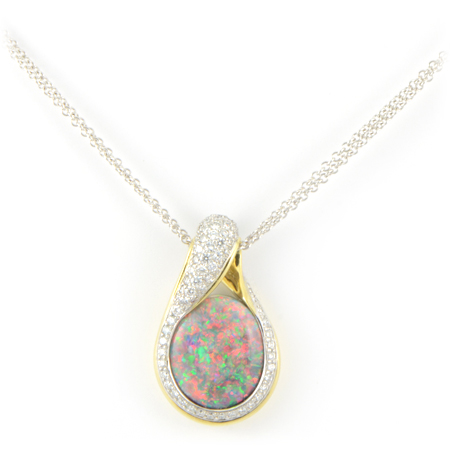 Black Opal Pendant
An exceptional 11.53 carat black Opal with as intense of a color pattern as this is a rare sight to behold! The Opal showcases its contrasting red, green, blue and orange flashes in an intense block pattern which adds to the value of the piece. The yellow and white gold combination, as well as the variety of colors on display, makes this pendant a perfect match for almost anything and everything!
---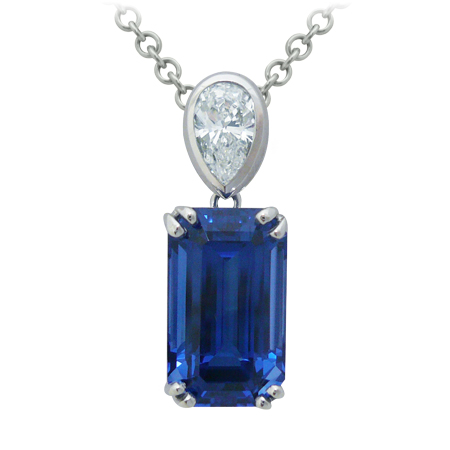 Emerald Cut Tanzanite Pendant
This wonderful gemstone pendant features a 5.89-carat emerald cut Tanzanite that dangles below a half-carat pear shaped diamond. The timelessly classic design is crafted in 14k white gold.
---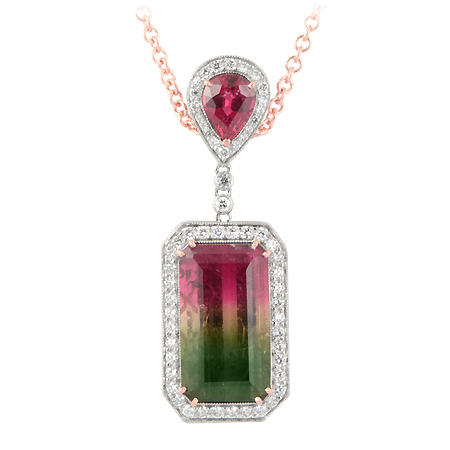 Watermelon Tourmaline Pendant
Custom designed and crafted by our in-house jewelry designers, this custom gemstone pendant will make your mouth water. The star of this piece is a 12.22-carat emerald cut bi-color Watermelon Tourmaline. An amazing mix of colors in the gemstone make this pendant come to life! The Tourmaline is surrounded by a halo of round brilliant cut diamonds and set into a white gold frame with rose gold filigree accents on the sides. The pendant is suspended from a 1.06-carat Pink Tourmaline and 14k rose gold chain.
---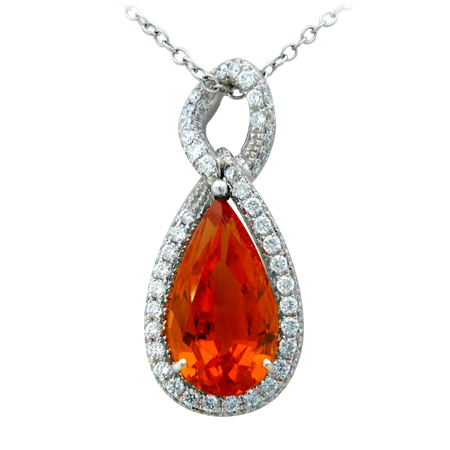 Spessartite Garnet Pendant
This gemstone pendant was custom created by Barry, one of Wixon Jewelers' in house jewelry designers. It features a large and beautiful pear shaped Spessartite Garnet surrounded in diamonds bead set into a figure-eight curved design.
---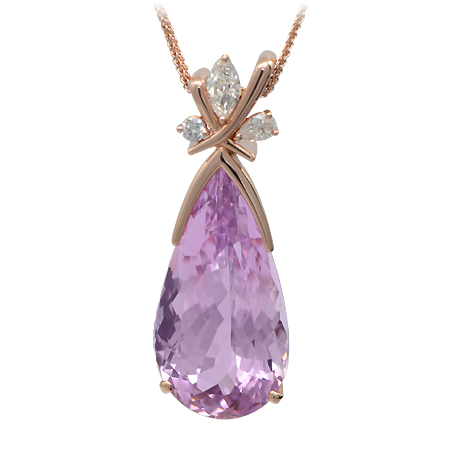 Kunzite Gemstone Pendant
This gemstone pendant is a beautiful Wixon Custom creation that was designed and crafted in-house at Wixon Jewelers. The pendant stars a 36.48-carat pear shaped Kunzite gemstone set in a spunky 14k rose gold design. This wonderful design also incorporates.77-carat of pear shaped, marquise and brilliant cut diamonds.
---
Cabochon Tanzanite Platinum Pendant
A treasured example from the Wixon Custom collection, this stunning Tanzanite pendant is a show stopper. At the heart of this beauty is a 40.46 carat cabochon-cut Tanzanite, which sets this pendant off. The cabochon cut is nearly facetless, which allows the pure rich blue color of the gem to shine through unfiltered.
It took an incredibly skilled gem cutter to extract the maximum beauty and color of this Tanzanite, especially in its prized pure rich blue hue. The gemstone was given to one of our in-house designers to design the perfect pendant that would showcase the true beauty and uniqueness of the gem.
To emphasise its unrivaled beauty, the platinum pendant's shape mimics the curves of the gem and accents it with almost two carats worth of diamonds. The side profile features delicate, hand-crafted filigree and diamond detail—a wonderful blend of classic with just a touch of contemporary. A Tanzanite such as this is truly a marvel of nature, and with its limited availability is not one to miss!