Sparkling Celebrations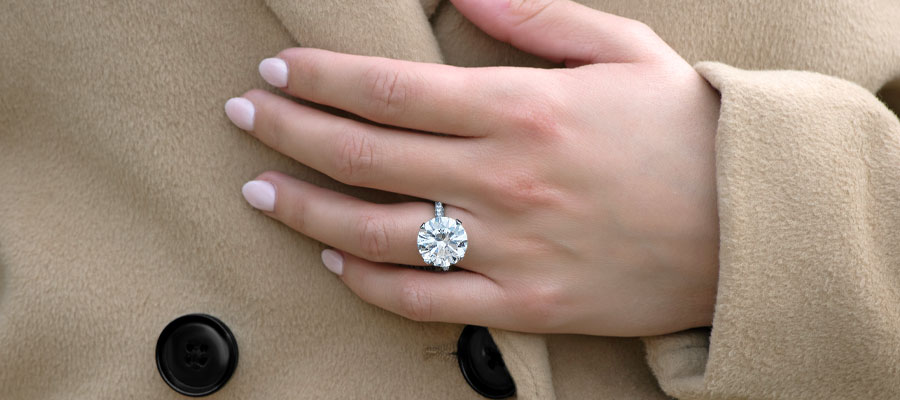 Popular Diamond Ring Styles
Whether celebrating an engagement, a major anniversary or a milestone occasion, choosing a diamond ring is an exciting moment in your relationship. It's one of the most personal and sentimental purchases in one's life. Perfecting the diamond shape, size and ring style is really about tapping into her personality and choosing a piece that is a sparkling reflection of her. This Valentine's season, we encourage you to surprise her with a diamond ring that's just as magnificent as your love for her.
Classic Elegance: The Diamond Solitaire
This classic ring style is perfect for the ultimate traditionalist. Timeless and enduring, a solitaire ring is all about the scintillating center diamond. The center diamond is the heart behind any ring and this classic setting pulls all of the attention to the beautiful single stone.

---
Three's Company: Three-Stone Styles
The beloved three-stone diamond ring exudes elegance and refinement. Much like a classic solitaire, it's a design that rises above all current trends. Different shapes speak differently—three emerald-cut diamonds display an unrivaled linear sparkle whereas three oval diamonds are a blindingly beautiful sight to see.

---
Pave The Way: Pavé Settings
Glitz and glamor define the pavé diamond ring design. Pavé is the French word for 'paved', which beautifully embodies this diamond encrusted look. A center diamond in any shape is gorgeous, illuminated and on full display when prominently displayed in a diamond-packed pavé setting.

---
Hello Halo: Diamond Halos
The halo style engagement ring is suited for a Queen. Afterall, it was first made popular by Princess Diana in the early 1990s. The center diamond is surrounded by a 'halo' of additional diamonds that create a magnified and impressive effect of the final sparkling product.

---
Scintillating Simplicity: Single-Row Diamond Rings
The simple and clean lines of this single-row diamond design elevate the center diamond and prominently showcase its beauty. Often also decorated on the crown profile, this style compliments any diamond shape in the most exquisite way.

---

LOOKING FOR MORE?