VIDEO: Rolex GMT-Master (Ref. 1675)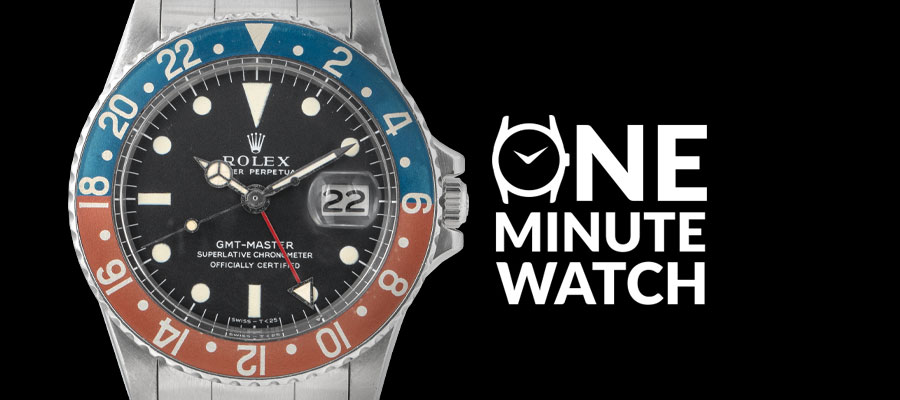 One Minute Watch with John Carter
Pre-Owned
Rolex GMT-Master
This is one of the best-looking vintage Rolex GMT-Master models that we have seen! The original "long-E" dial and hands are in excellent condition, and they have faded to an even vanilla tone. And that bezel! The original "Pepsi" combination has faded to a denim/copper combination that is truly striking. The color of the bezel alone makes this a very cool and collectible model.
This vintage GMT-Master dates to 1972 and is in excellent overall vintage condition, running within COSC spec. The bracelet is a newer "U" code 78360, dating to 1998. Sorry, no boxes or papers with this one.
Rolex introduced the first GMT-Master in 1955 through a partnership with Pan-Am Airlines to supply their pilots with watches that easily could track two separate time zones at once. The Ref. 1675 was produced from 1959 until 1980, making it the longest-running GMT-Master in Rolex's collection.
Dating to 1972, this Ref. 1675 is one of the best looking vintage GMT-Masters we've ever seen! The red and blue "Pepsi" bezel has aged to achieve a very cool denim and copper color that is truly striking and very collectible.
The original black matte dial is an earlier example of a Mark 1 Dial. Collectors refer to these as "Long E" dials because the center tine of the "E" in Rolex is the same length as the top and bottom. The dial is in excellent condition, and has aged over time to develop a beautiful vanilla patina that is even across the hands and the dial.