See our $1,000,000 earrings!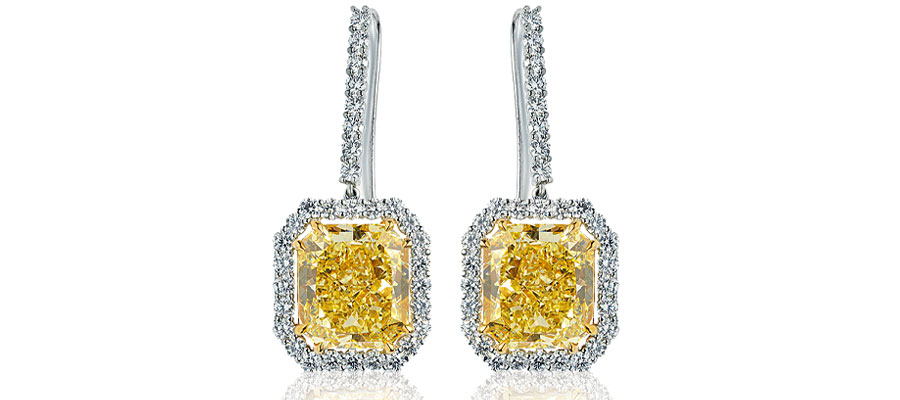 These earrings feature two radiant cut natural fancy intense yellow diamonds totaling 21.15 carats (GIA certified). Naturally occurring colored diamonds, such as these, are very rare and therefore command top dollar.
During our Diamond Designer Event we'll have on display exceptional diamond rings and jewelry featuring rare fancy color diamonds. Colored diamonds are taking the fashion world by storm. They are perfect for anyone who loves the sparkle and brilliance of a diamond, and are dazzled by the alluring hues of colored gemstones like rubies, emeralds, and sapphires. During our Diamond Designer Event you'll see some of the world's rarest natural colored diamonds making this the perfect opportunity to jump on the "bling" wagon. Celebrity fascination with fancy colors may account for the sudden spiral in popularity. Historically, celebrities, royalty, and other aristocrats have worn these unique gemstones, but times are changing and these rare gifts from nature are rapidly gaining popularity for engagement rings. While there is certainly no denying the appeal of colored diamonds as adornments and status symbols. The underlying message of colored diamonds is… natural colored diamonds are an incomparable and timeless investment. Not only will there be an exclusive colored diamond collection, the Diamond Designer Event also features some of the world's top designers and their entire collections brought in for this exclusive event! Our designer jewelry collections feature world renowned designers JB Star, A. Jaffe, and Mark Patterson. From luxurious diamond engagement rings to rare one-of-a-kind colored diamond jewelry there is sure to be something for everyone.
Diamond Designer Event | April 20-21, 2012 | 10a-5p