The Chain of Command: How to Layer Necklaces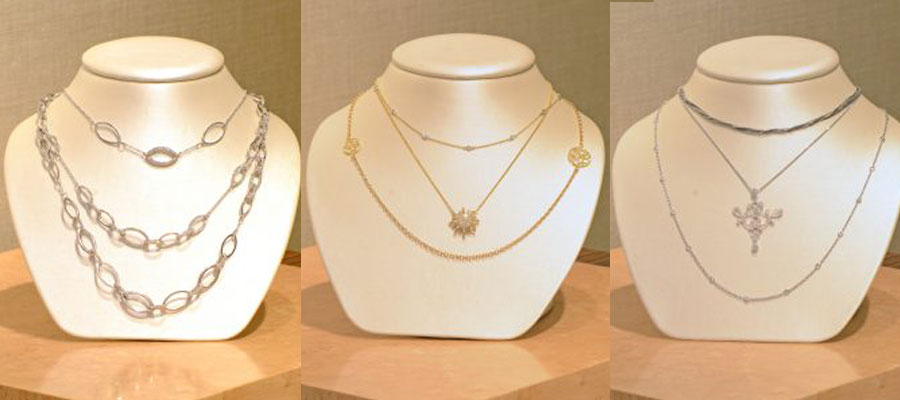 Question:
"I was looking through my jewelry box the other day and came across some little necklaces that I haven't worn in years. I'd love to wear them again but they just don't look quite right on their own. Do you have any ideas for me? They mean too much to me to trade towards something new or change them in any way."
—Megan M. | Minneapolis, MN
Amy's Answer:
We all have those pieces in our jewelry box; things we love, or are sentimental to us, but are maybe too small to wear on their own.  My favorite way to wear pieces like this is to layer them.  Layering necklaces can take a bit of practice, but once you master the right proportions it adds instant style to any outfit! Read on for my tips on how to layer necklaces like a pro.
The CHAIN of Command
Note: Whether the look is casual or glamorous, the key is to mix different types of chains in varying lengths for the right effect.
1. SHORT AND SWEET
Start with a necklace around 16" in length that's sleek and minimalistic like a classic diamond solitaire or chain. This piece should rest right at the collarbone to anchor the entire necklace combo in an effortless and chic way.
2. SHOW SOME FLAIR
Your next piece should be a slightly longer than the choker (between 18-20 inches in length) and show some personality! Whether vintage inspired or modern and funky, this should be a piece that speaks to your unique style.
3. GO LONG
Your third necklace should be the longest piece, around 30 inches or so. This piece can be bold and chunky or sprinkled with diamonds; the key is that it must be the same color as the other two so the look is cohesive.
Missing a piece or two to achieve the right mix? Stop by our showroom and we'll find the perfect necklaces to complete your ensemble!
---
---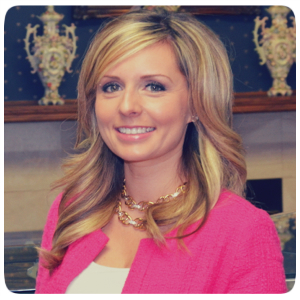 Amy shares her pearls of wisdom in her weekly column, Ask Amy. Her impeccable taste helps to select beautiful, current yet timeless looks for our clients in harmony with their own personal style. She believes that jewelry should have a story to tell about the person who wears it and is delighted to commemorate life's celebrations. If you have a question, just Ask Amy!