Kohler Waters Spa
Do you recall the last time you encountered that feeling of bliss that washes over you when you "get away from it all?" We are all over-stressed, under-rested, and consumed by digitally saturated lives. Taking time for yourself is taking care of your health, and spa getaways are the new intoxication. In need of a little personal rejuvenation, it was easy to find a few girlfriends to accompany me on the five and a half hour bucolic drive thru Wisconsin to our destination, Kohler Waters Spa.
---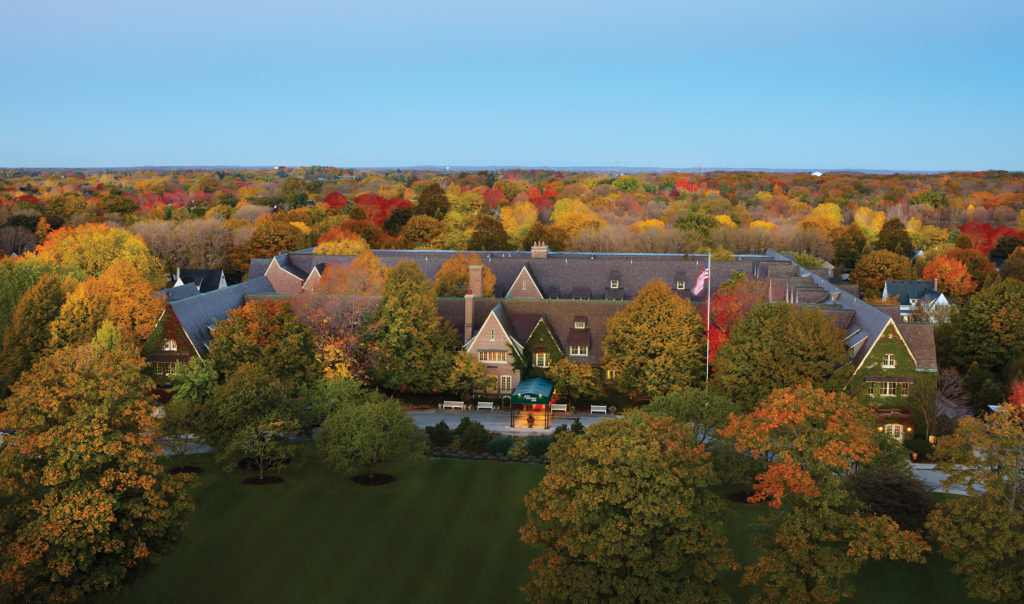 Adjacent to the Kohler Waters Spa, The American Club is nestled in the heart of the picturesque town of Kohler, Wisconsin. The Tudor-style redbrick building welcomes guests with gracious hospitality.
---
Relax & Recharge
Our adventure began by checking into our rooms and discovering them equipped with the latest Kohler fixtures. The Kohler shower and the in-room features, not to mention first-class service, made me question the need to actually head to the spa, but I quickly dismissed the notion. Staying in The Carriage House allowed us the convenience to head downstairs to the spa in our robes ready to unwind. We indulged in many of Kohler's services including Bamboo Bliss and Moroccan "Rock"ing massages, hydra facials and body treatments. Our group favorite, the Marine Contouring Wrap, consisted of a seaweed body basting, full-body foil wrap and a healthy dose of moisturizing contouring cream. If you are headed to the Forbes Five-Star Kohler Waters Spa, focus on what they do best, water. Through my travels, I have had the opportunity to experience a variety of spa services, and my most delightful experience to-date was Kohler's hydrotherapy treatment which promotes health through water. Generally speaking heat soothes and cold invigorates, The Healing Waters Treatment is designed to stimulate the senses while calming the mind. The treatment began by lying on a water bed with a custom Kohler Vichy shower. Five heads spray warm water from above, while you simultaneously receive a cold water exfoliation. After being lathered and rinsed, I burst out laughing as buckets of cool water were literally tossed on me, creating a symphony of sensations! The room was so thick with steam from the warmth of the shower that the smack of cool water on my skin was welcomed. (Now I can tell you, my only other memory of being doused by a bucket of cold water, was not positive and I was fully dressed.) Who knew thirty some years later, I would pay for that pleasure?!
---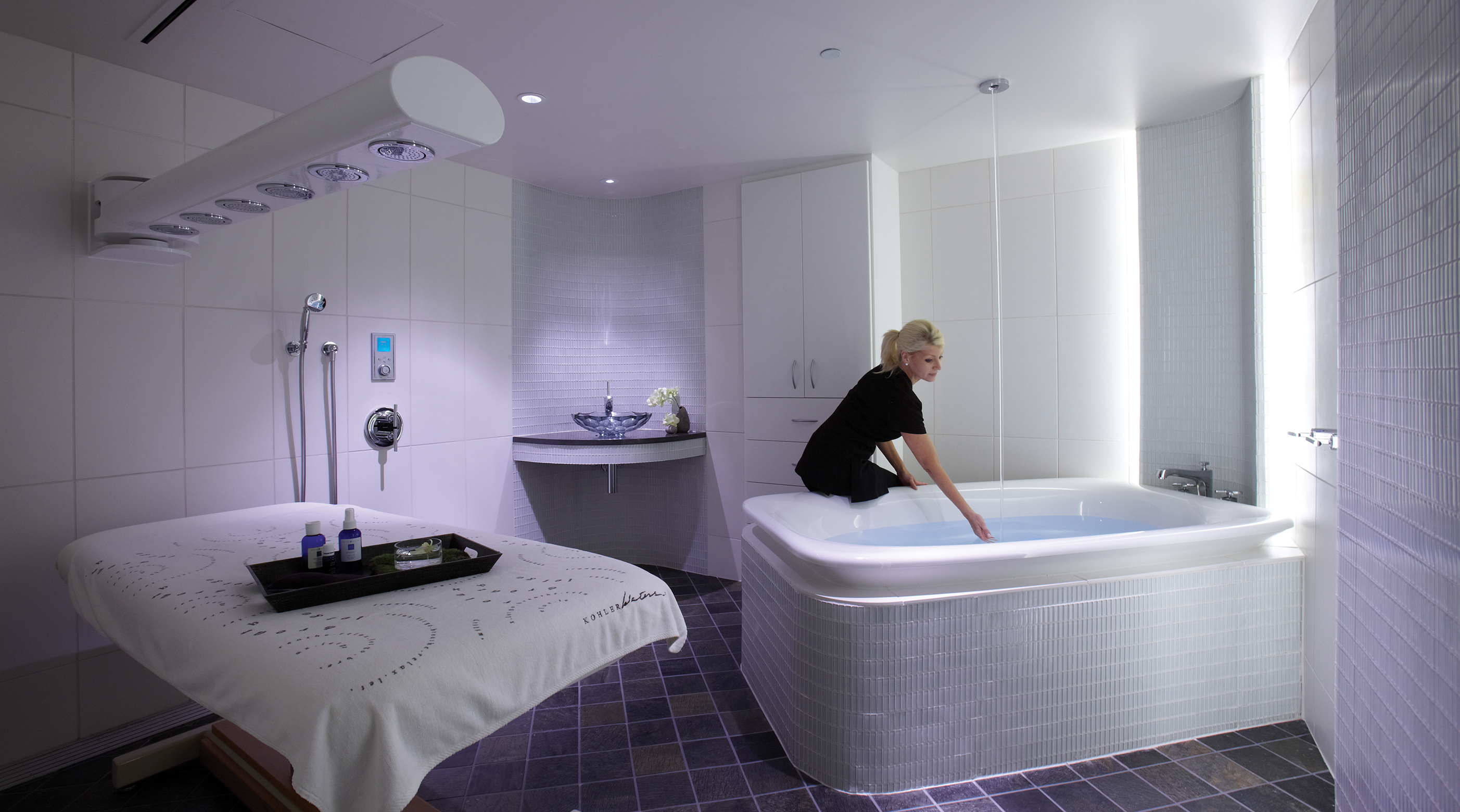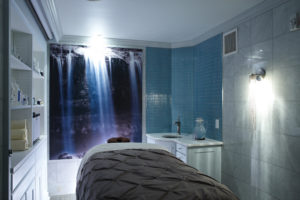 Soothing sounds of water surround you the moment you step foot into Kohler Waters Spa. From water-inspired treatment rooms to the warm and inviting 30-foot relaxation pool, every detail is a delight to the senses. 
---
The team at Kohler beautifully orchestrated our spa appointments, leaving time for us to relax and enjoy all of the other activities The Village of Kohler has to offer. In our constantly connected world, trying to find calm in the chaos can be a struggle. Sometimes all it takes is a single yoga session to realign your outlook. Kohler has a fantastic yoga studio, Yoga on the Lake, overlooking the peacefully picturesque Wood Lake. From hatha to new hot yoga, the options for group classes or private sessions are plentiful. Ultimate relaxation is accomplished through body and mind; the myriad of benefits to both include lower stress, less anxiety, improved mental clarity and better quality of sleep.
---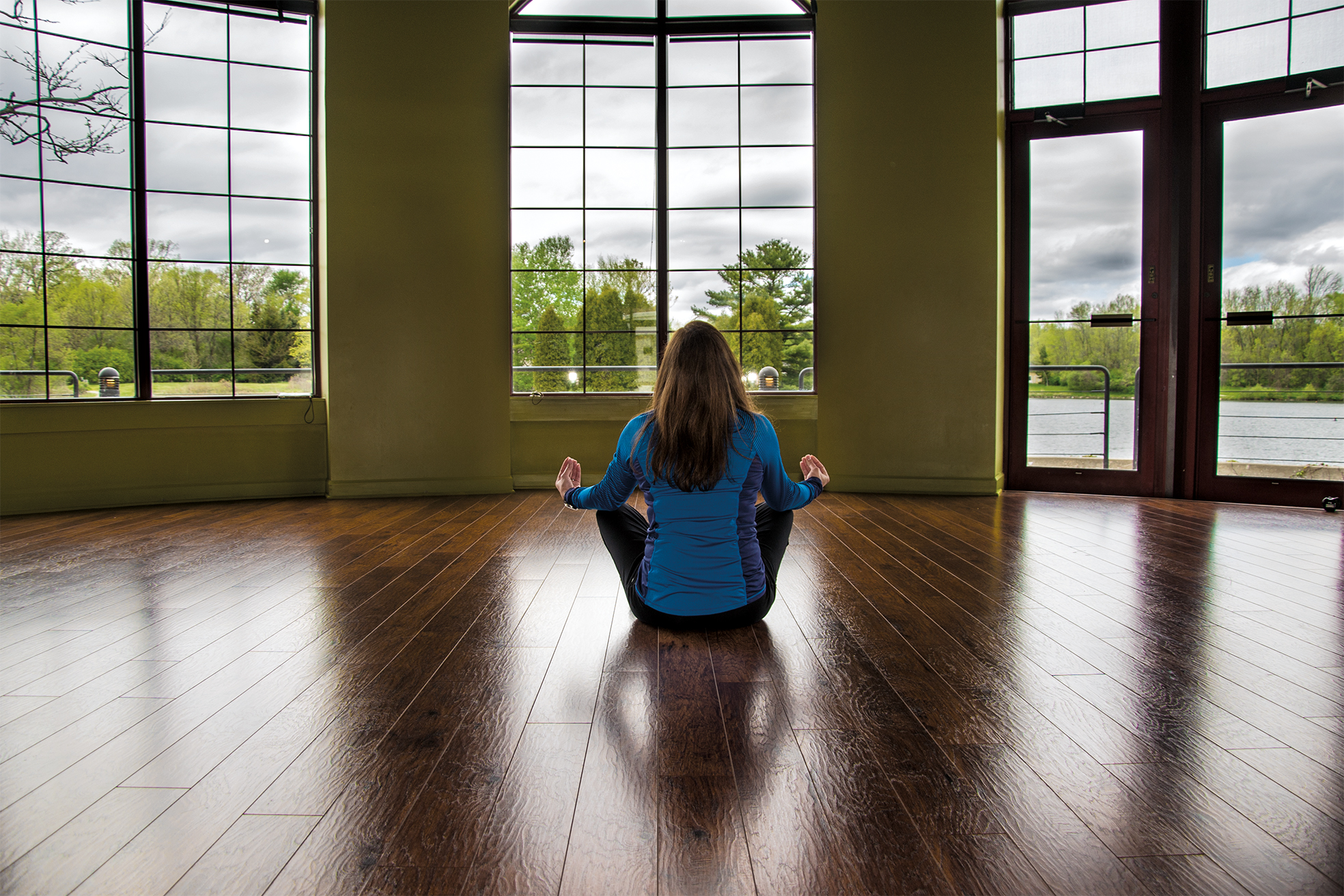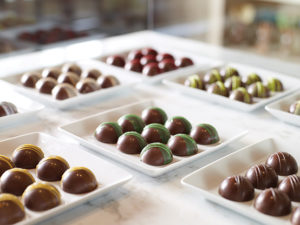 After a brief tour of the scenic Yoga on the Lake studio with Ashley Kohler, we headed over to Craverie Chocolatier Café for a quick taste test of their Kohler Original Recipe Chocolates and award-winning Raspberry Beet sorbet. 
---
Cleansing Palate & Soul
This trip was also about recharging and indulging, and the best way for me to recharge is through my palate. I have to admit when I think spa, I think minimal spa food. My girlfriends and I are not endive eating divas so we were elated to find Kohler a culinary destination as well! Every meal we had was outstanding. The Immigrant Restaurant delighted us with signature dishes such as Roasted Lamb Loin and Sockeye Salmon paired with a brilliant Italian Amarone. We savored a notable Pheasant Reuben, while enjoying a memorable lunch in the woods at the River Wildlife Lodge. Another culinary capstone was Seared Sea Scallops and Crab & Leek Stuffed Sea Trout complimented by a highly acclaimed wine list at Whistling Straits Restaurant. The restaurant is situated on The Straits golf course, home of the 2020 Ryder cup and only a short 15 minute drive from Kohler. This stunning championship golf course is sculpted along 2 miles of Lake Michigan shoreline and pays tribute to the raw landscapes of Ireland.
---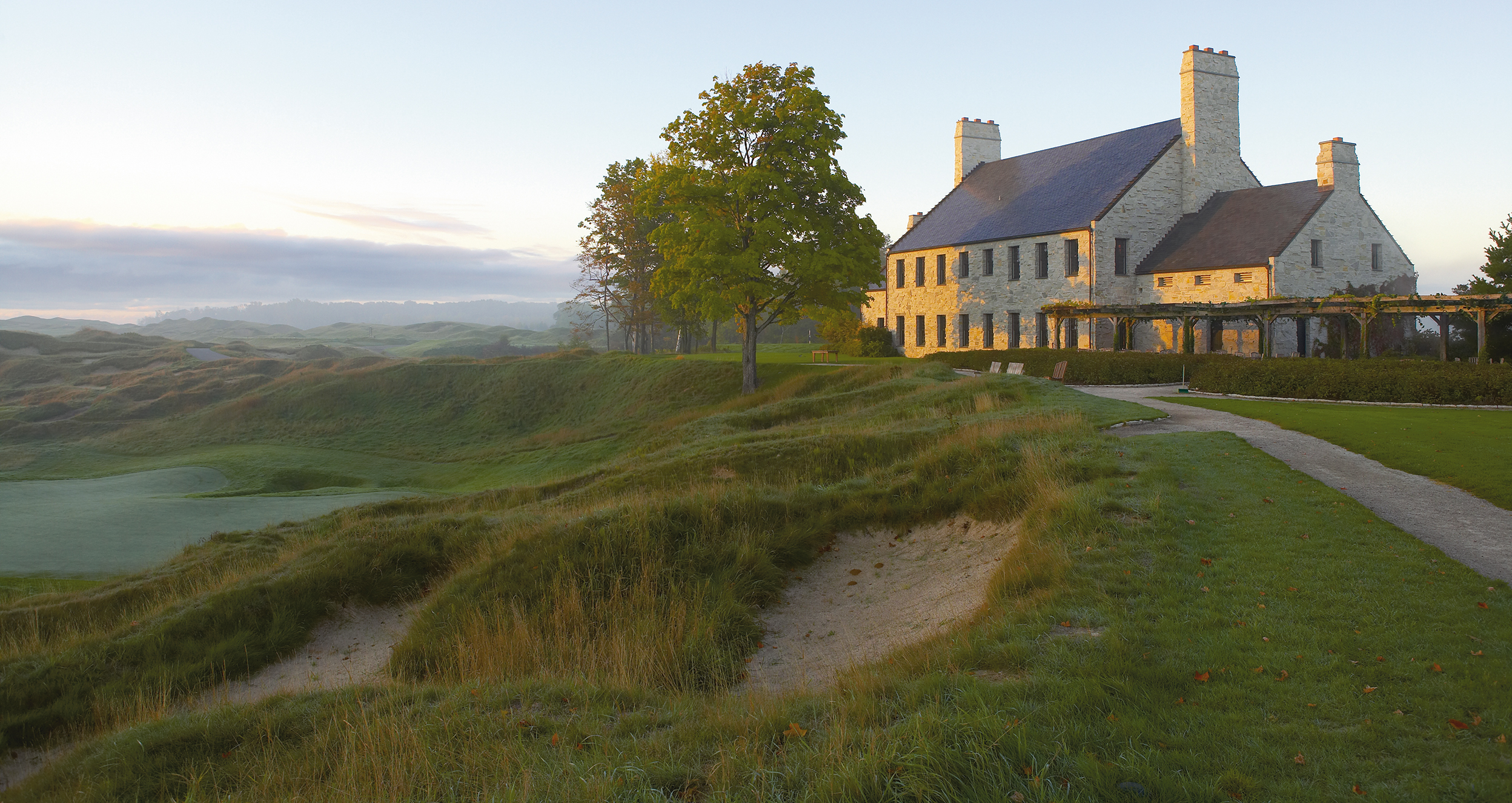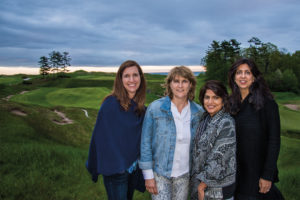 Enjoying a glass of wine while taking in the sweeping views at Whistling Straits transports you to the windswept shores of Ireland. It's not hard to see why this idyllic course was chosen as the location for the 2020 Ryder Cup!
---
A girl's getaway wouldn't be complete without chocolate and wine. In 2016, Herbert V. Kohler combined his love for brandy with signature Kohler chocolates which resulted in pure decadence in the form of Kohler Dark Chocolate Brandy. A sip of straight-up chocolate brandy is a flavor course of sweet chocolate accented with nutty nuances and a velvety smooth finish. Spending time at The Winery with Peter, Kohler's Head Mixologist, allowed us to experience the chocolate brandy in a variety of ways. Putting him to the test, we had him create a drink for us using cherries and it was sensational! We all brought a bottle home from The Shops at Woodlake Kohler to try our hand at craft cocktails.
---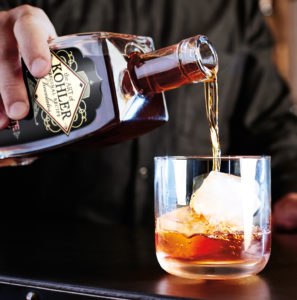 The Winery Bar once housed laundry facilities for immigrant workers of Kohler Co. who called the American Club home in the early 1900s. Now this elegantly cozy wine cellar is a gathering place to enjoy a custom craft cocktail and delectable dishes.
---
A Plumbing Playground
From the specialty spa treatments to our delectable dinners and craft cocktails, there were many delightful surprises but none more so than our trip to Kohler Design Center. The prospect of looking at hundreds of shower heads and toilets seemed like a secondary detail on a first class fête. I'm not one to gush about plumbing, but I have to admit this was a gold finished fixture on our trip. The mezzanine level showcases 26 kitchen and bath vignettes from renowned designers. There is inspiration for every design theme imaginable, ranging from modern, rustic, retro, classic, contemporary or cape cod. Your imagination will run wild with the latest in technology including digital showers, intelligent toilets and TV's in the mirrors. From new builds to remodels, Kohler Design Specialists will create complimentary CAD plans, and recommend materials and color schemes for your next project.
---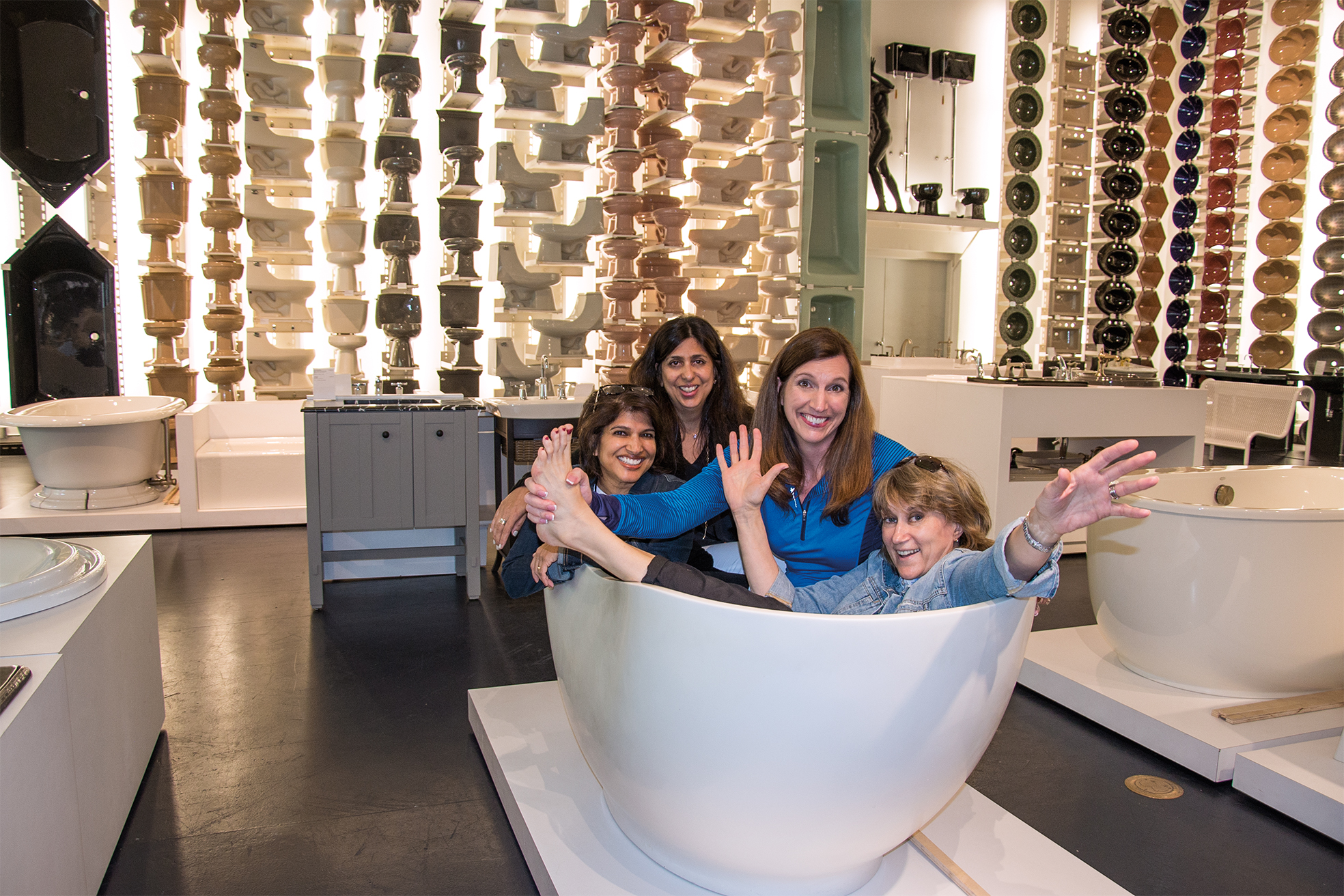 Aleya, Tara, Hope and Karen (L-R) all agree, getting hands on at the Kohler Design Center was an unexpected highlight of the trip!
---
More than 130 years ago, 29-year-old John Michael Kohler took a cast-iron water trough, added feet and enameled it, creating a bathtub. According to Kohler Co. lore, he sold it to a local farmer for one cow and 14 chickens. A seemingly simple soak in the tub began Kohler's journey to becoming one of the Midwest's ultimate luxury getaways. That feeling of bliss that veiled my vacation is one I won't soon forget. It's hard to put a price on your well-being, but I do know this. You can relax, rejuvenate and come home refreshed for less than a cow and some chickens.
---
PLAN YOUR OWN GETAWAY!
» See the full itinerary and more photos from our trip. » Explore all Destination Kohler has to offer and plan your own relaxation getaway!
---
---