Electric Allure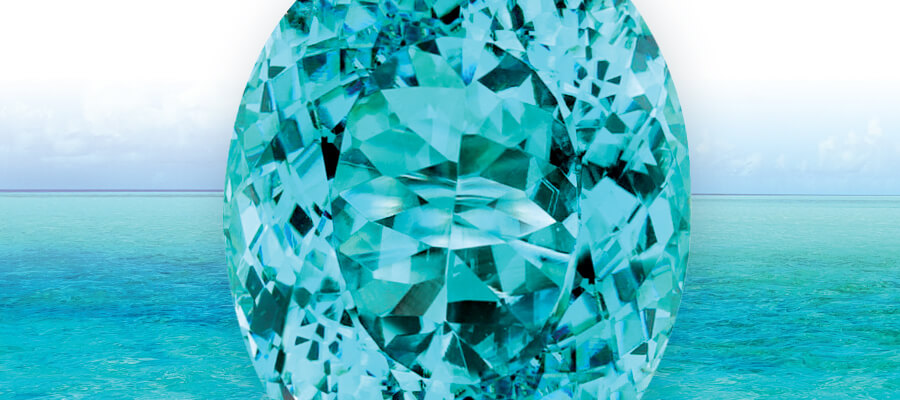 The discovery of Paraiba Tourmaline is a fascinating story, one that could easily be compared to a fairy tale. It is a story about a dreamer who believed in the magic of new discovery. Heitor Dimas Barbosa was a man with an unshakeable belief that there was a new, incredible gem just waiting to be uncovered. His vision was laser-focused on Mina de Batalha, an old dilapidated pegmatite mine located in the Federal State of Paraiba in Brazil. The mine was a small hill just under 200 feet tall with an area of roughly 200 yards by 400 yards. Beginning in 1981, Barbosa and his crew used hand tools to dig multiple shafts using only candles as their light source. They dug into the mine for five and a half years with absolutely no success until one day they saw the first sign of a tourmaline find. It would be another three years until Barbosa's dream would come to fruition, and they would finally discover a gemstone that the world had never seen.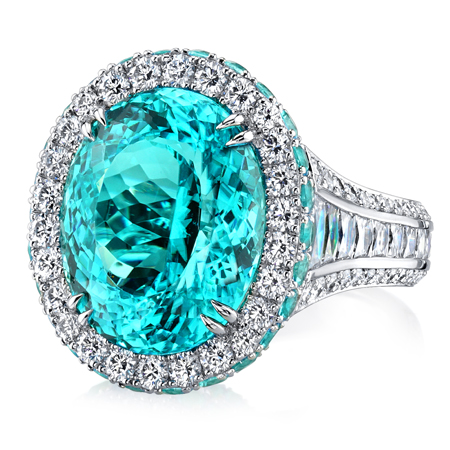 As luck would have it, Heitor Barbosa was home recovering from an illness and personally missed seeing his dream come true as they unearthed the gem crystals that day. The fall of 1989 was when the world was introduced to a gem with a glow so electric that it was only fitting to describe it as neon blue. The new gem discovery was appropriately named Paraiba after Barbosa's "Paraiba Hill" where it was found. Of course, with a discovery of this magnitude, everyone wanted to claim a piece of the hill, and Mr. Barbosa spent the next ten years fighting over disputed claims to the mine.
AN UNCOMMON CONNECTION
A similar color of tourmaline was discovered in Nigeria in 2001, and again two years later in Mozambique. Scientists attribute the location of these new discoveries to Pangaea. Before the continents drifted apart some 175 million years ago, these three sites were adjacent to each other and therefore had the same copper-rich geological conditions. The presence of copper and manganese is where Paraiba Tourmalines obtain their shocking and unusual bright blue color. While tourmaline is found in almost every shade of the rainbow, this breathtaking shade of blue is exclusive to Paraiba Tourmaline. The cool hues of Paraiba range from startling turquoise to majestic blue-green, but what really sets it apart from all other gems is the luminous glow that appears to light the gem from within. Often compared to the stunning view of a tropical ocean, the vibrancy of this glowing gemstone has no rival.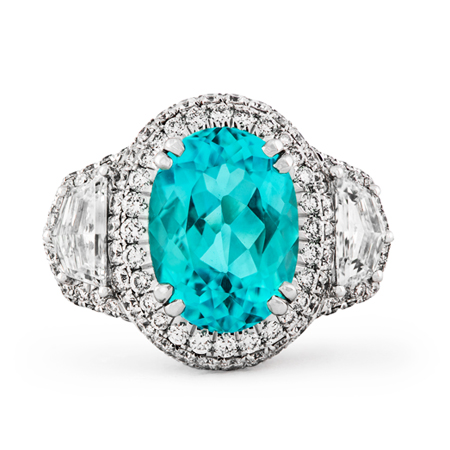 FROM CRYSTAL TO CARAT
Mining Paraiba is quite expensive and must be primarily done by hand using wedges and sledgehammers to protect their delicate crystals. These exotic gemstones are extremely rare, and it is incredibly difficult to find fine quality Paraiba larger than two-carats. During our gemstone buying trips, we actively seek out stunning and remarkable Paraiba to present to our clients, and each year we feel extremely successful if we can find and procure four to six top-quality specimen that fit our cut, color and quality criteria. There are two different cutting methods designed to display the gem's blue hue at its best—faceted and cabochon. Faceted Paraiba are cut from rough gemstones that are free from most eye-visible inclusions and typically command the highest prices. Cut with a flat back and domed top, the cabochon Paraiba enhances the innate nature of inclusions to beautifully display its remarkable radiance and vivid glow. Almost every shade of tourmaline is available, but there is none more prized than the stunning, vibrant blue Paraiba. The future supply of the gem is unknown, only adding to its already increasing allure and enchanting story. Thanks to Barbosa's perseverance, this darling gem will continue to call attention to connoisseurs and collectors around the world that will search far and wide for its unparalleled hue and resplendent glow.
---