True Blue: Custom Tanzanite Necklace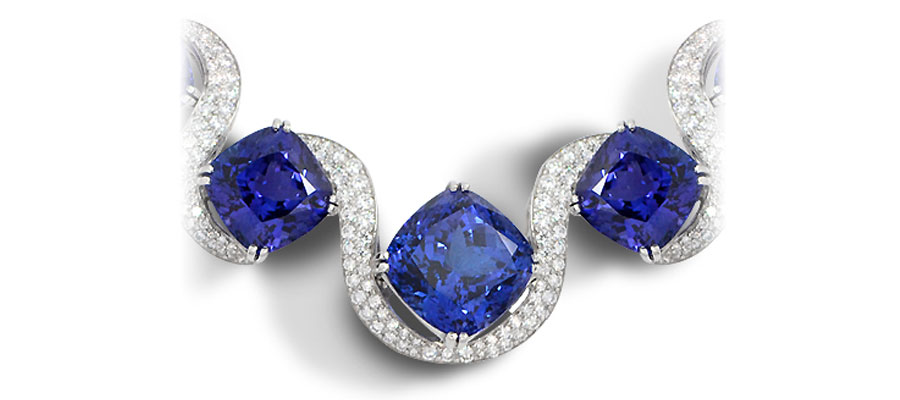 One of the fun things about buying loose color gemstones is figuring out what you are going to do with them.  Sometimes a single gem screams pendant, other times a great ring.  My husband, Dan and I happened to find a suite of 15 Tanzanite gemstones, all matching and graduating in size totaling 137.64 carats!
PERFECTLY MATCHED
What makes this suite special is that all the Tanzanites were cut out of the same host rock.  Tanzanite's can be difficult to match because they are trichroic.  Trichroism is a Gemology term meaning that as light passes through a mineral it vibrates in different planes. This causes the stone to exhibit a different color depending on which axis you are looking at it from. This phenomenon makes Tanzanite very reactive to the light source under which it is viewed. Having been all from the same host rock, it presents on the same axis. Trying to match 15 gemstones from different locations would be extremely difficult and would never be as "perfect" as these.
BRILLIANTLY DESIGNED
Just as difficult as it is to assemble these gems, figuring out what design to put these in was a lot harder than we thought. We enlisted the help of one of our custom goldsmiths, Ken Singleton, who is a very gifted craftsman. Ken, Dan and I sat down and talked about our vision with the Tanzanites.  Dan wanted Platinum with a big diamond look.  I wanted something that would move and lay right.  I didn't want it to sit like a hula hoop around the neck that needed constant adjustments.  Ken went to work by presenting us with four or five drawings and both Dan and I immediately loved the same drawing.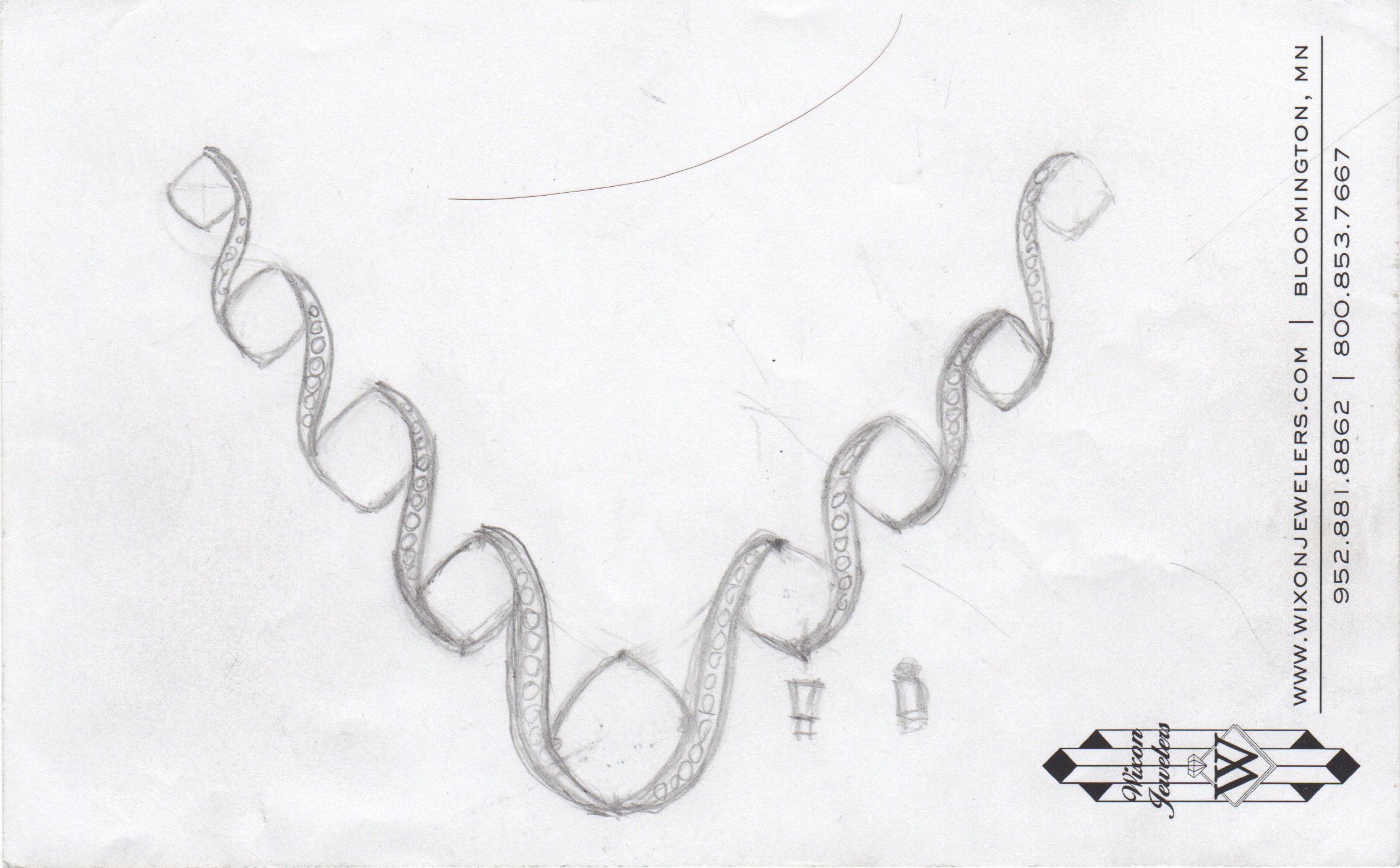 METICULOUSLY CRAFTED
Next, Ken carved one section in wax so we could see the design and shape three-dimensionally.  After a few tweaks he carved a crown for the largest center Tanzanite. With large color gemstones you have to account for the depth of the stones, which ended up being a difficult task. How could we build this so it didn't appear bulky and lay too high off the skin?  Ken meticulously carved each crown and then in the side gallery, he inserted hand-made wire filigree work. Then to top it off, he bezel set a single diamond in each filigree section. The result was a beautiful airy design.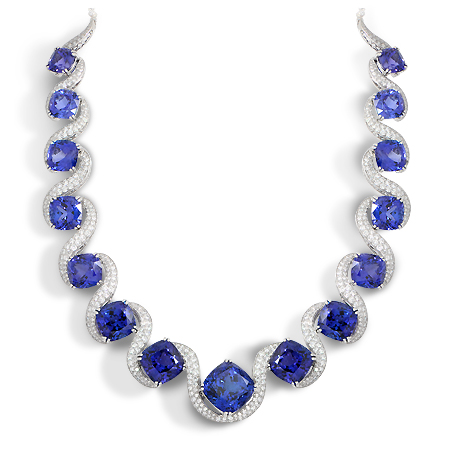 Next was to get each "S" shaped link to hinge correctly.  Again, with the weight and size of the gemstones, they needed to lay flat, not drop forward, but also swing freely so the necklace moves with you and not against you. Each phase of the process was slow because the gems were graduated. Ken had to carve each crown for every individual gem and each "S" link accordingly. Finally, after 3 ½ months and setting over 642 diamonds, Ken's masterpiece was finished!  As with any great piece of art, Ken Singleton signed his handmade clasp with the year (2014) and his initials (KJS).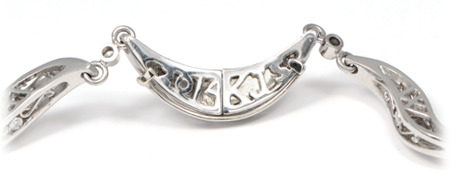 ---
LOOKING FOR MORE?
» See our newest creation, the Tanzanite Collar Necklace
» Read about Tanzanite in our Gemstone Guide
» Browse our collection of Tanzanite Jewelry
---
Join our eNewsletter
Be the first to know about tips, tricks and trends in jewelry
Oops! We could not locate your form.
---