Chef Jerry's Spookies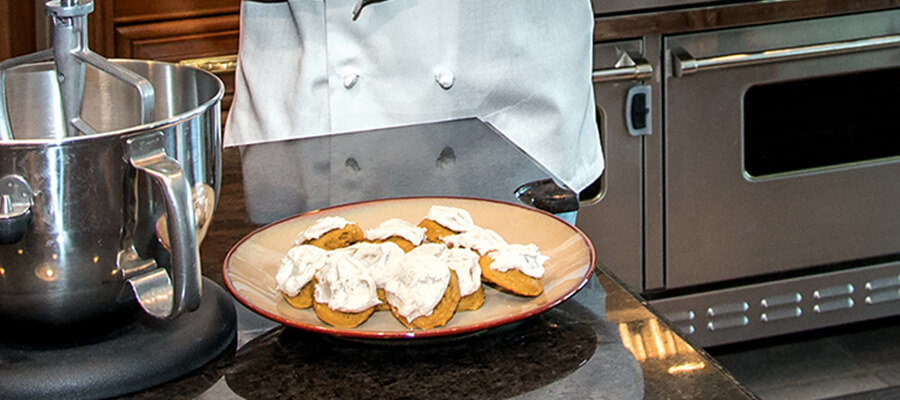 The arrival of our Spookies cookies is a highly anticipated showroom event. The requests for these irresistible cookies, created by Chef Jerry, typically begin mid-August when the first hint of an early Fall is in the air. Jerry's first batch of beloved Spookies arrive at the store late September and remain available through early November. The pairing of a soft and chewy pumpkin spice cookie topped with cream cheese frosting is absolutely delicious, and a treat we all eagerly await. For years, clients have asked for the recipe to his signature treat, which has remained a closely guarded secret… until now!
Spookies Cookies | Makes 24+ Cookies
3 cups unbleached all purpose flour 1/2 teaspoon baking powder 1 teaspoon baking soda 1/4 teaspoon sea salt 2 teaspoon ground cinnamon 1/4 teaspoon ground allspice 1 teaspoon ground ginger 1 teaspoon ground cloves 1 cup unsalted butter (room temperature) 1 cup granulated sugar 1/2 cup packed light brown sugar 2 large eggs (room temperature) 1 cup canned pumpkin
1. Preheat oven to 350°F. Sift together flour, baking powder, baking soda, sea salt, cinnamon, allspice, ginger, and cloves. Set aside.
2. With a mixer, cream the butter, sugar and light brown sugar until light in color, 3-5 minutes. Add one egg at a time, mix until light and fluffy. Blend in pumpkin. Add the dry ingredients a little at a time until combined.
3. Line a cookie sheet with parchment paper. Use a heaping tablespoon to form the cookies. Place on the prepared cookie sheet, leaving one inch between cookies to allow spreading. Bake cookies one sheet at a time for 10-12 minutes or until golden brown.
4. Let cool on a wire rack completely before frosting. Spookies can be stored for up to a week in the refrigerator… if you don't devour them right away!
---
Cream Cheese Frosting | Makes About 1¼ Cups
1/4 cup unsalted butter, cut into chunks (room temperature) 4 oz cream cheese, cut into chunks (room temperature) 1 teaspoons of pure vanilla extract 1  1/2 cups confectioners sugar 1/8 teaspoon ground cinnamon or 1/4 teaspoon pumpkin pie spice In the bowl of a stand mixer, fitted with a paddle attachment (or in a large mixing bowl using a handheld mixer) beat the butter, cream cheese and vanilla until smooth and creamy, 3-5 minutes. Gradually add sugar and cinnamon, beating until light and fluffy, 5-7 minutes. Leftover frosting can be stored for up to a week in an airtight container in the refrigerator.
---
Chef Jerry is the man responsible for the beauty behind the store and so much more! 
---

---
Join our eNewsletter
Be the first to know about tips, tricks and trends in jewelry
Oops! We could not locate your form.
---