A Family Hot Rod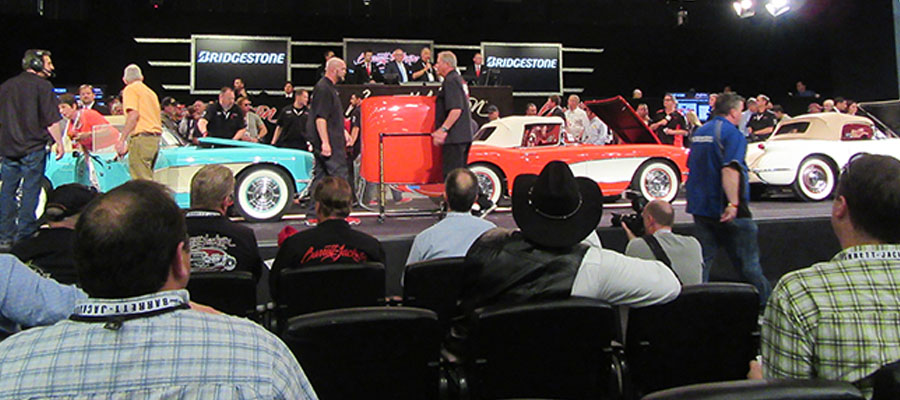 So I decided to leave the nice Minnesota cold January and retreat to Scottsdale, AZ. It had been a few years since we attended the Barrett Jackson Collector Car Auction and according to my husband… "We are in need of a family hot rod!" We are? I was unaware we needed another car! Being the "dutiful" wife, I agreed to entertain this notion and we filled out our information for bidder badges. On Wednesday, we went early to start checking out cars that would fulfill this need as a family hot rod.
THE SEARCH BEGINS
The first thing I saw were three Corvette convertibles 1955, 1956, 1957, all with serial number 1. Sold as a set? Hmmm? Could those be deemed family hot rod material?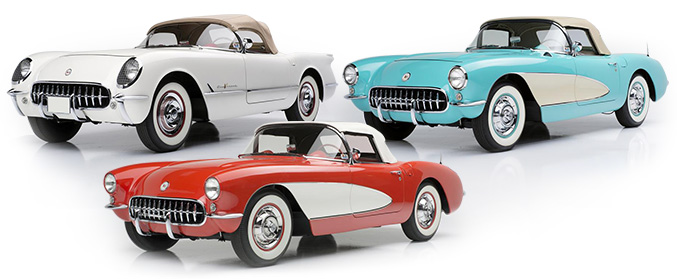 CHEVROLET CORVETTE CONVERTIBLES "SERIAL ONE" Lot #1351, 1352, 1353 |  Sold for $1,815,000
---
Okay fine, then I saw a beautiful 1953 Buick Skylark Convertible. It received a nut and bolt restoration in 2013 and was refinished in the original Reef Blue metallic with matching leather interior. Wow, this was beautiful and a family car. This one is a contender, mark down Lot #1365!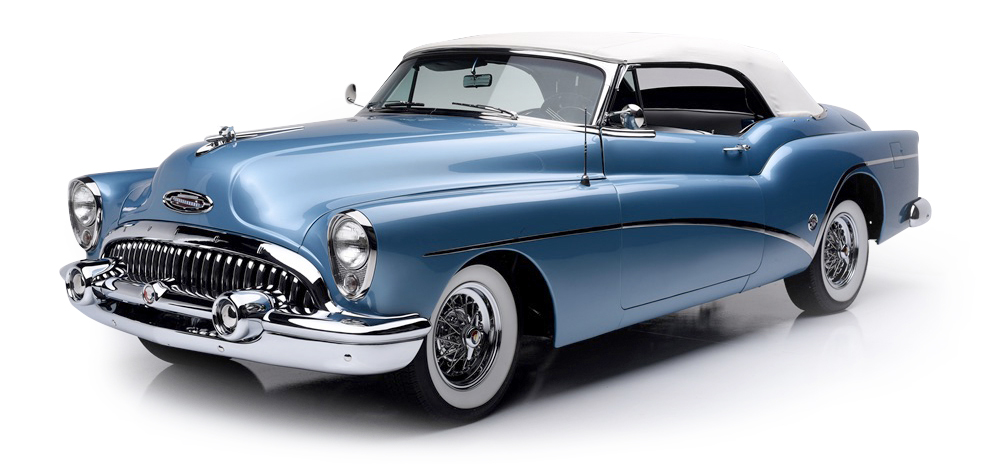 1953 BUICK SKYLARK CONVERTIBLE Lot #1365 | Sold for $176,000
---
Then I saw something I absolutely loved but knew it was way out of my paltry budget. But a woman can dream! Lot #1376 was a beautiful 1939 Mercedes-Benz 540K with "Cabriolet A Body Conversion." This beauty, with all its Best in Class awards, sold for $1,485,000.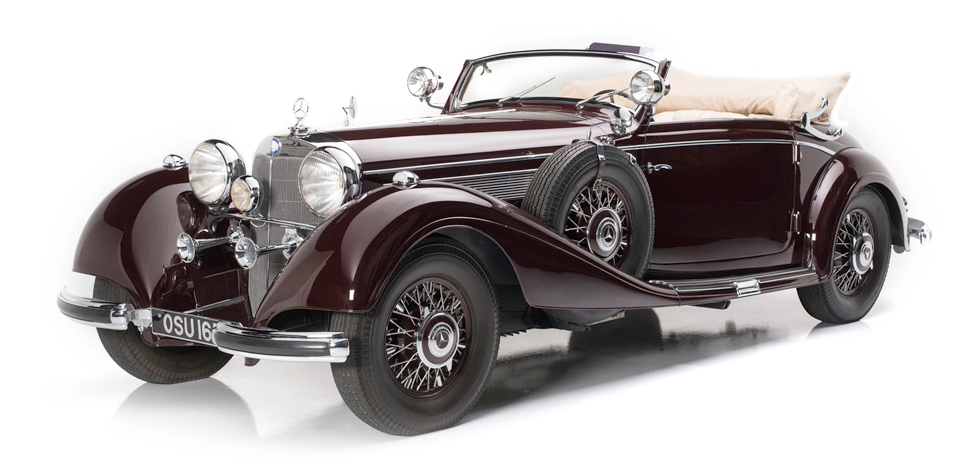 1939 MERCEDES-BENZ 540K WITH "CABRIOLET A" BODY CONVERSION Lot #1376 | Sold for $1,485,000
---
We continued to see all of these great cars like this red '55 chevy, and a fabulous '53 Buick Skylark convertible.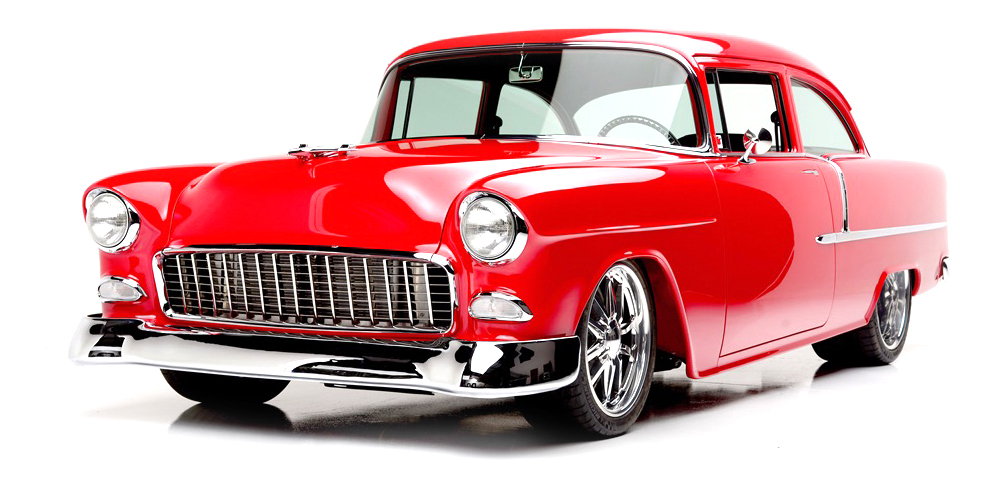 1955 CHEVROLET 210 CUSTOM SEDAN Lot #1295 | Sold for $110,000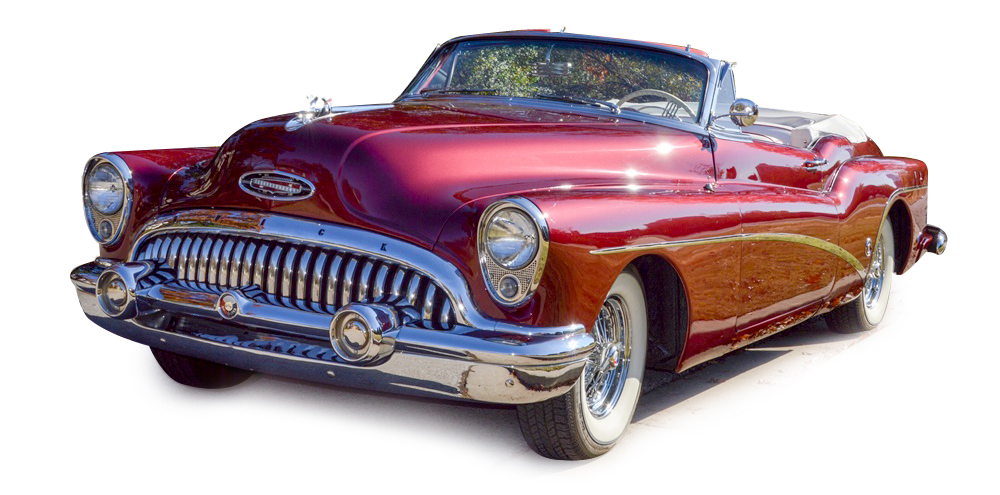 1953 BUICK SKYLARK CONVERTIBLE Lot #1063 | Sold for $132,000
---
We even found a 1969 Chevrolet Camaro Z/28. Dan used to have this car when he got out of the service!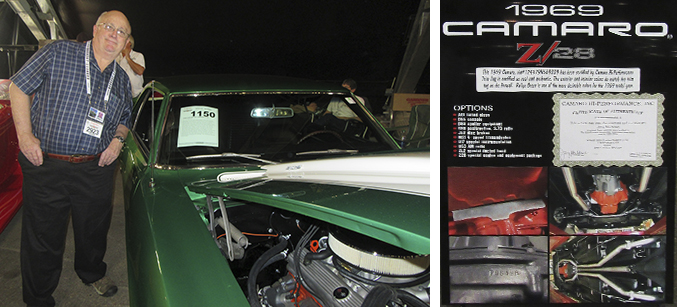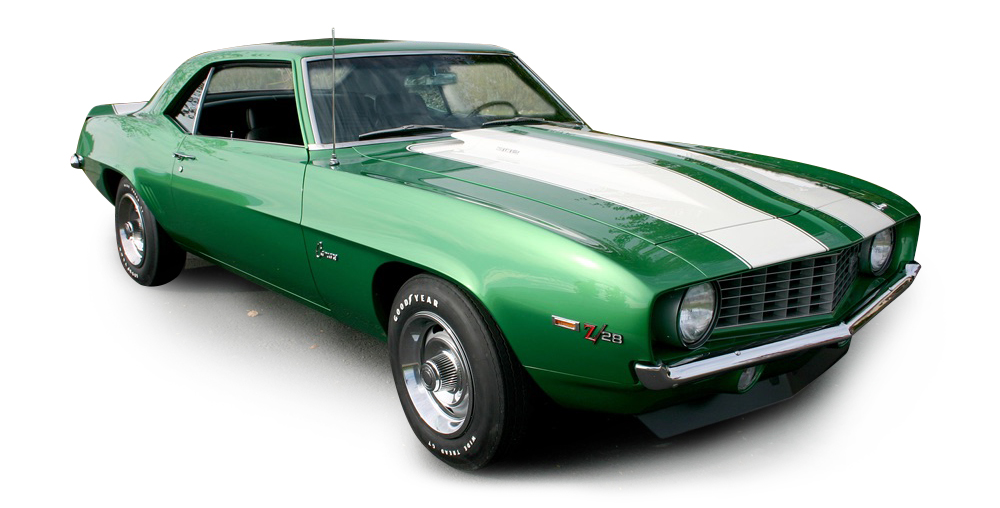 1969 CHEVROLET CAMARO Z/28 Lot #1150 | Sold for $84,700
---
Another great car, a '69 Pontiac GTO Judge.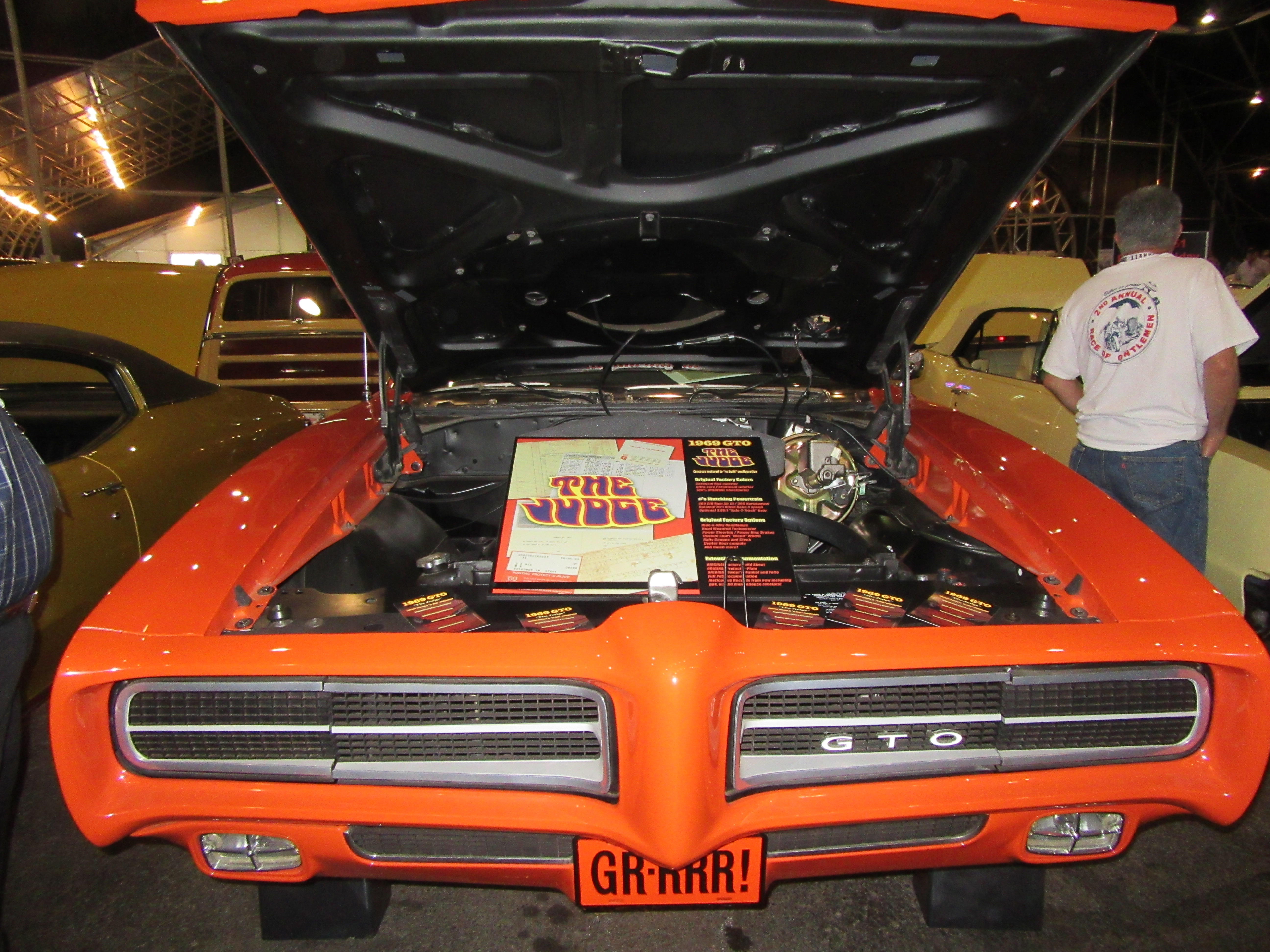 1969 PONTIAC GTO JUDGE Lot #1282 | Sold for $128,700
---
Dan and I have very similar taste in cars. We agree on most things except one. The NOMAD.  He loves it… I HATE IT.
1956 CHEVROLET NOMAD CUSTOM WAGON Lot #1331 | Sold for $137,5000
---
LOVE AT FIRST SIGHT
Then I saw it. The perfect family hot rod! But what is it? I never heard of a DeSoto. I fell in love with a car I've never heard of or seen before, a 1959 DeSoto Adverturer! There were three DeSotos side by side, all convertibles, a '57, '58 and a 1959. I wanted the Black and Gold '59. I liked the body style better than on the '57. The wheel covers had gold bullet centers, jet exhaust taillights… this car has attitude. I was stuck. I don't know a thing about this car or what it's worth, and neither does Dan. This is what I wanted but I was uncomfortable not knowing anything about it. I told Dan, of all the cars, this one makes me smile when I look at it.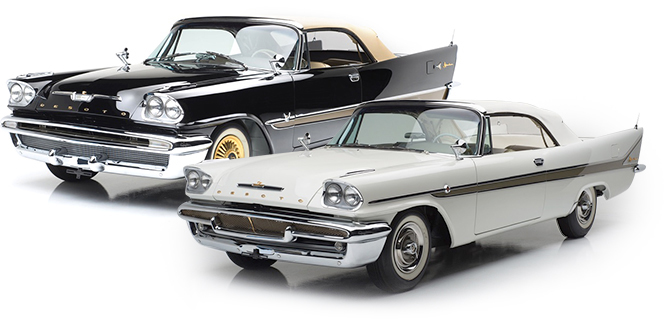 1957 & 1958 DESOTO ADVENTURER CONVERTIBLES Lot #1380 | Sold for $165,000 / Lot#1382 | Sold for $264,000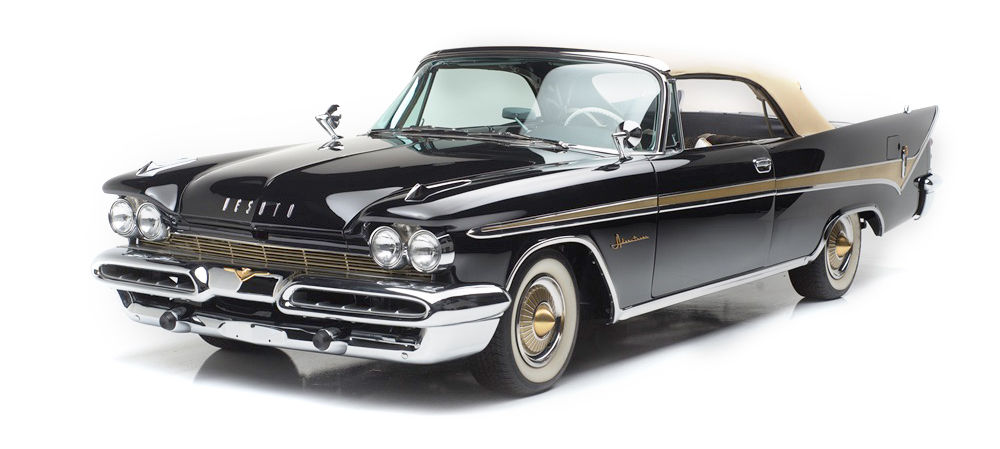 1959 DESOTO ADVENTURER CONVERTIBLE The perfect family hot rod.
---
THE MOMENT OF TRUTH
Friday and Saturday our wish list cars were going through and a friend of ours was kind enough to share his two extra seats with us! Not bad, front center aisle, four rows from the center stage!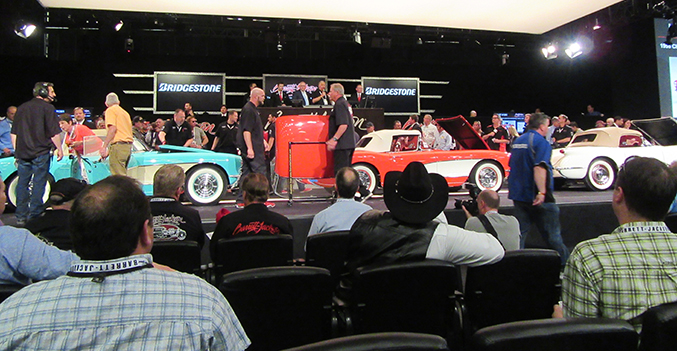 Finally on Saturday afternoon the DeSotos were up. The '59 that I wanted was the third of the DeSoto group, so I was optimistic the DeSoto buyers would get flushed out with the first two. The '57 goes first, it sells for $165K plus buyers commission, my optimism grows. The second, the '58, goes for $264K plus buyers commission; my optimism is squashed. Now my car, the '59. We are out before we're in: it goes for $220K plus buyers commission. Wow, what do these people know that I don't? I am so bummed. I guess I'll go home and read up on DeSotos. Why is it when you don't get what you want, you want it even more? We ended up going home with zilch, nada, nothing. My husband kept saying I can't believe we didn't end up with something! I guess our next Adventurer is a DeSoto!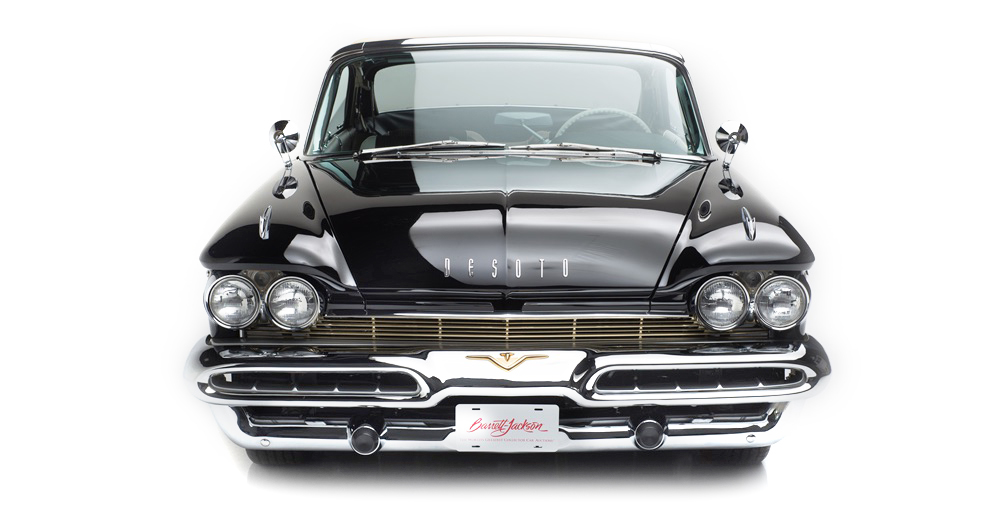 Lot #1382 | Sold…not to us…for $220,000
---
A FEW MORE MEMORABLE MOMENTS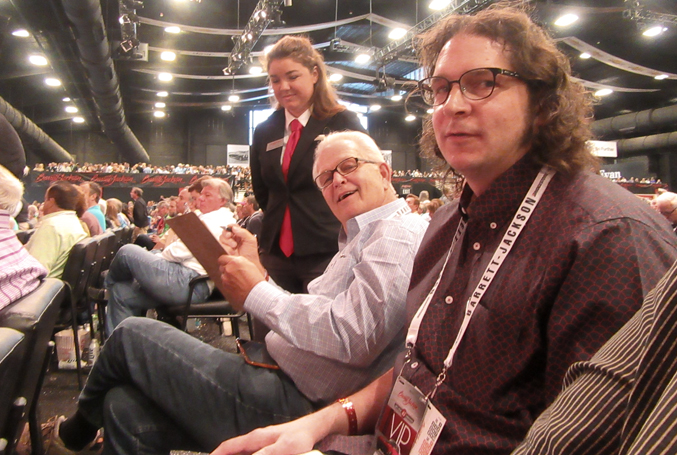 Our friend Bill, accompanied by his son Matt, had better luck. Here he won the bid on one of his wish list cars!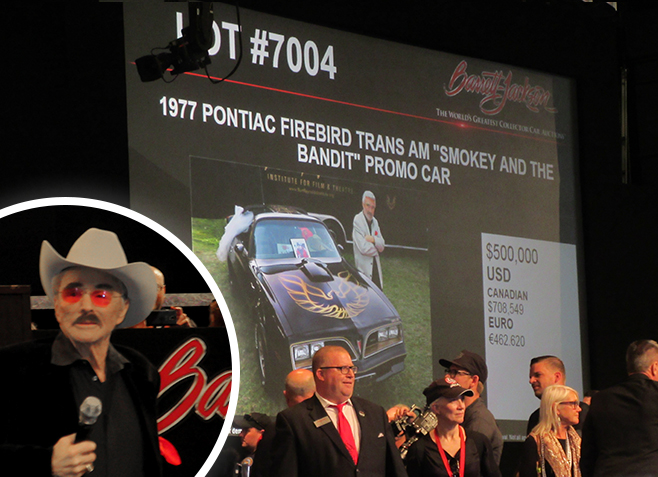 Burt Reynolds made a grand appearance as they auctioned off the 1977 Trans Am from "Smokey and the Bandit." – Lot #7004 | Sold for $550,000
A view from the sky box.
---