Hello Yellow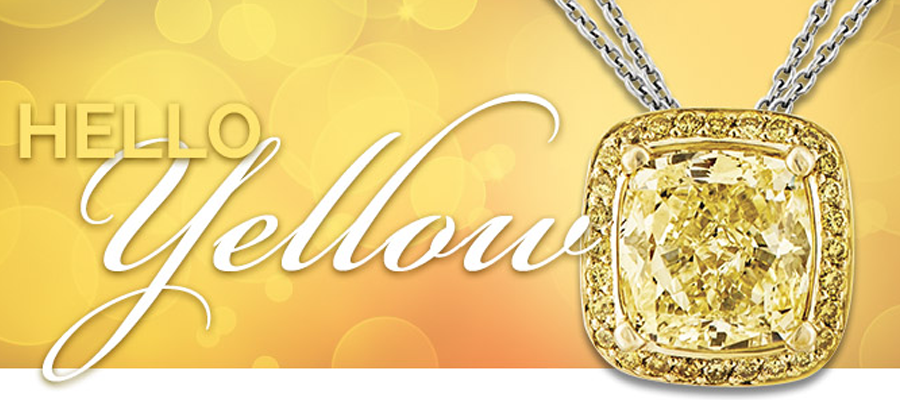 The yellow diamond craze is increasing at a frantic rate. Never before have jewelry lovers been so fascinated by fancy colored diamonds. The focus on celebrity culture and the exposure associated with it is credited for bringing yellow diamonds to the forefront. These colored beauties are striking chords with women of all ages and style preferences. Yellow diamonds are not just a passing trend, but a new cornerstone in the dazzling world of gems.
Naturally Unique
One of the most intriguing features about yellow diamonds is that no two look alike. Each diamond has its own unique beauty and distinct hue. Natural fancy yellow diamonds come in a variety of shapes, sizes, shades and colors. While the rich and pure shades are the most coveted, softer and lighter have their own subtle allure.
The most important thing when buying yellow diamonds is the actual color. The stronger the color, the more valuable they become. Diamonds graded Intense and Vivid command top dollar. There are many color names associated with yellow diamonds, and the grading terms referenced for them are different than for traditional white diamond. The four most commonly referred terms are Fancy Light, Fancy, Fancy Intense and Fancy Vivid. The visual difference between Fancy Light yellow and Fancy Vivid yellow can be an extraordinary range in color. When searching for the finest yellow diamonds, seek to find pure yellow without any modifying colors. The most gorgeous yellow diamonds have a certain sizzle thanks to their extraordinary color that just cannot be replicated with white diamonds.
A Cut Above the Rest
Yellow diamonds are cut to maximize color, where white diamonds are cut for brilliance. It's quite rare to find a yellow diamond cut in the round shape, as that shape can lessen the overall color. The most popular yellow diamond shapes are cushion and radiant. Equally important is how well cut that particular shape is. Yellow diamonds that are exceptionally well cut skillfully display their color, where poorly cut diamonds miss the mark visually.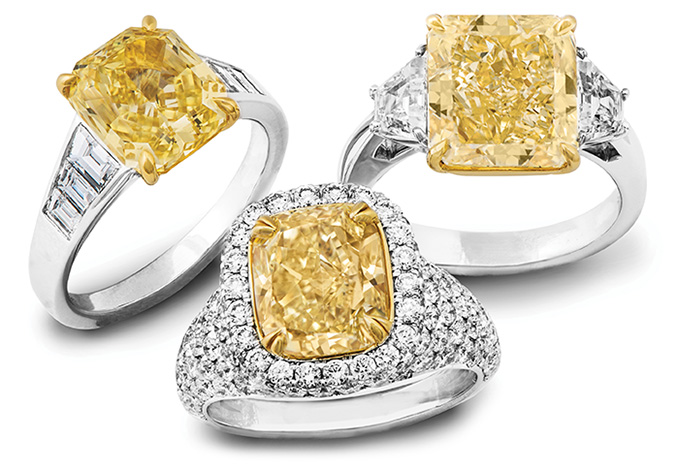 They are also becoming a gorgeous alternative option to the classic and traditional white diamond engagement ring. More brides are exploring new ring options than ever before. There is no gem more resilient to wear than a diamond. For those who crave a pop of color, this unique beauty is the perfect substitute for the traditional choice. Its bright and lively color is expressive and unique. It's also a premium option for a right-hand ring, not to mention necklaces, bracelets or earrings. Experience first-hand the magnetism of this yellow stunner!
---
LOOKING FOR MORE?
» View Our Collection: Yellow Diamond Jewelry
» Read About: How diamonds are evaluated.
» Browse Our: Fancy Yellow Diamond Rings
---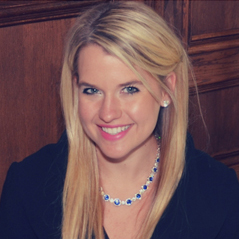 Jessica is our resident fashionista-in-chief and more formally our Diamond Department Manager. There is nobody more passionate about diamonds, gems and jewelry than Jessica! She is a Graduate Gemologist who has been infatuated with jewelry since she was a little girl, spending countless hours at her grandmother's jewelry store. Have questions? Just Ask Jessica!