Father's Day Gift Guide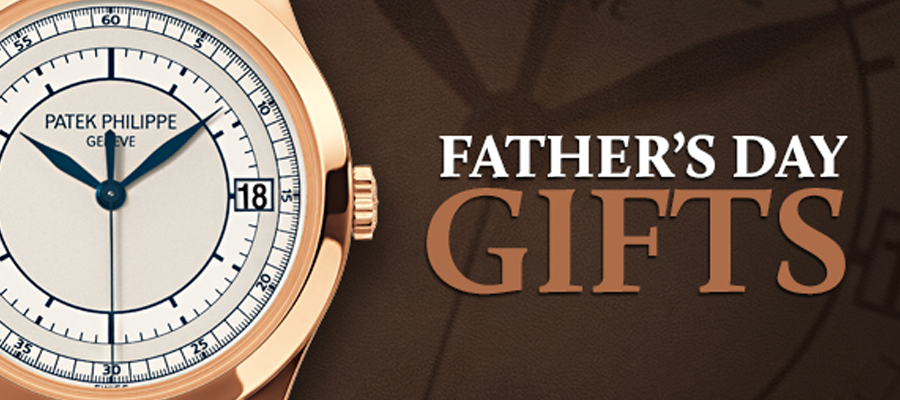 For a man, fatherhood can be one of the most blissful events in his life. So often the joy and the sacrifice of a father goes unnoticed. Don't let your appreciation for all he does go unnoticed. Father's Day is the perfect time to thank him for being such a wonderful father, husband, and friend with a Swiss watch from Wixon Jewelers! We know it's hard to shop for the man who has everything. You know he wants a fine timepiece but with so many brands, styles, and sizes to choose from, you have NO idea where to start. We've put together a simple watch buying guide to help choose the perfect gift.
The Businessman
If dad is a business professional who often wears a suit and tie and travels on business, we suggest you start with Patek Philippe. Their men's Calatrava collection, such as the Ref. 5196G or Ref. 5296R, are the epitome of Patek Philippe watches and a testament to their continued innovation and perfection. Their timeless and elegant design offer a watch that can be worn for decades without ever going out of style.
Patek Philippe – Ref. 5196G
Patek Philippe – Ref. 5296R
The Gearhead
The need for speed! There are several great options if he is a car or motorcycle enthusiast. Today, top watch brands have broadened their collections by creating unique partnerships with automobile and motorcycle companies. Parmigiani Fleurier partnered with supercar company Bugatti to create some incredible men's watches which are adorned with the Bugatti logo. The design of the Parmigiani Fleurier Bugatti Aerolithe was inspired by the 1935 Bugatti Aerolithe and is an amazing timepiece. Just like driving a Bugatti, when you are wearing this watch, you will turn heads.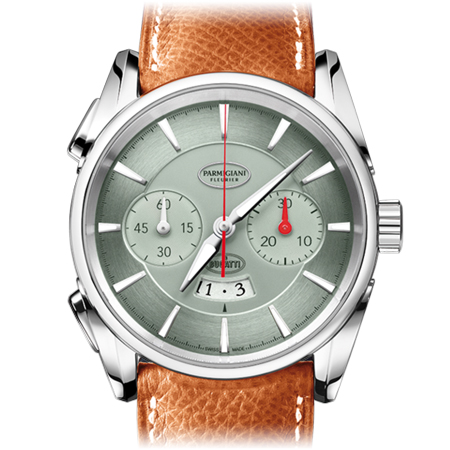 Parmigiani Fleurier – Bugatti Aerolithe
The Athlete
For the athletic, sports guy you need to find a timepiece that can be worn both on and off the field. Watches like the TUDOR Pelagos are designed to withstand the rigors of underwater use yet can be worn every day. The Baume & Mercier Capeland retains a sense of vintage inspiration while having a very modern look. One of the standout aesthetic aspects of the Capeland is the classically styled chronograph buttons on the right side of the case, giving you a sporty look with an elegant feel. The Capeland is available in several versions, which help match to their personality.
The Outdoorsman
If he prefers the great outdoors over an office with-a-view, we recommend a sporty timepiece that features a big bold dial with rugged durability. If your husband is into boating and sailing, the Pershing 002 by Parmigiani Fleurier is the perfect timepiece. It is a sporty timepiece that features a 42mm case with a stunning bold red dial.
Parmigiani Fleurier – Pershing 002
The Traveler
What about the world-traveling dad? He's constantly on the go so he needs a watch that allows him to keep time in more than one location. Watches with dual time zones have a high utility value by enabling the wearer to independently read two different time zones at a glance. Parmigiani's Tonda Hemispheres features a small dial to track dual time zones, while the Panerai Radimoir 3 Days GMT utilizes a second hour hand to display the second time zone.
The Techie
You may think that he'd rather have the latest iPhone than a fine timepiece but you might be mistaken. Fine timepieces contain many moving parts and functions which can be appreciated by techies and engineers of all kinds. A watch that possesses unique features, functions and advanced complications is truly an engineering masterpiece. The Duomètre à Chronographe by Jaeger LeCoultre is a true marvel of modern watchmaking precision. Using a concept nicknamed Dual Wing, the movement utilizes two individual watch devices that have their own supply of power but connected through one regulating mechanism.
Jaeger LeCoultre – Duomètre à Chronographe