Stack with Style: Fashion Tips for Layering Bracelets & Watches
Jewelry looks this fall are all about stacking and layering. From necklaces to bracelets and even rings, more really is more this season! These styles can seem a bit overwhelming at first (the very thought of wearing multiple rings on every finger makes me feel like a gypsy) but with a little finesse you can enjoy the hot looks of the season in an elegant way. I wrote about how to layer necklaces but my favorite layered look is stacked bracelets. If you don't wear a watch or bracelets of any kind, start slow and find the look that you love!
How to Stack Bracelets
Select one statement piece (like a great watch) then add a couple of supporting pieces to the mix. Feel free to mix metal colors or even textures for an eclectic look that isn't overly matched. If you're feeling bold and want a more dynamic look, add in a layer of color or two with a gemstone bracelet. This is when stacking gets super fun because you can also mix and match your nail color to complete the ensemble. (There's a lot of planning that goes into this "effortless" look!) As you can tell, there aren't many rules so pile them on. The key to this look is experimenting and wearing what you like!
Amy's Look Book
LOOK 1: TOTALLY TEXTURED
This look is all about texture! From the brushed and high polished finish on this Baume & Mercier Linea to the florentine and textured finishes on the bangles, this ensemble is very current yet timeless.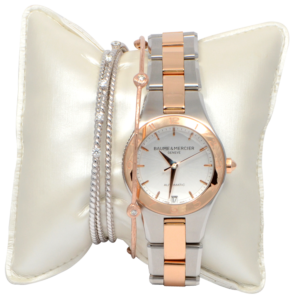 LOOK 2: RAINBOW GLITZ
I love color! You can't go wrong with this stunning multi-color sapphire bracelet; it features a rainbow of colors, from bright fuchsia to lime green that will go with whatever you wear! It pairs nicely with the lavender guilloche diamond dial on this Parmigiani Kalpa Piccola. For a little extra glitz, stack on a diamond bangle in rose gold…why not…more is more!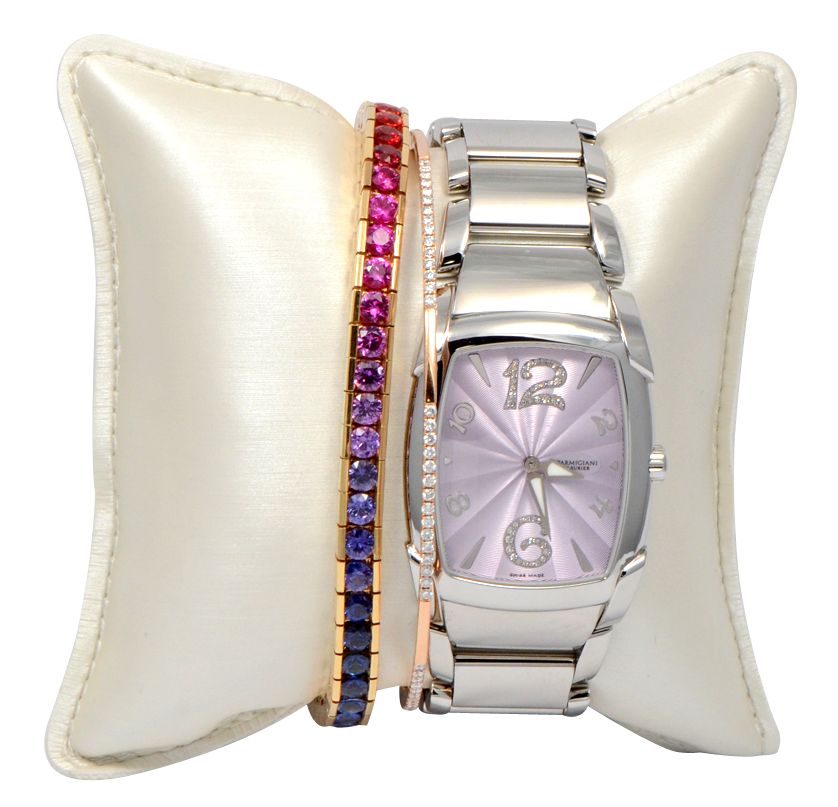 LOOK 3: BORROWED FROM THE BOYS
This Baume & Mercier Classima in rose gold has that perfect "borrowed from the boys" look. To maintain a feminine touch, I layered dainty bezel diamond bracelets in both white and yellow gold. The bold white gold engraved bangle balances the look giving it a touch of edginess.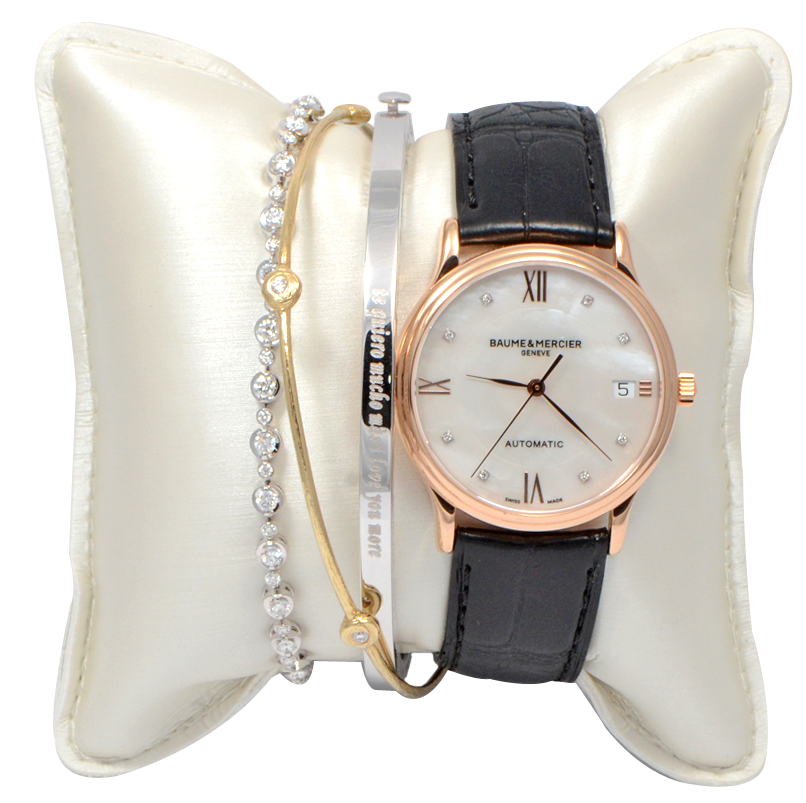 Missing a piece or two to achieve the right mix? Stop by our showroom and we'll find the perfect piece to complete your ensemble!
---
LOOKING FOR MORE?
» Read: Fashion Forward Watch Choices for Women
» Find out: How to Layer Necklaces
» Find out: Why Are Watches So Big?
---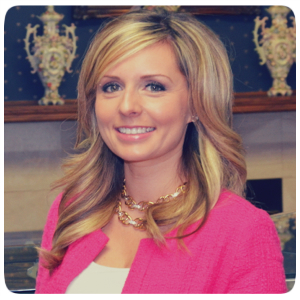 Amy shares her pearls of wisdom in her weekly column, Ask Amy. Her impeccable taste helps to select beautiful, current yet timeless looks for our clients in harmony with their own personal style. She believes that jewelry should have a story to tell about the person who wears it and is delighted to commemorate life's celebrations. If you have a question, just Ask Amy!