Diamonds Through The Decades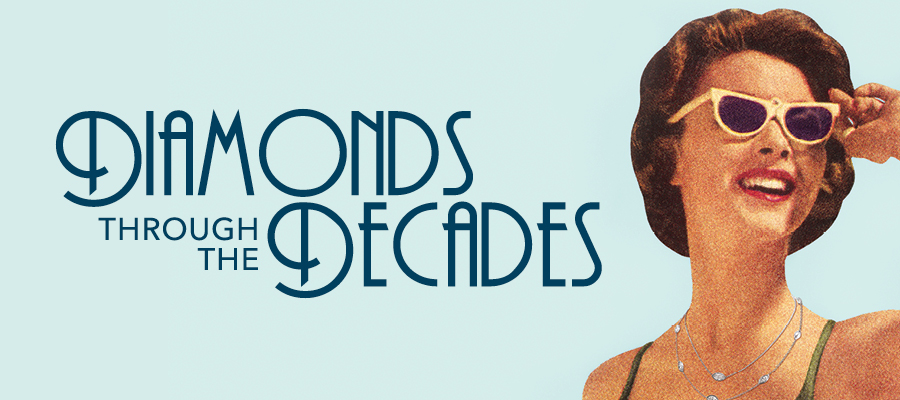 From a scandalous story of a mistress' smile to a major sports moment that was stopped in search of a lost diamond's sparkle, the anecdotes of classic jewelry styles are riddled with drama. 
One of the things we love most about jewelry is the ability it has to connect the old and the new. Over the decades, some of these trends have left more of a lasting impression than others and are now considered to be jewelry classics. Our tools and techniques have improved, allowing us to build upon these classics and reintroduce them with new and innovative designs.
The pieces that resonate with us the most are often those that we have a personal, sentimental connection to or have left a mark as a major fashion milestone. Jewelry, diamonds and gemstones all tell stories of the past while reflecting on modern trends and today's design inspirations.

Tennis Trouble
The name 'tennis bracelet' came about after an incident with tennis star Chris Evert during the 1987 U.S. Tennis Championship. Her in-line diamond bracelet slipped off her wrist during a televised match. She requested that the match be delayed until she could find her bracelet, calling attention to her piece of jewelry and sparking a new jewelry craze. The tennis bracelet has remained a jewelry staple ever since. Subtle tweaks to the style now showcase the bracelet better than before by featuring minimal metal, maximum security and a blinding view of brilliant diamonds. In addition to traditional rounds, these bracelets now also feature diamonds in fancy shapes and colors displaying a dizzying array of options.
Hello Halo
Dating back to the early 1700's, the popular halo style has had a continuous place in jewelry history. It has made a mark on many eras between now and then, including a heavy presence during the Art Deco period with an emphasis on symmetry and geometric designs. Another version of the halo that held a prominent place in history was the illusion crown. It was introduced during the Great Depression when discretionary income was scarce and the average size diamond was 1/10th of a carat. The illusion crown enhanced the appearance of a smaller diamond by creating a larger overall look. Today's designs are more refined and glamorous than ever before, showcasing large and small center diamonds and gemstones. The modern halo features beautifully tailored metal creating a flawless harmony between the main gem and the surrounding sides. There are no limits to this style; as the design is presented in rings, necklaces, bracelets and earrings featuring not only diamonds but colored gemstones as well.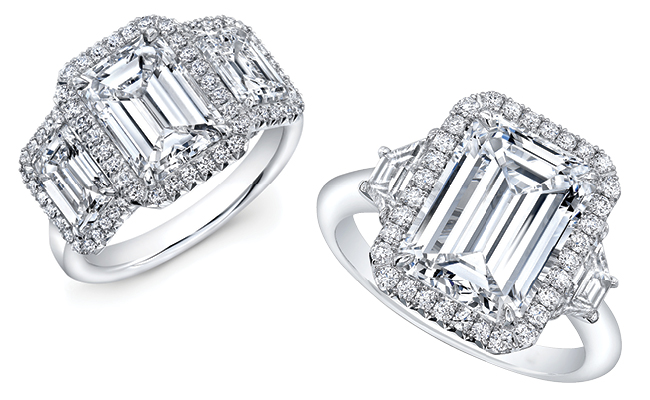 Fancy That
Dating back to the 18th century, the marquise diamond has a scandalous past. King Louis XV of France requested a jeweler to design a diamond shape that resembled the lips of his mistress, Jean Antoinette Poisson, the Marchioness Madame de Pompadour. It is said that he commissioned a diamond to be cut to match her beautiful smile. The modern marquise is fierce and fashion forward. Set horizontally, it gives a new twist to this classic beauty. Another fancy shaped diamond that still reigns supreme is the emerald cut. Its rich history dates back over 300 years, as this cutting style was originally introduced for Emerald gemstones as a way to combat the gem's delicate nature. The emerald cut shape made its stylish segue into diamond cutting styles during the Art Deco era. Its tailored corners and glamorous symmetry still make the emerald cut a stunning and sparkling statement today.

Banded Together
Over 5,000 years ago, Ancient Egypt was the first known culture where people would exchange "rings of love" that were often made of woven reeds or leather. It is believed the ring came into existence as a representation of eternal love with no beginning or end. Throughout the years, the ring has always been held in high regard, providing different meanings based on various cultural beliefs. It wasn't until WWII during the 1940's that the wedding band started to gain momentum for men in the United States. Soldiers wanted a way to remember their wives back home once deployed. Shortly thereafter, DeBeers launched their famous 'A Diamond is Forever' campaign that sparked the trend of the diamond engagement ring and matching his and hers wedding bands. Today's wedding bands, however, are far removed from the traditional trio set. Brides and Grooms are mixing diamond shapes and metals, creating a fresh new look for the ultimate traditional piece of jewelry.
Matching Metals
For many years, mixing and matching metals was the ultimate faux pas. The trend for matching began back in the 1950's when jewelry sets were marketed to women with one cohesive look. If you were wearing a gold ring, then the bracelet, earrings and necklace all had to be the same metal color. The metal choice of the moment has ebbed and flowed through the decades, letting yellow, rose and white all have their moments of glory. Even two-tone metals have made their mark. After observing our need to match, the Swiss introduced Americans to the harmonious blend of white and yellow gold through the release of two-tone timepieces. This sparked a new fashion frenzy opening a wide array of style options that were never before considered. Women today are now embracing all options, and mixing metals like never before. Now, fashion spreads feature a yellow gold ring with white gold earrings and a rose gold watch without a second thought. The options are endless, allowing women and men to select the pieces they love and wear them without limits.

---