150-Carat All Diamond Ring
Switzerland's Shawish Jewelry has created the world's first diamond ring. Very impressive! Considering that the entire ring is carved from a single diamond, whereas most other diamond rings are composed of a precious-metal band with a diamond centerpiece.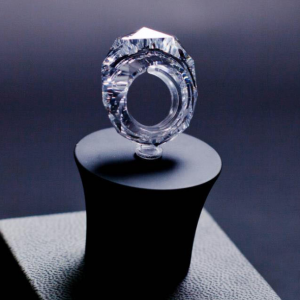 The ring was created by Shawish's president and CEO Mohamed Shawesh using lasers along with traditional diamond cutting and polishing techniques. It took a full year to carve the ring, which has been copyrighted and is expected to sell for $70 million.
This jaw-dropping, awe inspiring, 150-carat ring runs laps around some other famous diamond competitors, including Beyoncé's 18-carat engagement ring from Jay-Z and the even better known 30-carat ring given to the late Elizabeth Taylor by Richard Burton.
---
For more jewelry news & trends, sign up for our jewelry e-newsletter
---