Christmas Spirit
Growing up in a jewelry store, there are very few things anymore that our clients say that I haven't heard before. I'm fortunate enough to have chosen a career that revolves around special occasions and BIG milestone moments. Jewelry is often given as a sign of love, commitment and celebration; especially during the holiday season. Recently, I had the good fortune to work with a client that opened my eyes to a new reason to present your significant other with something special. This particular gentleman has been coming to our store for several years, and by now we have grown to know each other quite well. Every holiday season we spend time exploring the store for the perfect gift for his wife. This year he settled on a gorgeous gemstone pendant to present to her on Christmas Eve. When I asked him what her reaction would be? His response was that HE was the lucky one to be able to honor her with something so special. HONOR, not a word that I've heard expressed in such a context before. He wanted to show his respect to her, and recognize her through a piece of jewelry. He brought back into perspective that what we provide for our clients is so much more then 'just jewelry.' Our pieces are a way for our clients to honor their partners, commemorate their successes and provide something solid, real and lasting as another way to express love and appreciation. Our jewelry, our watches are something tangible that encapsulate feelings, emotions and memories. They help mark life's big events.
---
LOOKING FOR MORE?
» Let us help find the perfect gift for your someone special.
» Read about choosing a Statement Piece
» View our Christmas Gift Guide
---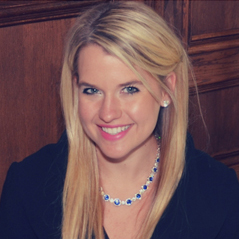 Jessica is our resident fashionista-in-chief and more formally our Diamond Department Manager. Helping guide our clients through life's big milestones by helping them find the perfect piece of jewelry to last a lifetime is what she loves best! She is a Graduate Gemologist who has been infatuated with jewelry since she was a little girl, spending countless hours at her grandmother's jewelry store. Have questions? Just Ask Jessica!