Wixon Custom Earrings: Past Creations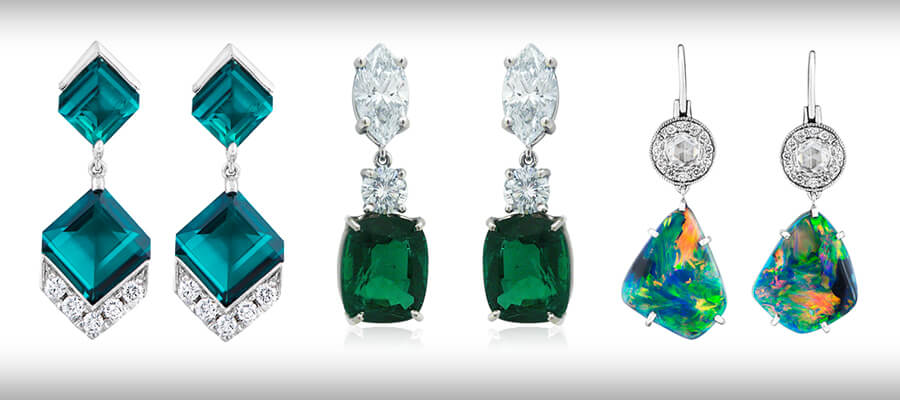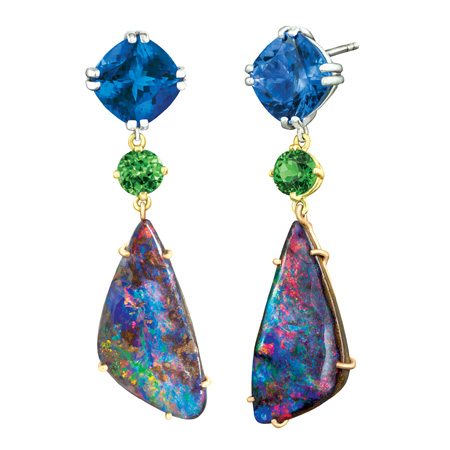 Custom Boulder Opal Earrings
Truly one-of-a-kind, these Wixon Custom Boulder Opal drop earrings are a showstopper. The rich royal blue of Tanzanite paired with Tsavorite Garnet's bright emerald green are the perfect complement to the kaleidoscope of colors that these 12-carat Boulder Opals display. Without a doubt, the most spectacular pair of Opal earrings we have ever seen!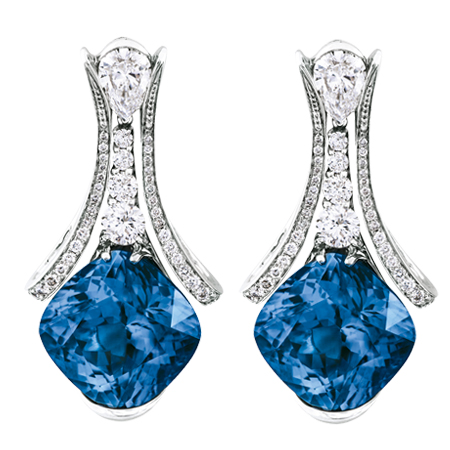 Custom Tanzanite Earrings
This innovative pair of Wixon Custom earrings feature a waterfall of over three carats of diamonds escalating to nearly 25 carats of cushion cut tanzanites. These statement earrings have the perfect amount of brilliance to sparkle from every angle, and will add flare to any jewelry repertoire.
---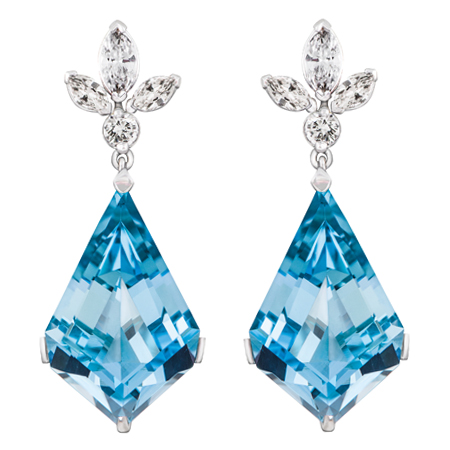 Fancy Cut Aquamarine & Diamond Earrings
The prismatic faceting of these combined 9.38-carat kite shaped aquamarines is showcased within intricate basket settings to highlight the charisma of these crystal clear blue gemstones. Descending from a cluster of of both marquise and round brilliant cut diamonds, these dangle earrings provide just enough movement to attract the light in an elegant and sophisticated manner.
---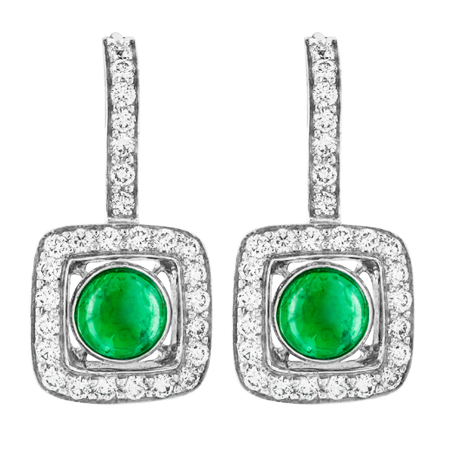 Emerald & Diamond Earrings
These drop earrings were designed and created by Wixon Jewelers to feature a great mix of both Emeralds and diamonds! At the center of these earrings are 1.65-carats of cabochon Emeralds surrounded by a halo of round diamonds set in 18k white gold. Over a carat of round diamonds extend from the halo up through the post with a total of 54 round brilliant diamonds!
---
Lagoon Tourmaline Earrings
These Wixon Custom Tourmaline earrings are 9.52 carats of show stopping beauty. With 1.44 carats of pear-shaped diamond accents set above the Tourmalines and the 1.51 carats of round diamonds below, these earrings are literally dripping in diamonds. When timeless glamour and classic elegance combine, these earrings are the result.
---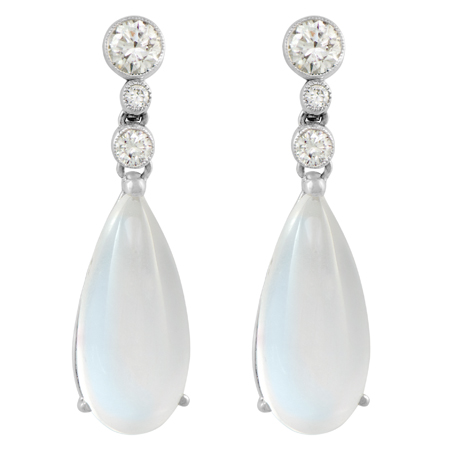 Moonstone Earrings
These earrings are the epitome of understated elegance. With a beautiful trail of diamonds leading to two pear-shaped Moonstones and set in 14k white gold, they are sure to illuminate any room. Versatile enough to wear with any color, these earrings are a perfect touch of everyday glamour.
---
Black Opal Dangle Earrings
These black Opals were acquired loose by our owners, then designed and crafted here at Wixon Jewelers. To have two matched black Opals of this quality showcasing such strong and bright color and pattern is beyond rare to say the least! The movement of the accenting diamonds truly brings the Opals to life for all to see and admire!
---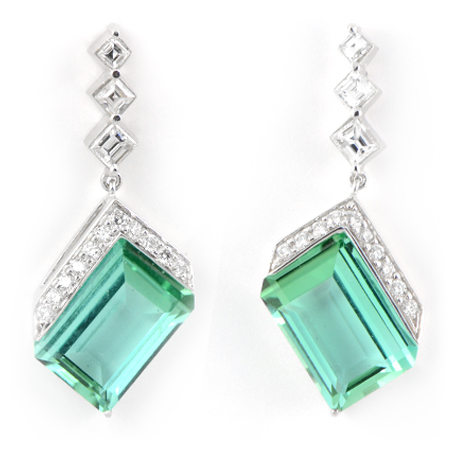 Lagoon Tourmaline Dangle Earrings
The electric neon hue of these matching 7.60 carat lagoon Tourmaline earrings is sure to light up any dark room. Their color is incomparable to any other colored gemstone out there! The earrings are a Wixon original, with a fun and flirty design made to be worn for dress or casual.
---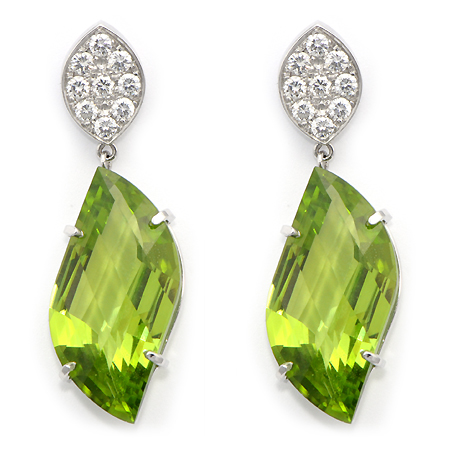 Peridot Gemstone Earrings
These beautiful gemstone earrings are truly one of a kind. The unique shape and cut of these Burmese Peridot gems offer a spectacular green sparkling in the light. The tops of the earrings have just under a half-carat total of pave set round brilliant cut diamonds. The earring is fitted with a 14k white gold post and friction back and were designed and made right here at Wixon Jewelers.
---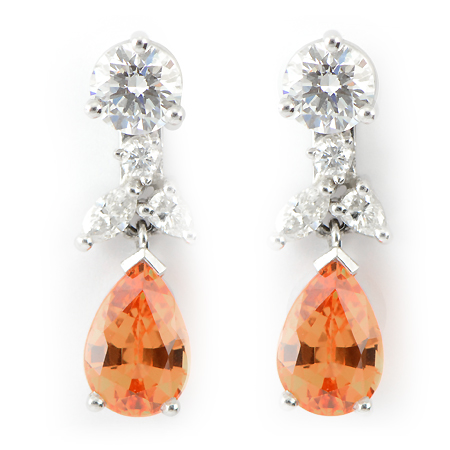 Mandarin Garnet Earring Jackets
Earring jackets are a great way to dress up your everyday diamond studs! These jackets feature 3.82 carats of Mandarin Garnet gemstones set below a third-carat of diamonds, and are designed to fit with any size diamond studs. With a zesty orange hue, these jackets are a fun way to instantly add some color to your outfit.
---