The Ice Dream: Minnesota's Best Treats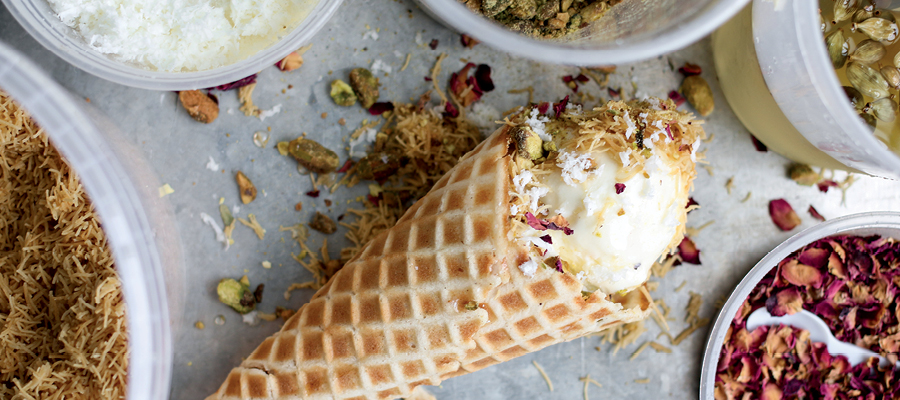 Minnesota's classic frozen treat has been scooped aside by a local ice cream scene that's cool, crazy and cutting edge.
Aside from all things diamond and gem related, my interests revolve around cooking, baking and craft cocktailing. I also keep myself busy researching the latest and greatest on the Twin Cities foodie scene with all the trendy eats and treats found around town. For me, cooking and baking are a form of creative expression. My kitchen is like a painter's studio. It's a place for me to experiment with color, texture, style and create a work of art for my family and friends to enjoy as a form of edible love. My muse of the moment has been my ice cream machine. I've been going strong the last few summers making single batches as a delicious finish to dinner parties, and testing my creative boundaries with a bevy of frozen flavors. As to what sparked my ice cream inspiration? All of the boundary-pushing local creameries that are popping up around town.
Living in the land of eternal winter would lead one to believe that the only frozen we need is found outside on the snow-covered ground. Ice cream around here, however, is forefront of mind for many, even in the middle of winter and continues to pop up locally in many gourmet ways. Classic foods of all kinds are having a rebirth of sorts, so it's no surprise that the ultimate classic dessert is having its reinvented moment with a twist (and not the chocolate vanilla sort). For the longest time, we all knew exactly what to expect from ice cream: soft, pillowy layers of icy vanilla, rich chocolate or simple strawberry all served in a classic sugar cone. Ice cream was basically, well, basic. These days though, the beloved timeless classic has been caught up in a tidal wave of culinary craze. Showcasing both sweet and savory, wild new flavors are being offered with toppings that tease the imagination and serve as the ultimate sensory experience. While there will always be a place for the classics, it's the new crowd that's demanding attention. My three favorite and inspiring local ice cream shops are all delicious in their own right and are guaranteed to be a mainstay for years to come.
The Cool: Milkjam Creamery
2743 Lyndale Avenue South, Minneapolis, MN  |  milkjamcreamery.com
No doubt about it, I have a mad crush on Milkjam Creamery. They were my first venture into gourmet ice cream almost three years ago and it was love at first lick. Owner and mastermind Sameh Wadi has been a pillar on the Twin Cities restaurant radar for well over a decade, but it has only been three years since he launched Minnesota's ice cream scene to the forefront. Wadi and his executive chef Sean Little have laid out a master footprint that is a tough act to follow, and supplied our city with a dreamy creamery that still calls for long lines in the dead of winter. Gourmet ice cream is not to be taken for granted. A top-quality treat is a perfect symphony of sensations that delicately balances texture and taste. According to Little, the ice cream should be velvety and smooth, the texture without grain or grit, and you should be able to feel and taste the hard work that goes into each batch. Milkjam's cones are classic in shape, but filled with a rotating line-up that stimulates the senses. My personal favorites seem almost childish in comparison to several of their exotic feats like Thai Tea (aromatic black tea with condensed milk) and Turkish Tiramisu (Turkish coffee & mascarpone ice creams with rum soaked lady fingers) but hey, I can't help it if Ridin' Duuurty (oreo milk with oreo chunks and salted peanut butter) and Cereal Killers (orange coriander milk with candied fruity pebbles) keep me coming back on repeat. The hybrid breakfast/dessert dynamic duo of Cereal Killers is the perfect complement to their signature creation, the Jam Bun. This twist on an ice cream sandwich features any one of their 16 rotating flavors sandwiched between a Glam Doll glazed donut. When it comes to ice cream, Wadi and his dream team are turning our town upside down.
The Crazy: Minnesota Nice Cream
807 Broadway Street NE, Minneapolis, MN  |  mnnicecream.com
The expression 'eat with your eyes' genuinely applies to Minnesota Nice Cream's outlandish creations.
Beginning in the back of a food truck all dreamed up by Katie Romanski, in two short years Minnesota Nice Cream has become the darling of the food photography scene. It's easy to see why images of Katie's creations drive in traffic with lines stacked dozens deep in the summer to her now permanent location. With minimal soft-serve options of vanilla, chocolate or twist, her cones start off simple but after that, her endless array of toppings turn these frozen treats into an edible masterpiece. Sprinkles, glitter, cookies, cake, caramel, berries, brownies and a bevy of other options are artfully layered one on top of the next to create the complete cone experience. I do my best to toe the line and keep my treats tailored, but one stop at Katie's dreamland candy-decorated cone shop and all bets are off. My advice? Lean in to the experience, and indulge in the ultimate Technicolor treat.
The Cutting Edge: Sweet Science
928 7th Street West, St. Paul, MN  |  sweetscienceicecream.com
A classic cone with a single scoop. Seems pretty simple, right? Try again; every sample taste of the 20 rotating options was a fabulous flavor explosion! In 2011, Ashlee Olds set out to create an amazing, pure and all natural ice cream using only the finest quality ingredients and combine them in the most unique way possible. Her business grew from serving at backyard parties and breweries to now being featured in the new brick-and-mortar hot spot in town, Keg and Case. Innovative and interesting, her ice cream is a continuous evolution of intriguing flavor profiles. One of her most loved show-stealers is the Berry Crumble (vanilla bean swirled with raspberry blackberry sauce, sprinkled with streusel) and the Cayenne Caramel Brownie (slightly spicy cayenne caramel layered with fudgy rich brownies swirled in milk chocolate ice cream). Equally as swoon-worthy, is her Blackberry Sorbet (tart, fresh and vibrant in color and flavor). Her menu is almost entirely gluten-free and extensive enough to offer something to suit everyone's taste. To Ashlee, ice cream is a suspension of frozen emotion. To make it takes skill, and to perfect it takes science. Her passion for perfection is evident in every single scoop.
These local creameries have master recipes that an at-home Cuisinart can't come close to copying, but it doesn't mean I'm not going to at least try. All three locations are a source of inspiration as they keep serving up one delicious scoop after the next over and over again. When you boil it down to the basics, ice cream is a formula of sugar, fat, frozen water and air; which is what makes really good, exceptional and interesting ice cream all the more exciting and applaud-worthy. From all the different flavor profiles to the finishing finesse, these are the very best frozen treats our Minnesota frozen tundra has to offer.
---
Jessica Gylsen is our Diamond Department Manager by day and our in-house fanatical foodie by night. When she's not surrounding herself with sparkle, you're sure to find her at home cooking or out on the town tasting some of the Twin Cities' most tempting treats and eats.
[Top Image]: Photo by Derrick Koch