With This Watch, I Thee Wed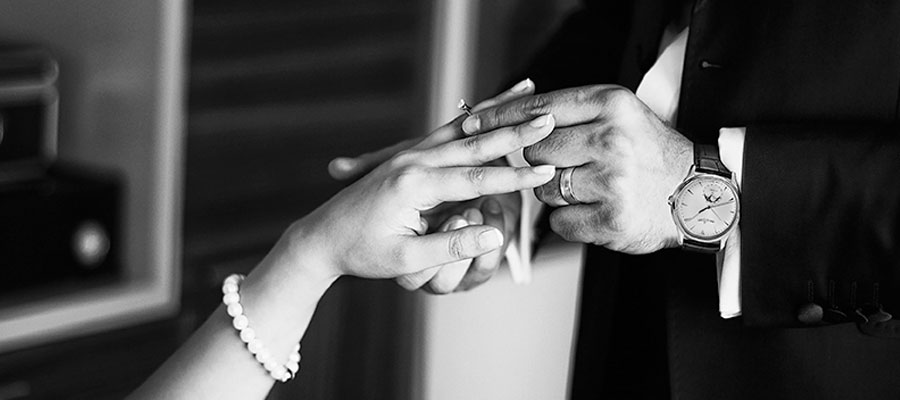 Each gift of jewelry tells a story of love and celebration. For hundreds of years, men have presented their bride-to-be with a ring as a gift to celebrate their engagement. While the tradition of the engagement ring as a token of the man's affection for his bride dates back to the 13th century, there hasn't been an established tradition for her to show how much he means to her. Doesn't the man also deserve something unique, sentimental and timeless? Many brides want to do something special for their beau as a way to celebrate their engagement. This can be a difficult task for brides; often she is as lost in her search as he was when he first started looking for her engagement ring. Today it's quite common for the woman to give her husband a token that is as beautiful as her ring and can be cherished forever. Enter the "wedding watch." The gift of a fine timepiece to celebrate an engagement is a thoughtful, more modern tradition for today's groom. After all, how many flasks, key chains, and money clips does one guy really need? This is the gift that highlights his personality, and showcases the individuality of the one person you want to spend the rest of your life with. A fine timepiece is something that he will wear every day; a token of your love and affection that will always remind him of you, even in the simplest moments like checking the time.
A Timeless Treasure
The key to selecting the right watch is to ensure that it is versatile enough to last a lifetime, one he can wear casually but can also adorn his wrist on special occasions. As a memorable gift for your husband-to-be, a watch is a handcrafted statement of love that will be a treasured family heirloom. This watch will become something that your husband can pass down to your son or grandson, and be proudly worn for generations. Imagine capturing the exact second in time that you met, the weekend that you introduced him to your family, or most importantly, the first time he finally picked up the tab. That moment does not need to be fleeting. By engraving the timepiece with a special date, nickname, or message, you can eternalize your love on the back of the watchcase. Engraving a special message is always complimentary with any watch purchase.
A Proper Presentation
Lucky for you, presenting your husband with his watch doesn't require getting down on one knee like a proposal. Whether it's a quiet and intimate moment shared between the two of you, or a more public display in front of friends and family, there are several great options for presenting him with this mechanical masterpiece. A popular option is during the rehearsal dinner, where it would not only be a surprise to him, but everyone else involved. Otherwise, you could create a special and private rendezvous between the ceremony and reception, before your grand re-entrance as husband and wife. Another great option would be the following morning just before you're whisked away to your exotic honeymoon location. The options are endless! Sophisticated and timeless, a fine timepiece is the perfect engagement present for your husband-to-be. It will be something that will remind him of you every morning as he smiles when he puts it on his wrist. It is a memento that reflects the emotional meaning of your union, a proper symbol of your lives progressing together, and even more, it's just a really cool gift.
---
LOOKING FOR MORE?
» Have questions about a particular timepiece, our availability or pricing? Ask Our Experts!
» Browse our selection of fine Swiss timepieces.
» Learn more about engagement ring trends.
---
Join our eNewsletter
Be the first to know about tips, tricks and trends in jewelry
Oops! We could not locate your form.