VIDEO: Rolex Submariner (Ref. 16613T)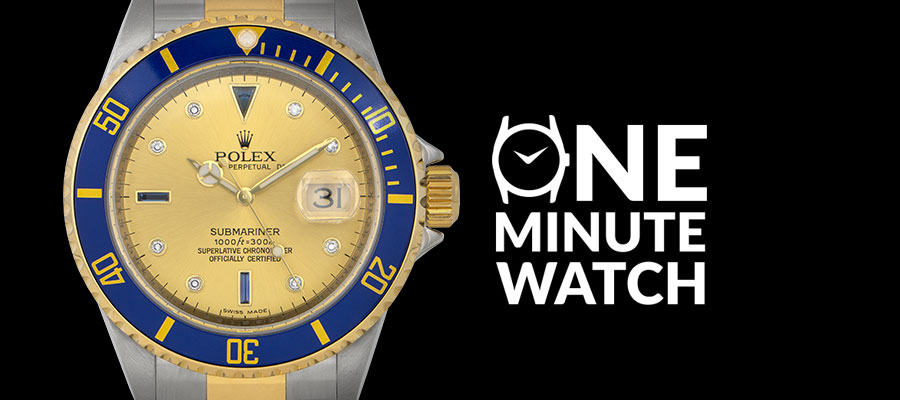 One Minute Watch with John Carter
Pre-Owned Rolex Submariner
Today we take a look at a special and unique version of the iconic Rolex Submariner! Sporting a cool and seldom-seen "Serti" dial, this steel and gold Rolex Submariner stands out among its more common black and blue dial cousins.
Derived from the French "sertissage" meaning "gem setting", Serti dials represent Rolex at their highest level of traditional craftsmanship. All diamond dials are technically "Serti", but most collectors would think immediately of the Submariner and GMT-Master IIs that feature the diamond and gemstone dials.
This pre-owned watch dates to 2010 and features the desirable "no holes" case and solid end links. The watch is in excellent pre-owned condition and was just fully serviced. The watch is accompanied by its original boxes, manuals, tags and certificate.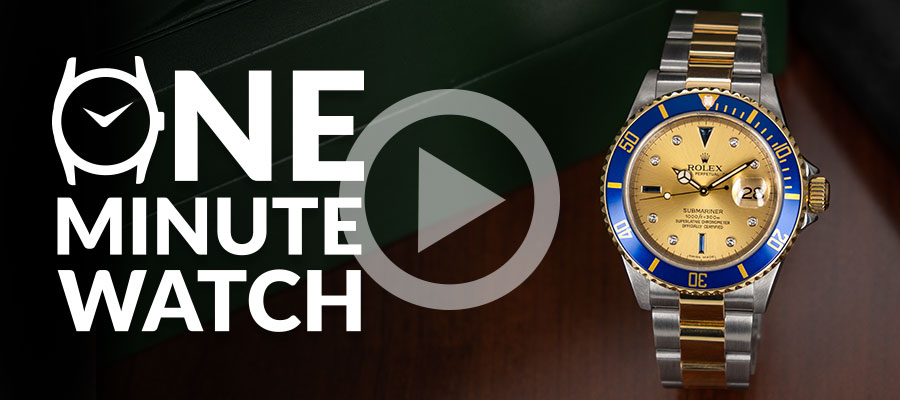 VIDEO: What is a "Serti" Dial? – Rolex Submariner with Diamonds & Sapphires
This is not your average Rolex Submariner. The combination of steel and yellow gold with a "Serti" dial that is set with diamonds and sapphires adds some extra flair and elegance to Rolex's classic dive watch. The word "Serti" is derived from the French word "sertissage" which means gem-setting. Technically, any gem-set dial from Rolex is a "Serti" dial, but most collectors covet the Submariner and GMT-Master II versions due to their unique appearance over the standard models.
Dating to 2010, this pre-owned Submariner stands out among the more common black or blue dial Submariners, and offers a truly unique aesthetic. While Submariners normally have luminous indices for hour markers, this example is adorned with eight diamond hour markers and three blue sapphires. The watch is completed with a blue bezel that compliments the sapphire markers at 6, 9 and 12 o'clock, creating a seriously stylish and scarce variant of the iconic Submariner.