The Underwater Overachiever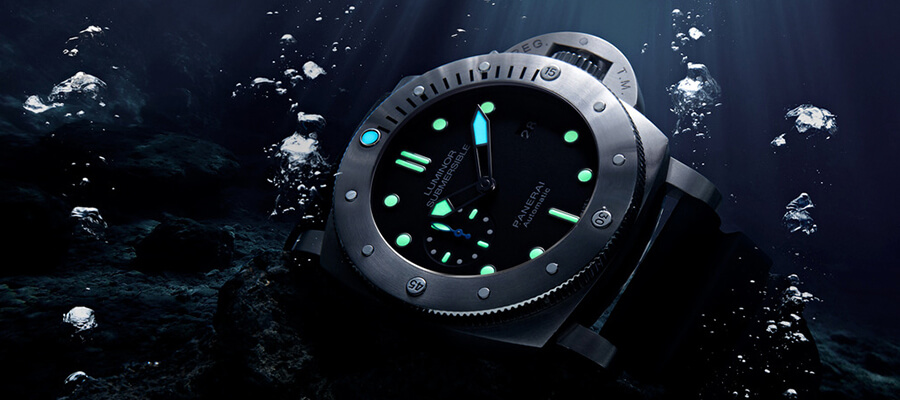 has grown significantly in popularity in the last decade and has established themselves as an elite manufacturer of luxury watches. Their first wristwatch was introduced in the 1930's as a tool for elite naval divers but their horologic roots began several years earlier. It all began in 1860 when Giovanni Panerai opened a retail shop in Florence, Italy selling watches and clocks. During these early years, Panerai became a major supplier of parts to the Swiss watch industry and also opened up a watch making school.

By the early part of the 1900's Panerai had established itself as major supplier of instruments, devices, and equipment to the Royal Italian Navy. When the Navy needed precise, water resistant and durable instruments for its elite diving team, it was Panerai that was able to fill this need.
In 1910 Panerai invented Radiomir, a radium-based luminous substance, and it would forever change the way their instruments would be used. This substance was applied to the dials enabling them to be easily legible even in the dark and murky waters of the Mediterranean Sea. The earliest Panerai watches housed Rolex movements and only about 300 pieces were produced between the 1930's and 1990's. These pieces were military issue only and were supplied to the Italians, Germans, Egyptians, and Israelis.
---

Fearless Frogmen: Riding on submersible torpedoes, the commandos were the protagonists of epic endeavours. On their wrists, they wore the precision and luminescence of Panerai watches.
---
In 1997, Panerai shifted their production from producing instruments solely for the military to the production of luxury watches. They made great strides within a matter of years and in 2005 Panerai released their first in-house movement, validating them as one of only a handful of true Swiss watch manufacturers. Today, over 70% of Panerai watches contain one of their masterful in-house movements. Their deep roots as a military instrument are still apparent in the design and features of their newest timepieces. Every Panerai is numbered and produced in limited quantities making them highly desirable by collectors. Collectability aside, they are a great watch brand to own and a lot of fun to talk about. Panerai has earned a lot of esteem within the industry and with watch lovers alike. They even have a cult-like following of raving fans and enthusiasts known as Paneristi.
---
LOOKING FOR MORE?
» Read more about Panerai's storied history in The Aquatic Trojan Horse » Wixon Jewelers is an authorized dealer of Panerai Watches » Have questions about a particular timepiece, our availability or pricing? Ask Our Experts!
---
Join our eNewsletter
Be the first to know about tips, tricks and trends in jewelry
Oops! We could not locate your form.