Tantalizing Tanzanite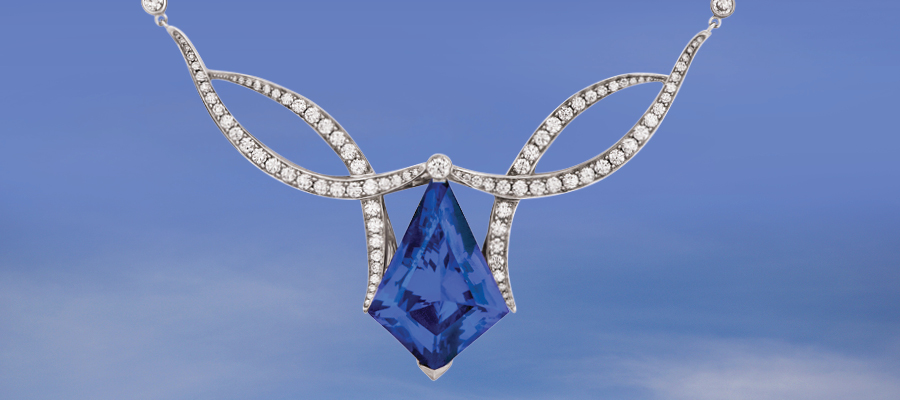 For millions of years, the blue beauty of Tanzanite lay dormant in the Merelani Hills, tucked beneath the shadows of Mount Kilimanjaro. It may have never been discovered if it weren't for a fateful combination of tragedy, timeliness and mother nature's whimsy. As lore has it, in 1967, a rampant wildfire tore through the Merelani Hills in Tanzania, Africa. At the time, this remote Eastern African location was nearly uninhabited with the exception of cattle farmers who used the grasslands to feed their herd. After the fire, they swept the area to asses the damage, and it was then that the world was introduced to the new beautiful gem that we now know as Tanzanite.
The farmers brought the blue crystal stones to a local fortune hunter, Manuel d'Souza, who believed the gems to be Sapphire. D'Souza consulted with several local gemologists and it was determined that these vibrant crystals were not Sapphire, but instead an entirely new mineral species. D'Souza quickly laid claim to four mines and shortly after, 90 more claims were made in the same 20 square mile area. Fifty years later, this still remains the only location on Earth that produces Tanzanite. Its limited availability makes it rarer than diamond and its stunning beauty has caused a demand that at times rivals the most revered gems (Ruby, Emerald and Sapphire) in popularity.
EXHIBITING ROYAL HUES
Like with any precious colored gemstone, color is king when it comes to assessing the quality and rarity of Tanzanite. At its finest, Tanzanite rivals the pure, rich blue hue of Sapphire which is why it was at first mistaken as such. Tanzanite is a trichroic gem which makes its display of color quite complex. Trichroic means that the gem showcases different colors as it is moved in different directions. The finest quality Tanzanite will display royal blue, vibrant violet and a fiery, reddish pink. The light violet or periwinkle gems are more plentiful, typically smaller in size and the most well-known. The deeper and stronger the blue or violetish blue color the gem displays, the more magnificent and the more valuable the gemstone. A 13.37ct emerald cut Tanzanite is accentuated with .68ct of diamonds in this platinum Wixon Custom pendant. This 20.46ct elongated emerald-cut Tanzanite is accented with 1.48 carats of diamonds set in 18k white gold, which makes for a perfect statement ring. Set in platinum and accented with diamond halos, these 17.44ctw Tanzanite earrings and this 14.28ct Tanzanite ring are a perfectly matched suite.
A Tanzanite of top quality is a masterpiece of mother nature. The gem's royal blue brilliance partnered with its high clarity and ability to be found in large, substantial sizes make it an unrivaled find. Industry icon Henry Platt said it best when he declared it to be, "The most important gemstone discovery in over 2,000 years." Its singular location also has many wondering about the extent of its availability. This gemstone could very well be limited to a single century. The fateful turn of events that lead to Tanzanite's discovery provided us with a gem that will be loved by many far after the mines are empty.
Set in platinum and accented with diamond halos, these 17.44ctw Tanzanite earrings and this 14.28ct Tanzanite ring are a perfectly matched suite.
---
[Top Image]: The diamond shaped 20.90ct Tanzanite was destined to be a showstopper once set in this 18kt white gold Wixon custom design necklace featuring 3.38ct in total diamond detail.