VIDEO: Rolex Sky-Dweller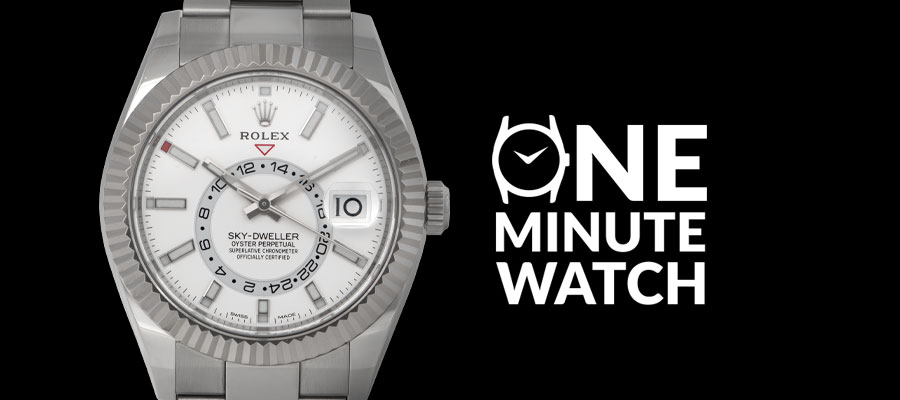 One Minute Watch with John Carter
Pre-Owned Rolex Sky-Dweller Ref. 326934
Offering travelers all of the information needed to easily keep track of time, the Rolex Sky-Dweller features a dual time zone, an innovative annual calendar named Saros, and month display apertures around the circumference of the dial. The ingenious simplicity is of the Sky-Dweller is appreciable at every level – from the display to the functions, as well as in its everyday use.
Straightforward to read and simple to use, the Sky-Dweller features a dual time zone that allows the wearer to reference the time anywhere in world with a quick glance. The Sky-Dweller is equipped with a revolutionary annual calendar offering unparalleled robustness and reliability for such a complex watchmaking function. This calendar's qualities are attributable to Saros, a mechanism patented by Rolex.
Dating to 2017, this watch is in excellent pre-owned condition and includes its original boxes, manuals, tags and certificate. This stainless-steel model is one of the most scarce and coveted Rolex watches on the market today.
An elegant watch for world travelers, the Rolex Sky-Dweller offers all of the information needed to easily keep track of time while traveling. It features a dual time function paired with an annual calendar, making it the most complicated watch in the Rolex collection. Dating to 2017, this pre-owned Sky-Dweller showcases a crisp white dial that brilliantly organizes these functions and displays them in a clean and elegant fashion.
Thanks to Rolex's patented annual calendar mechanism called Saros, the Sky-Dweller only requires the date to be adjusted once per year, on March 1st. The months are indicated by 12 apertures around the dial, with the current month displayed in red. The Sky-Dweller also displays two time zones simultaneously. The wearer's local time is displayed conventionally by the hour and minute hands, while the second time zone is indicated by an inverted red triangle with a rotating disc in the center of the dial.



See more details on this pre-owned 2017 Rolex Sky-Dweller (Ref. 326934)
---