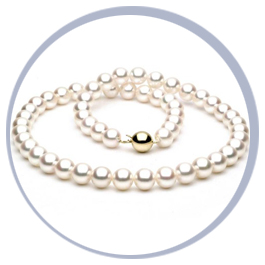 With Minnesota's finest collection of Akoya pearls, you're sure to find the piece that was made for you!
Akoya Pearl Jewelry
These pearls are harvested in southwestern Japan and China in the Akoya oyster, which is among the smallest of the pearl-producing oysters. This small oyster typically produces smaller pearls, ranging between 2 to 10mm, but don't let the size fool you; these pearls are highly prized for their rich colors and stunning lustre. Akoya pearls have a beautiful range of colors, from creamy white with pinkish overtones to a dark carbon color with silvery blue accents. They are extremely popular because of their consistently round shape, making them perfect for long necklace strands and bracelets. Jewelry crafted from Akoya pearls creates a wonderful mix between formal and casual styling, allowing you to own an amazingly versatile piece of jewelry.

Our Collection
Wixon Jewelers is proud to offer our clients the finest selection of Akoya pearl jewelry in Minnesota. Below is a selection of pieces from our expansive collection, including pearl necklaces, bracelets, earrings and other jewelry. Stop in for a visit to view our full collection!
Akoya Pearl Necklaces
The rich color and lustre of Akoya pearls really shines in their perfectly paired pearl necklace strands. The beautiful pinkish overtones in white Akoya pearls and the dark carbon color of black Akoyas pair wonderfully, especially in multi-color necklaces.
Akoya Pearl Jewelry
Being that the Akoya is naturally a smaller pearl, they make great pieces of more petite pearl jewelry. The subtlety of their pearl bracelets and rich color in their earrings and pendants make them perfect accessories.
---