Past Looks: Necklaces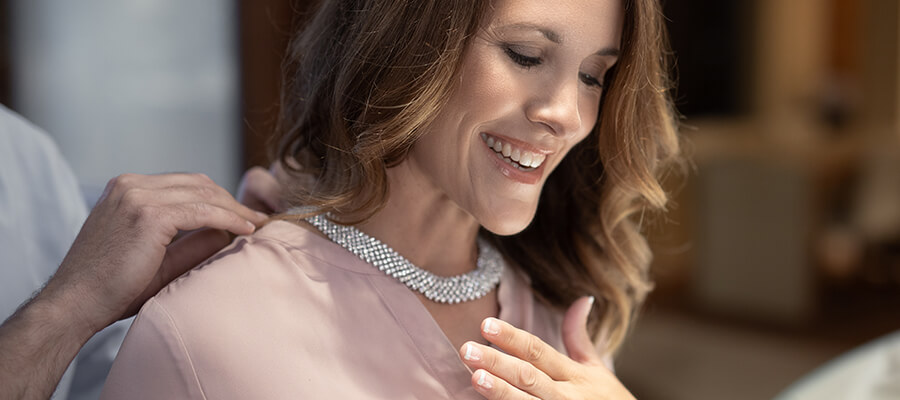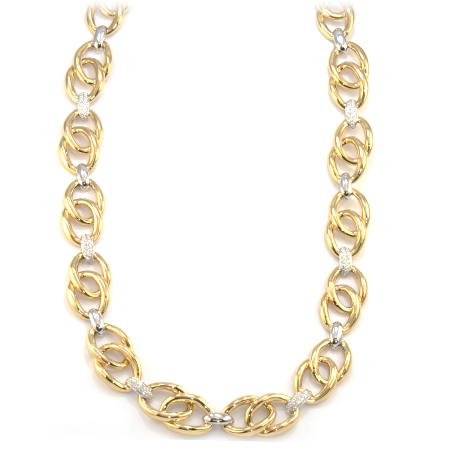 Yellow Gold & Diamond Necklace
Wow, this yellow gold necklace is a beauty! The necklace is 31.5″ and is designed with beautiful high polish 18k yellow gold ovals. The double ovals are linked together and connected to 18k white gold links; seven of the white gold links are covered in diamonds. The necklace has its fair share of diamonds– 112 round brilliant cut diamonds (1.77 carats) are highlighted on this piece. With a genius mix of yellow gold, white gold and diamonds, this necklace would be the perfect addition to any jewelry collection.
---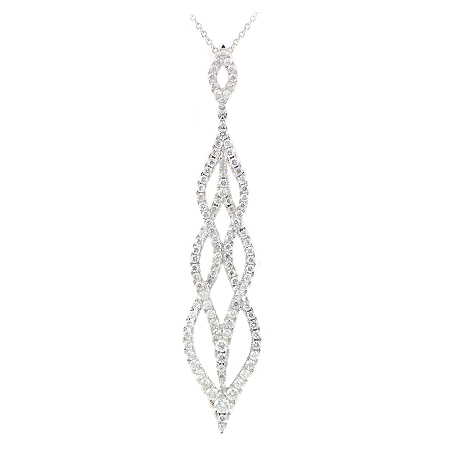 Fancy Pave Diamond Pendant
This beautiful pendant features a fancy pave diamond design that is set with over 100 diamonds totaling 1.19-carats. Set in 18k white gold, the drop design starts thin at the top and moves down into a fancy open weave as you move down the pendant.
---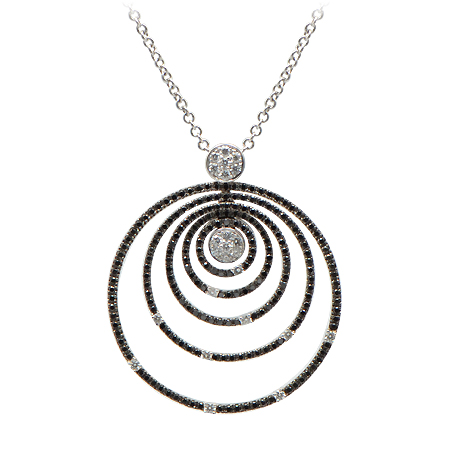 Black & White Diamond Pendant
This gorgeous pendant is beautifully designed with five circles of black diamonds accented with white diamonds connected together to create a unique look. It also features two circles that are encrusted with pave set round brilliant cut diamonds. It's a perfect pendant to wear out casually or with a gorgeous dress.
---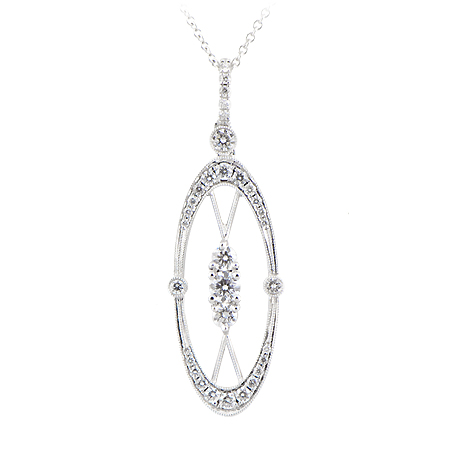 Oval Diamond Pendant
Combining a vintage inspiration with modern flair, this stunning diamond pendant is beautiful! The pendant was crafted in 18k white gold and set with 34 round diamonds totaling .62-carat. A subtle, yet defining detail is the milgrain edging that is featured throughout the piece.
---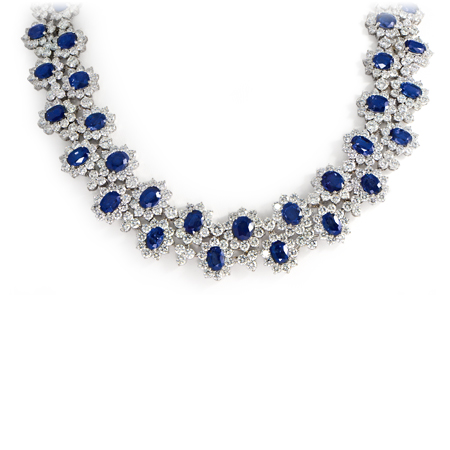 Ceylon Blue Sapphire Collar Necklace
Adorned with 115 carats of Blue Sapphires and 70 carats of diamonds, this stunning Ceylon Sapphire collar necklace is red carpet worthy! This masterpiece features 51 oval cut velvety-blue Ceylon Sapphires surrounded by 608 round brilliant cut diamonds. Crafted entirely in platinum, it feels like luxury. It was perfectly designed to lay flawlessly on the neck so that even the smallest movement will make the diamonds glitter and dance. This necklace will stimulate your senses and dazzle you with its scintillation!
---
Mauresque Flower Necklace
Created in 18k yellow gold, this beautiful necklace is styled with a mix of delicate gold circles that lie within an oblong teardrop shape. Two diamonds dance within the necklace, one on the bail and one that creates a flower motif within the pendant.
---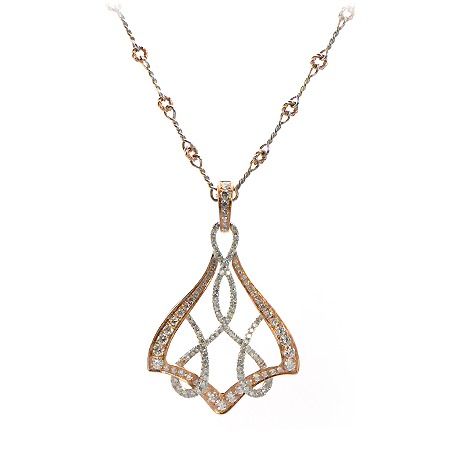 Rose Gold Diamond Fashion Pendant
This fashion pendant has a contemporary design and uses a combination of 18k rose gold and 18k white gold. Set in gold are 138 round brilliant diamonds totaling 1.48-carats which add great sparkle to this pendant. This piece comes with the matching 18-inch chain.
---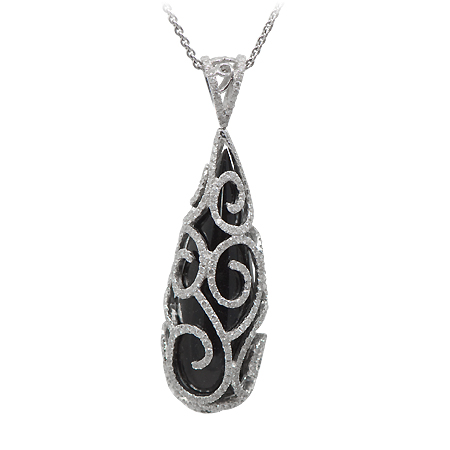 Black Onyx & Diamond Pendant
This fun diamond pendant is very fashionable and versatile! The main shape comes from a black onyx stone in a teardrop style but the style comes from 1.38-carats of pave set diamonds. The pendant is set in 18k white gold with pave diamonds that wrap around the black onyx in the form of fancy scroll designs.
---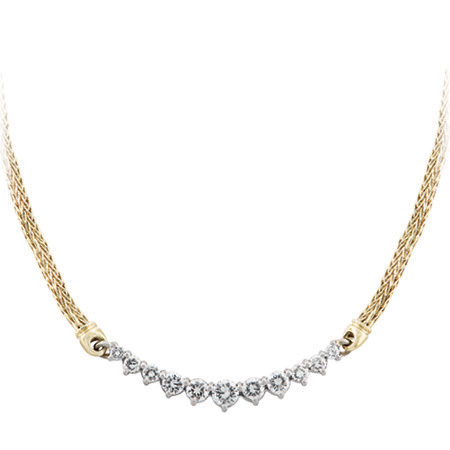 Graduated Diamond Two-Tone Necklace
A smooth and substantial 18k yellow gold wheat chain clutches a hand assembled row of diamonds that grow toward the center. The eleven diamonds are set in white gold and total 1.50 carat weight, giving a beautiful two-tone impression. This necklace is elegant and classic, destined to be a staple piece in her collection. And the attention to quality ensures it will last a lifetime.
---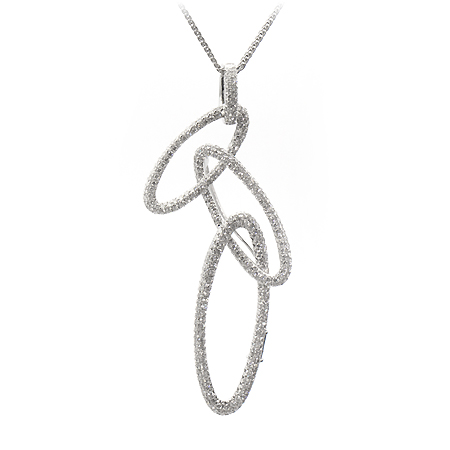 Fashionable Diamond Pave Pendant
This whimsical fashion pendant features three different size ovals set in 18k white gold. The ovals are covered with round brilliant cut diamonds pave set; just under two carats of diamonds in total. The pendant is attached to a 19-inch white gold chain.
---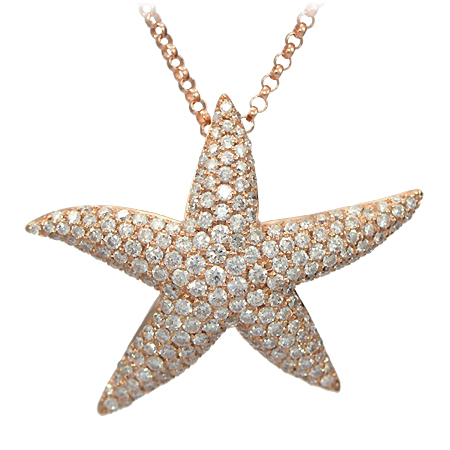 Rose Gold Starfish Pendant
Jewelry with nature designs has come to be extremely trendy and this fashion pendant is a perfect way to show off your fashion forward style! This 18k rose gold pendant is shaped like a starfish and covered in 192 round pave set diamonds totaling 0.90-carat.
---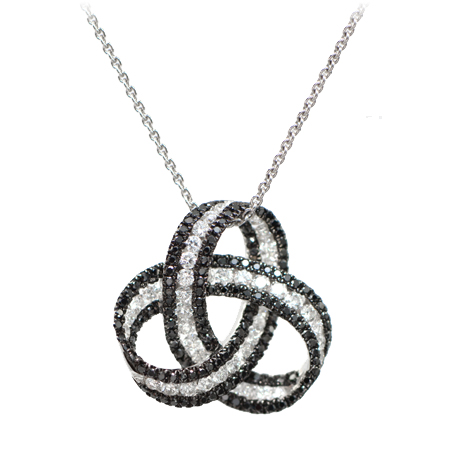 Black & White Diamond Pendant
This stylish pendant features both black and white diamonds set in white gold. The slightly smaller black diamonds total .62-carat and surround .62-carat of larger cut white diamonds to create a love knot design.
---