Jewelry at the 2014 Grammy Awards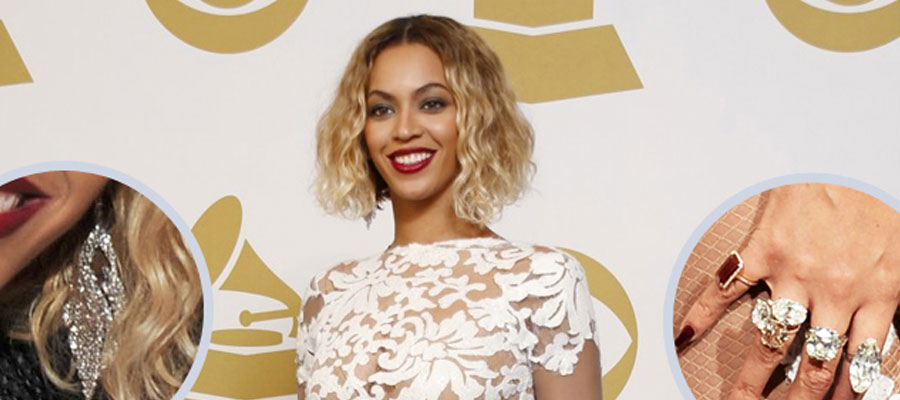 From diamond rings worth millions to a bedazzled glove, the Grammy's showed us that more really is more! I couldn't take my eyes off all the great rings and earrings from the evening and was happy to see the men bringing some flair to the evening by adding a brooch to their jackets.  Here are a few fun looks from Sunday night.
More Than a Three Ring Circus
Celebrities can't get enough of the cocktail ring; it was clearly the standout trend from the evening.   Here are a few looks at how the ladies "rocked out" Sunday night.
BEYONCE
Beyonce wasn't shy about piling on the diamond rings.  Her dazzling diamond earrings and stacks of diamond rings totaled over 10 million dollars.
RITA ORA
I couldn't take my eyes off of Rita Ora's hands. The 50 Shades of Grey actress took this trend to a whole new level featuring a ring on every single finger.
MADONNA
Madonna featured some serious "hand hardware" sporting initial "M" and "E" rings and a sparkling fingerless glove that certainly made a statement.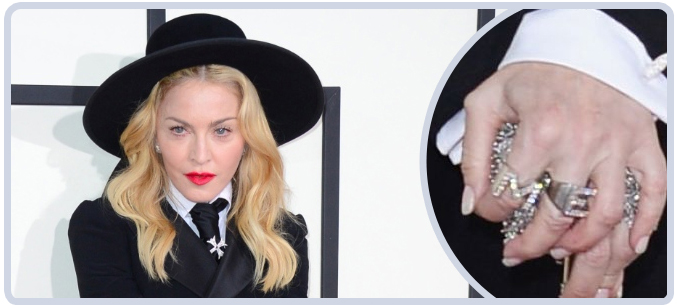 TAYLOR SWIFT
Taylor Swift took a more subtle approach to the trend by wearing just one cocktail ring and an amazing pair of emerald cut diamond earrings, by far my favorite look of the evening!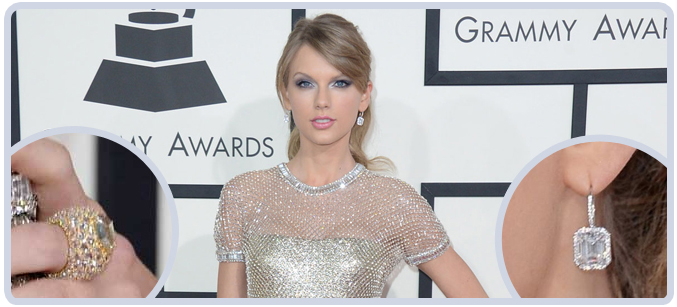 Music To My Ears
Miranda Lambert's earrings were stunning.  Featuring 50 carats of Black Opal, Rubies, hand-carved Sapphire and diamonds, they were nothing short of amazing! You can jazz up your ensemble with these big, bold Black Opal earrings.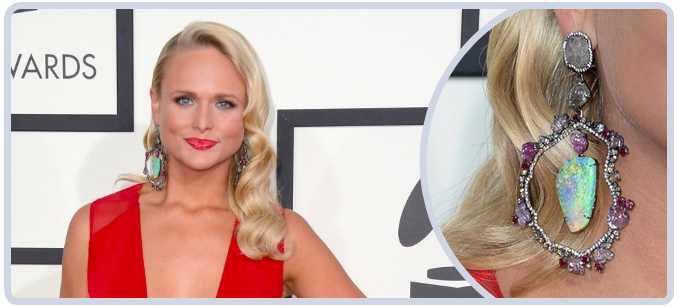 The Bro Brooch
This up and coming trend was well represented last night with Usher, Miguel, LL Cool J and Bruno Mars all wearing brooches on their lapels.  I will be looking forward to the Academy Awards to see if this look sticks!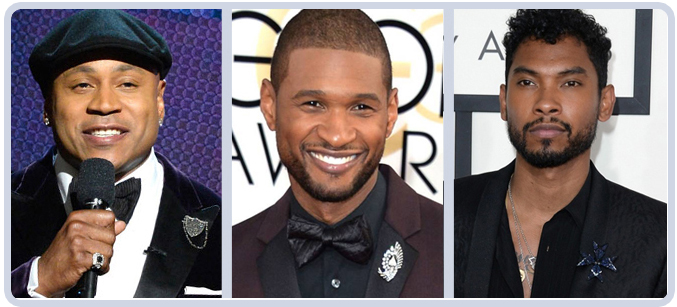 ---
Well that's my wrap-up of some of the fabulous jewelry looks from the 2014 Grammy Awards. If you're ready to rock any of these looks, stop by and try on a few of my favorites! Also be sure to read Jessica's article about celebrity jewelry at the Golden Globes!
---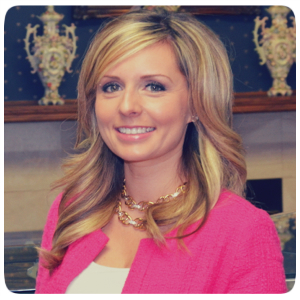 Amy shares her pearls of wisdom in her weekly column, Ask Amy. Her impeccable taste helps to select beautiful, current yet timeless looks for our clients in harmony with their own personal style. She believes that jewelry should have a story to tell about the person who wears it and is delighted to commemorate life's celebrations. If you have a question, just Ask Amy!