Introducing Greenery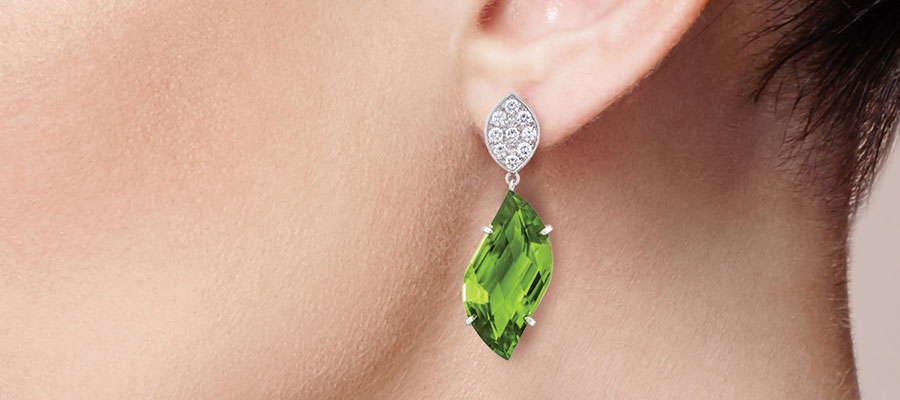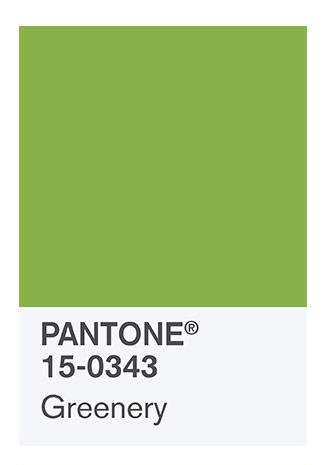 The start of each new year brings a renewed sense of excitement for what's to come in the months ahead, and an anticipation for the new trends that will emerge. Pantone's Color of the Year for 2017 embodies that excitement with it's lively hue.
Pantone is the global authority on color trends, and since 2000, they have declared a color of the year that highlights and expresses the mood for the upcoming year. These yearly announcements are a reflection of the world around us and provide  a sense of what's happening in the global cultures of fashion and design.
Contrary to what you might think, the color experts at Pantone aren't picking these colors out of thin air. Pantone's Leatrice Eiseman explains that their team spends the year taking note of the up-and-coming trends from around the world. Feeling a global resurgence in the desire to reconnect with nature, the team at Pantone selected Greenery as the Color of the Year for 2017. Greenery reminds us of the first days of Spring when the world feels fresh and new, making it the perfect color to reinvent yourself in the year to come.
---
Pantone's video for the 2017 Color of the Year gracefully transitions from 2016's Rose Quartz and Serenity to showcasing Greenery in all its vibrant glory. This clever video brings Greenery to life by demonstrating the numerous ways we incorporate color into our daily lives.
---
Out of this World Color
Whether it be a bold new blouse, fun pair of heels or amazing piece of jewelry, each season brings the opportunity to reinvent yourself with color. If there is one gem that sums up Greenery perfectly, it has to be Peridot. While Peridot is one of the few gemstones that exist in only one color, it's signature hue can range from a yellow-green to olive. While traditionally formed deep within the earth and brought to the surface through volcanic activity, Peridot crystals have also been found in ancient meteorites dating 4.5 billion years old. You aren't likely to see extraterrestrial Peridot available in jewelry however, as it is extremely rare. Today, most of these gemstones come from Arizona but are also found in China, Myanmar, and Pakistan.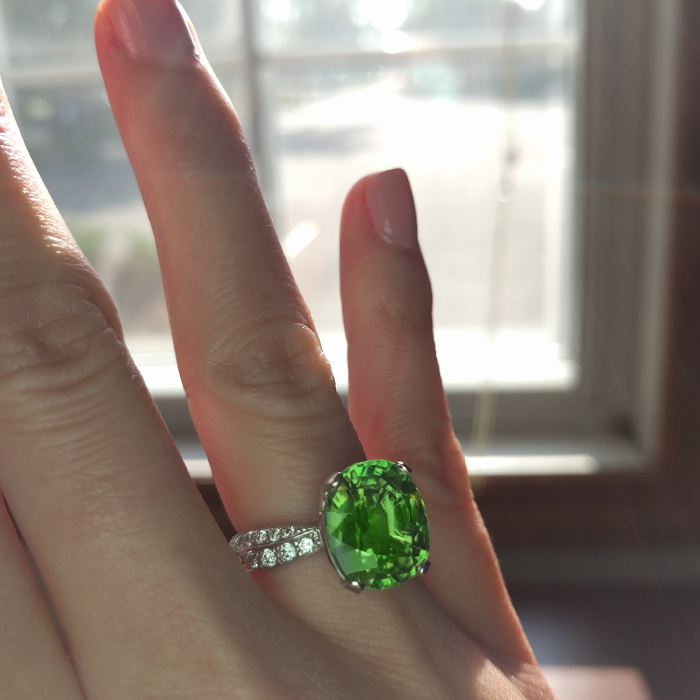 This 7.66-carat Burmese Peridot ring is simply electric when the caught in the sun. It's no wonder ancient Egyptians associated Peridot with light, calling it the "gem of the sun."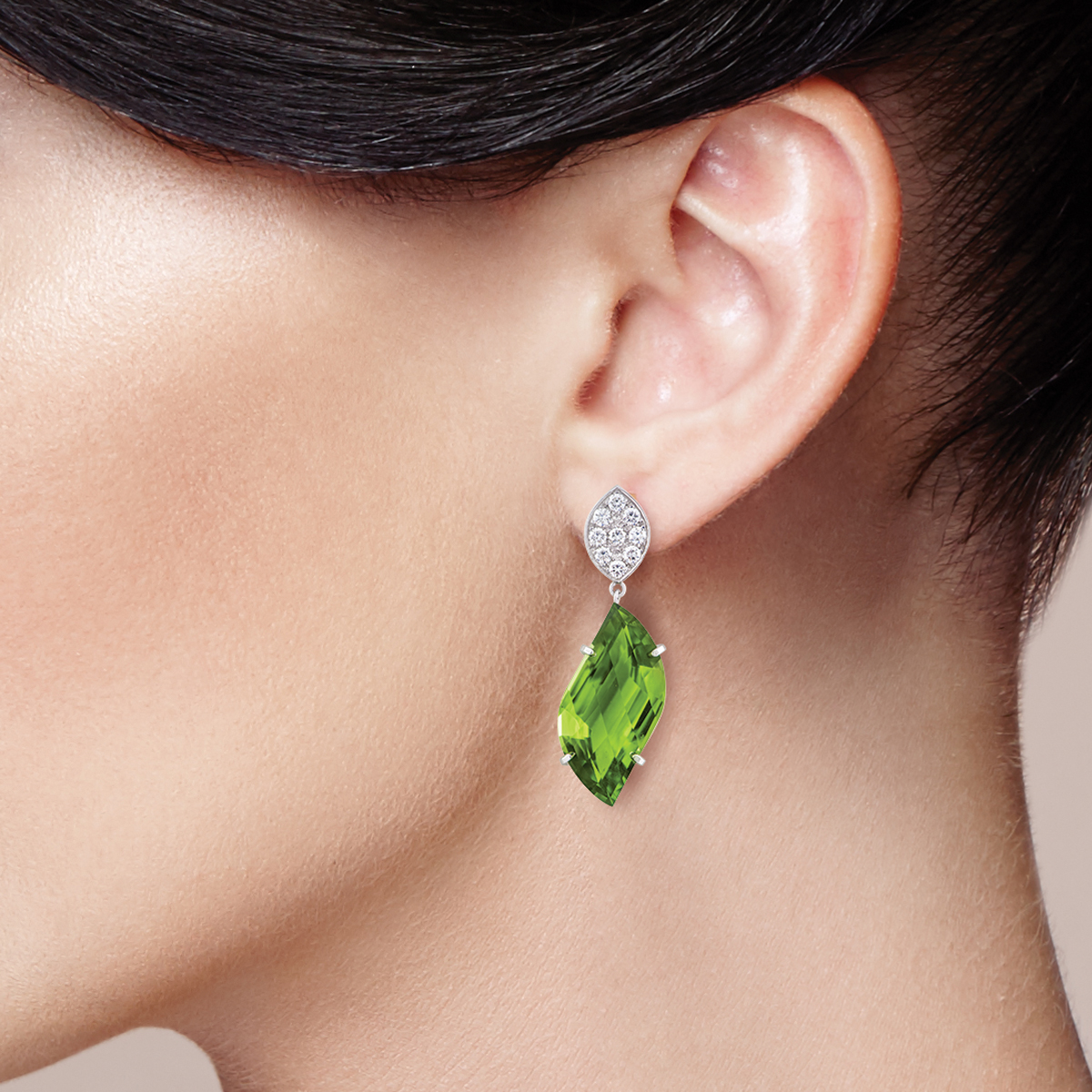 The unique shape and cut of these Burmese Peridot earrings offer a spectacular green sparkling in the light. These beautiful Wixon Custom earrings are truly one of a kind!
Take a Cue From Mother Nature
Described as "nature's neutral," this zesty green hue is versatile enough to complement a range of colors. Take a look at some of Pantone's suggested pairings for how to incorporate Greenery into your wardrobe throughout the seasons. Whether your style trends towards intense citrus hues, muted earth tones, or soothing pastels, you'll find that Peridot will be at home in your jewelry collection.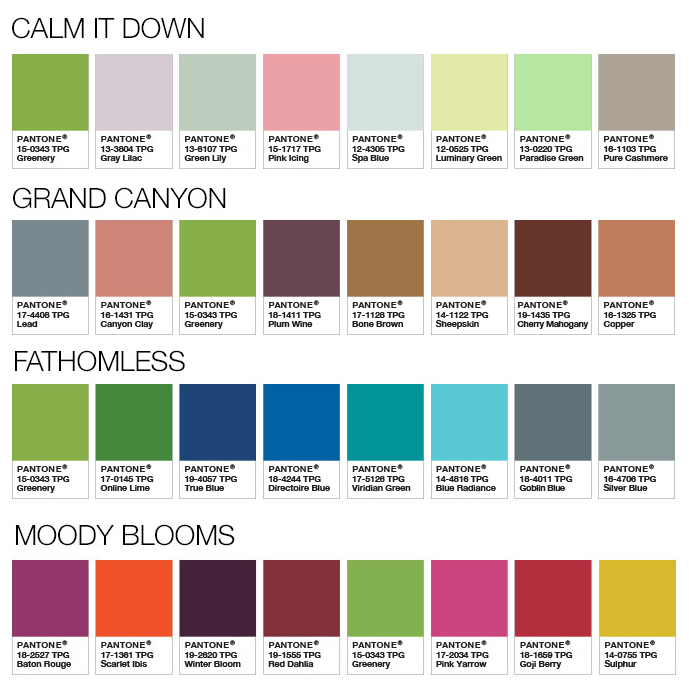 ---
LOOKING FOR MORE?
» Read more about the Allure of Color Gemstones
» Learn more about Peridot: the birthstone of August
» Have questions about a particular gemstone? Ask Our Experts!