COVID-19 Store Update
May 6, 2020
To our valued clients and friends,
We've missed you these last few weeks! During these times, the health of our team and our clients continues to be our top priority. We continue to remain vigilant in our efforts to keep everyone safe. Following the Governor's recommended retail guidelines, we are now open for carside pick-up on new purchases Monday through Saturday from 10am-4pm.
We believe that throughout all of this, the celebration of love and life's special moments should continue to be an essential priority which is why we are launching our new Virtual Concierge service available to clients nationwide. It is our promise to still deliver an unrivaled experience and unparalleled level of service throughout these ever-changing times.
While many of our daily lives have been put on pause, milestone moments are still occurring and deserve to be celebrated. We want you to know we are here for you, and we are looking forward to helping you every step of the way!
Please call the store at 952-881-8862 or e-mail us at website@wixonjewelers.com. We would love to hear from you and discover how we can help you with your special occasions!
---
May 4, 2020
With COVID-19 having impacted each of our daily lives, we hope that you and your loved ones are staying healthy, safe and social distancing as much as possible during this unusual time. While our store remains temporarily closed to the general public, we are still able to assist you remotely!
Please call 952-881-8862 or e-mail us at website@wixonjewelers.com and we would be happy to assist you!
---
April 9, 2020
Governor Walz has extended Minnesota's Stay at Home order until May 4. With your health and safety as our top priority, and in accordance with the Stay at Home order, Wixon Jewelers will remain closed until further notice. 
Even though our doors are temporarily closed, we remain committed to providing our clients with an exceptional level of service. If you need anything during this time, we can be reached at info@wixonjewelers.com or via phone at 952-881-8862. Wishing you and your family good health! 
---
March 25, 2020
Today, Governor Walz today directed Minnesotans to stay at home until Friday, April 10 to slow the spread of COVID-19 across the state. Based on the Governor's new directive, we are planning to resume business on Saturday, April 11th. Please check this page for future updates as we navigate this situation. Stay home and stay healthy!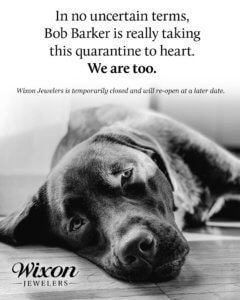 c
March 18, 2020
To our valued clients and friends,
 
During these unprecedented times, we would like to extend our best wishes for the health and safety of you and your families. The health of our clients, our team and the health of our community and state is our highest priority. To do our part to combat the spread of COVID-19 here in our community and across the country, Wixon Jewelers will be temporarily closed starting this Saturday, March 21 at 5pm. We plan to re-open on Monday, April 6 barring any future updates regarding the virus.
 
Wixon Jewelers is a family-owned business based on family values. During hard times such as these, family is there for one another and takes care of each other. During our temporary closure, we will take care of our staff by supporting their health and financial needs so they can focus their energy on the well-being of themselves and their families.
 
Throughout our 30 years in business, we have been blessed to be a part of our clients most intimate and monumental milestone moments, and we look forward to continuing to be there more so than ever upon reopening. Please look to our website and social media accounts for updates as we all navigate this crisis together. Should you need anything during this time, please reach out to info@wixonjewelers.com and we will respond as soon as readily available. We appreciate your ongoing support, and we look forward to seeing you soon!
 
Best wishes and good health,


Dan & Hope Wixon and all of us at Wixon Jewelers