A Case With Grace: Parmigiani's Kalpa Collection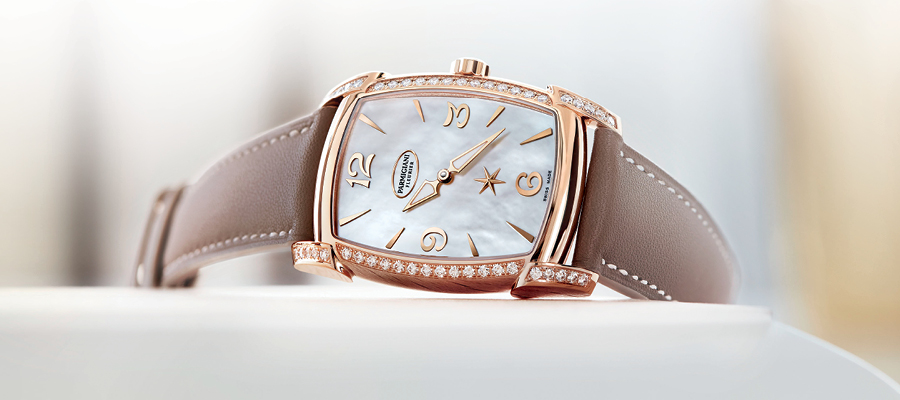 The Ladies Kalpa Collection
Through its graceful elegance, the Kalpa collection is an exclusive invitation to slip away from the traditional world of timekeeping and revel in elegant femininity. As Parmigiani's first ladies timepiece, the Kalpa collection stands out for its balance of geometric curves accentuated by inherently feminine details. The collection is adored by women for its non-traditional case shape as they discover how enjoyable it is to wear a watch that isn't classically round.
A STATEMENT OF SOPHISTICATED ELEGANCE
Beloved for their comfortable elegance, the Kalpa collection quickly became the cornerstone of Parmigiani Fleurier's ladies collection. The Kalpa is highlighted by three main product families—Kalpa Piccola, Kalpa Donna and Kalparisma. Identical apart from size, the Kalpa Piccola and Kalpa Donna are time-only watches powered by quartz movements. The largest of the three, the Kalparisma, additionally offers an integrated date function and is fitted with a self-winding mechanical movement developed in-house by Parmigiani Fleurier. Featuring proportions, colors and decorations tailored specifically for the modern woman, these collections showcase a variety of versions to suit different personalities and unique styles. Many models are majestically set with diamonds and adorned with guilloché or mother of pearl dials in captivating colors, and are completed with a wide variety of bracelets and straps.
A HARMONIOUS RATIO OF PROPORTIONS
The Kalpa is centered on the classic tonneau case shape that was one of the first designs that Michel Parmigiani created for his brand. Its sensual aesthetic originates from bold and innovative geometric lines. Michel had long desired to create a unique case design with seamlessly integrated lugs, and had no hesitation about shaking up watchmaking's aesthetic traditions when he began sketching the Kalpa case. With the watch profile and lugs as starting points in his design, Michel relied on mathematical concepts including the Golden Ratio to give an organic and natural elegance to its graceful contours. These proportions are enhanced by the case's delicate curves and its gentle, rounded details. The tear-drop shaped lugs, a signature of Parmigiani Fleurier, are specially angled so that the resulting profile sits perfectly on the female wrist.
With their striking colors and inherently feminine form, these timepieces simply radiate charm. Their carefully crafted design and alluring details place this Parmigiani collection at the crossroads between femininity and the art of watchmaking.
---