Custom Creation: Cabochon Tanzanite Pendant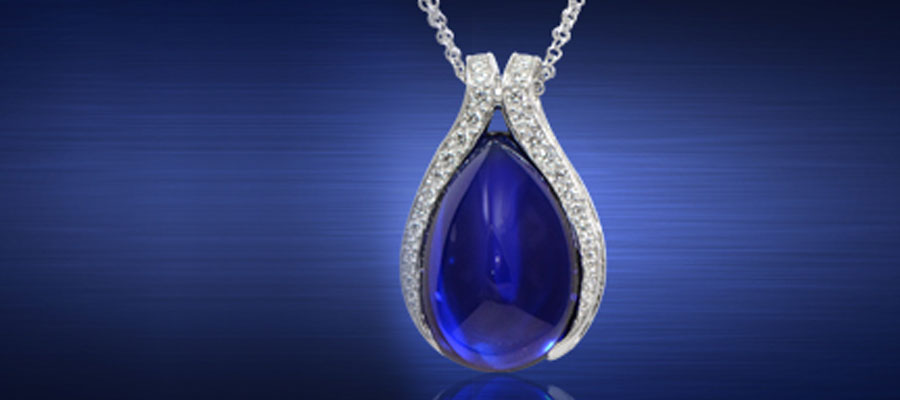 Tanzanite is one of the world's newest gemstones, as most gems have been around for hundreds and thousands of years. Its discovery in the late 1960's turned the gem and jewelry world on its feet and, within a short amount of time, catapulted it to incredible popularity on the American market and was named as the birthstone of December. It is so passionately celebrated that it can actually rival the big three (Ruby, Sapphire and Emerald) in popularity. That being said, it is also one of the rarest gemstones out there as its availability is quite limited. Tanzanite is only found in one location in the entire world; Tanzania, Africa. Once their sources are depleted, the gem will no longer be mined.
A RARE, ENCHANTING COLOR
The most highly-prized color of Tanzanite varies from a pure rich blue to an intense violet-blue, which can sometimes be compared to the color of Sapphire. This color of Tanzanite is our primary focus at Wixon Jewelers. The most common association of Tanzanite is more of a light lavender bluish purple color. In this shade the gem is more readily available, but not nearly as prized as it is in its finest color.It takes an incredibly skilled gem cutter to fully bring out the maximum beauty and color of the Tanzanite, especially in the prized pure rich blue hue, as they often have to sacrifice weight. Without a doubt it's worth the sacrifice, as the result can be so breathtaking.
AN IMPRESSIVE, UNIQUE CUT
Our newest Wixon custom pendant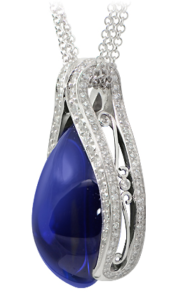 is a perfect example of an extraordinary Tanzanite in so many ways. Most impressive is the size and color. Dan and Hope Wixon acquired this 40.46 carat Tanzanite at the Tucson Gem Show and entrusted one of our goldsmiths to custom design the perfect pendant that would showcase the true beauty and uniqueness of the gem. Not only does the sheer size of the gem set it apart, but also the cabochon cut. A cabochon cut is nearly facetless, which allows the pure rich blue color of the gem to shine through. In order for a cutter to choose this particular cut, the gem has to be superior in so many ways.
A DELICATE, CUSTOM DESIGN
To showcase its unique beauty, the pedant design mimics the curves of the gem and accents it with almost two carats worth of diamonds set in platinum. The side profile features delicate, hand-crafted filigree and diamond detail—a wonderful blend of classic with just a touch of contemporary. A Tanzanite such as this is truly a marvel of nature, and with its limited availability not one to miss!
---
LOOKING FOR MORE?
» See our newest creation, the Cabochon Tanzanite Pendant
» Read about Tanzanite in our Gemstone Guide
» Browse our collection of Tanzanite Jewelry
---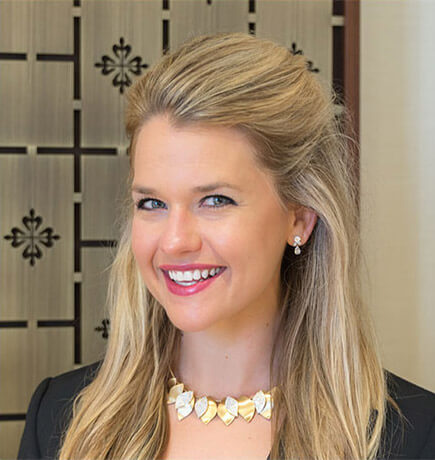 Jessica is our resident fashionista-in-chief and more formally our Diamond Department Manager. Helping guide our clients through life's big milestones by helping them find the perfect piece of jewelry to last a lifetime is what she loves best! She is a Graduate Gemologist who has been infatuated with jewelry since she was a little girl, spending countless hours at her grandmother's jewelry store. Have questions? Just Ask Jessica!