Barry & The Bus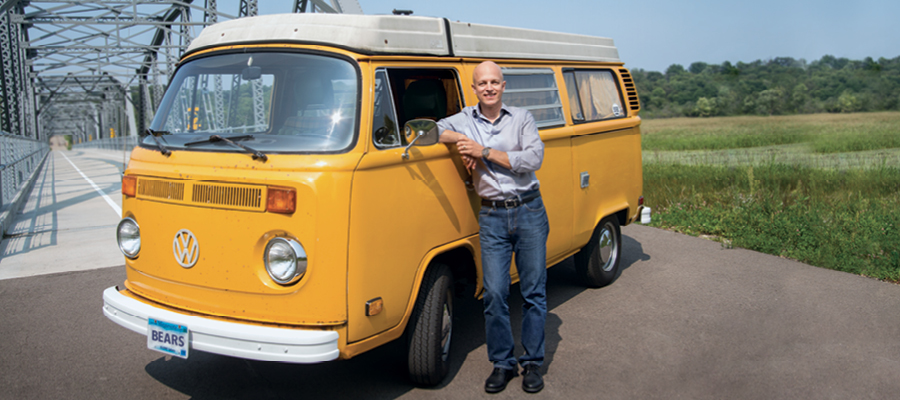 Wixon's head Goldsmith Barry spends most of his days at the jeweler's bench designing some of our most spectacular pieces. After almost 25 years at Wixon Jewelers, leaving the polishing wheel behind and hitting the open road in his VW Bus is what keeps this goldsmith refreshed, recharged and re-inspired.
What initially attracted to you to this bright yellow beauty?
I've always been attracted to the nostalgic, vintage, look of a self-contained camper. This 1976 bus is my fourth vintage air-cooled Volkswagen, so I have almost 30 years of experience with maintaining them.
You clearly love them, what do you use it for the most?
First of all, I try not to embarrass my teenage daughters, but it works great for getting groceries. I bought it for two reasons; I saw prices rising on them and knew it was a solid investment. Secondly, my family loves camping and staying dry. This is essentially our tent on wheels. The bus is perfect for family trips, but on the open road it's no comparison to driving my Porsche 911!
Speaking of driving, what drives you?
I am most motivated by designing and crafting new works of art. I enjoy engineering how all the parts need to come together to make a successful design. I especially like the old-world process of how a piece of jewelry is made. The variety of tasks involved—from the initial sketch to carving a wax, the casting through to its final polish—make my job far from boring.
Where does your love of crafting come from?
I have always enjoyed building things. As a kid, I spent endless hours with my Tonka toys in the sandbox and with Legos in the house. I was completely unaware that I was building a base for a career where I would get paid for my creative enjoyment. Today, the beautiful gemstones and metals I get to work with are self-motivating and make for rewarding results. When people ask if I get nervous or scared while setting a delicate or rare gem I sometimes reply, "They're simply grown-up Legos to me."
---
[Top Image]: While most people use nicknames like bus, camper or Westy, these vintage vans are officially known as Volkswagon Transporters.